The 10 Most Interesting Las Vegas Facts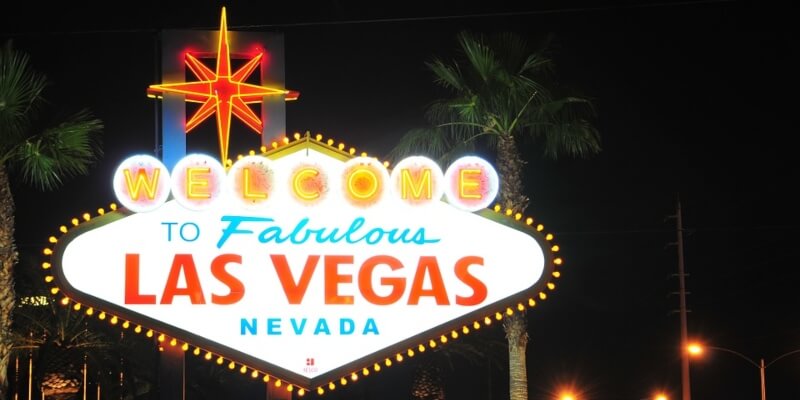 The bright lights. The glamour and glitz. The live shows, shotgun weddings, and chances of winning big at a famous slot machine. Las Vegas has a reputation for attracting people from all walks of life, as well as some fabulous and even bizarre occurrences.
You know what they say – what happens in Vegas stays in Vegas! Well, we here at JackpotCity Casino will be breaking that rule ever so slightly by bringing you our top 10 fun facts about Sin City. Read on to find out all about the most weird and wonderful secrets of Las Vegas. You'll definitely learn something new...
Our Top 10
#10 - The Mirage Hotel's legendary golden windows get their colour from real gold dust.
#9 - Astonishingly, the iconic Las Vegas sign's design was never copyrighted.
#8 - The giant Sphinx at the Luxor Las Vegas Resort – a recreation of the Egyptian monument – is 101 feet taller than the original.
#7 - There are real people living beneath the city of Las Vegas. Yes, you read that correctly! Experts have estimated that there are at least 1,000 people living beneath Las Vegas in its vast set of underground tunnels.
#6 - According to ink dauber suppliers at Las Vegas casinos, bingo players' favourite ink colour by far is purple.
#5 - The largest amount of cash ever won in Las Vegas was on the slots at Excalibur Casino. A 25 year old engineer nabbed the prize, winning $39 million against odds of almost 17 million to 1.
#4 - Pop legend Michael Jackson had made plans over a decade ago to build a 50 foot tall, moving replica of himself in the Las Vegas desert. The replica was intended to advertise the artist's planned comeback in 2005, and would have been created as a moon-walking automated robot that would roam the desert sands.
#3 - Las Vegas hosts over 300 weddings a day. This makes it the most popular wedding destination by far in the USA!
#2 - The lights of the Las Vegas Strip can be seen from outer space. The city is so bright, in fact, that it has been conclusively dubbed the brightest place on Earth.
#1 - If you spent a single night in every hotel room in every Las Vegas hotel combined, it would take you about 288 years! In fact, the hotel rooms offered by just four of Las Vegas' largest hotel complexes offer more accommodation than the entire metropolis of San Francisco.