JackpotCity Online Casino's Top-10 Lucky Sports Bets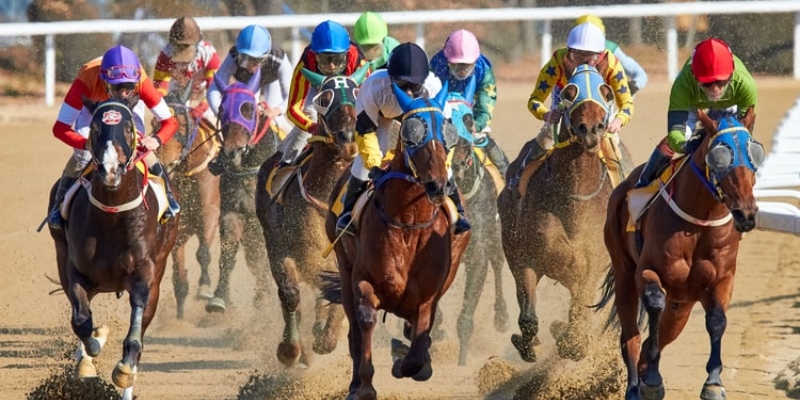 Source: Mathew Schwartz on Unsplash
At JackpotCity, the home of New Zealand online pokies, we've been researching lucky bets from around the world to create our own top-ten list of lucky punters! For this list, we have prioritised smaller bets that managed to win impressive prizes and the best lucky-bet stories with local winners! For our favourite bet, we didn't have to look far afield. At the top of the list you'll find the wonderful local win by an NZ TAB regular from Bishopdale, Christchurch in 2020.
1. Melbourne Cup Legendary Punter in 2020
The most memorable bet in New Zealand in recent years is a NZ$30 bet placed by a retired man from Bishopdale, Christchurch in 2020. He placed a combination of First4 bets worth $120 dollars in total on the Melbourne Cup in November 2020, and one of his $30 bets won him $1,168,185. This is an historic high for the New Zealand TAB that far exceeds any other win over the last decade. In fact, it is believed to be the highest prize ever paid out by the New Zealand TAB in its entire history. The manager of the Bishopdale TAB, Kerralyn Hooper, was absolutely thrilled for her customer who she says has been a regular at the Bishopdale branch for 25 years and is a "really nice guy". She adds that, "It's nice to actually have someone win like this in a physical, retail store. Cup Day was different than usual with the new Covid case in the community". Above all,  for this lucky Christchurch resident it's a nice way to celebrate retirement. The Melbourne Cup in 2020 set other records too. Like a record high in total bets placed: NZ$11.5 million on the cup race alone. It seems that with so many people socially isolating to some extent, placing bets on the races and playing online pokies was a good solution.
The Melbourne Cup was also a surreal experience in 2020, held in the completely empty Flemington racecourse. A young Melbourne jockey Jye McNeil took first place on his horse, Twilight Payment; and a New Zealand-trained horse, The Chosen One, came in fourth place. The crowdless Melbourne Cup races were a good thing for the thoroughbred racehorses, which are extremely sensitive to raucous noise on race day. But many punters would have found the silence a little eery and the races less exciting than usual. Some stadiums have been trying to compensate by adding ambient noise (aka fake crowd noise) in an attempt to recreate some of the excitement surrounding televised sports competitions: a sort of canned laughter for sports events. You can read more about that on the JackpotCity online casino's blog.
2. Magical Win in Milton in 2014
Len Glassford had an incredible stroke of luck after placing a NZ$10 bet on the NZ TAB's brand-new betting type: the Triple Trio. To win this kind of bet you have to select the trifecta for the three last races of the meet. Mr Glassford is not a regular punter, but he was interested in trying out this new type of bet. However, he told the Otago Daily Times he didn't actually think he would win: "I just saw it advertised in the paper a couple of days before and I thought that it would be worth a go at". Mr Glassford chose to make an Easybet, which means the computer picks the horses for you. Initially, he was set to win $100,000, but later when a horse in the final leg was scratched from the race, his win jumped to $300,000. Talk about lucky! A week after this Triple Trio win, the TAB held its second Triple Trio race… We'll let you see what happened in number 3!
3. Otago Punter Bets on the Wellington Cup in 2014
In 2014, another punter placed an incredibly lucky bet on the Wellington Cup. Another south-islander, this time from Mosgiel in Otago, placed a NZ$10 Triple Trio Easybet on the Wellington Cup meet and won $NZ100,000! The Triple Trio bet involved picking the top three horses to cross the finish line in the last three races. Since these bets are incredibly difficult to pick, the TAB makes your life simpler by offering an Easybet option picked by the computer. The most surprising thing about this particular win is that it was the second big win in one week in 2014. And as you will have noticed both of the winners chose to make the same type of TAB computerised bet.
4. Anonymous Punter Supports Leicester City in 2010
In 2010, five teams had dominated the English Premier League since its inception: Manchester United, Manchester City, Chelsea, Arsenal and Liverpool. Leicester City had never even made it into the top three since the creation of the league. Nevertheless, that didn't stop one fan from placing a £100 bet on the 5000/1 underdogs. Leicester City's win created shockwaves in the world of English soccer. But the man who placed a £100 bet on his favourite team went home very happy: he won £200,000!
5. Mick Gibbs Turns 30 Pence into £500,000 in 2001
Number five is another lucky soccer betting tale. Mr Mick Gibbs is a professional roofer and regular punter. He had already made an impressive win of £157,000 in 1999 when he predicted nine soccer game wins. But in 2001, he had an even more sensational win! To understand just how lucky this bet is, you need to know that the odds against Gibbs were 1,666,666/1! He bet 30 pence on a 15-leg accumulator bet in which he had to pick the winners of all four pro English soccer leagues, the Conference, the winners of the cricket Country Championship and the rugby union Premiership, which he did! When Bayern Munich won against Valencia in the Champions League final, which they did after a marathon penalty shootout, Mick Gibbs won £500,000. With luck like that he should probably try playing some online pokies too and see how that goes.
6. Xabi Alonso Scores a Goal from His Half in 2006
An incredible goal scored by Liverpool midfielder Xabi Alonso in 2006 made one punter £25,000 richer. Adrian Hayward, a 42-year-old English man, bet £200 that the Spaniard would score a goal from his own half during the season. The odds were 125/1. Hayward was an observant soccer fan: "I've been a Liverpool supporter for 26 years and I noticed last season that Alonso attempted shooting from his own half quite a few times. I couldn't get it out of my head that he would eventually score like it". And he did, from a distance of 60 metres!
7. Fred Craggs and His 50 Pence Bet in 2008
Our number six win was made by a 60-year-old fertiliser salesman from Yorkshire, named Fred Craggs. He has become a legend in sports betting after he placed a 50 pence eight-fold accumulator bet on horse races around the world. He chose all of the winners correctly to win £1 million and didn't even realize he was a millionaire until he went back to see his bookmaker to place a new bet. Nice surprise! However, as reported in the Mirror, the farming salesman played down the size of his win: "A million isn't what it used to be - you can't buy a lot of fertiliser with £10,000".
8. Darren Yates Magnificent Seven in 1996
Another incredible bet was made way back in 1996! But the bet is such a legend among punters, that is known today as the "magnificent seven". To win, Darren Yates placed a successful £62 wager on jockey Frankie Dettorri winning all seven of his rides on the same day at Ascot. From this £62 bet Yates made a whopping £550,000. If seven is your lucky number too, take a look at our article about a new online pokies game called Seven 7s.
9. Free Ticket to the Races Pays Off in 2011
A 61-year-old heating technician, named Steve Whiteley, received a free ticket to the races in 2011. While he was there, he placed a £2 bet to pick the six winning horses of the day. One of his choices was considered a complete dud because it had already lost 28 races in the past. But on that day, the horse pulled one out of the bag and Mr Whiteley took home £1.5 million!
10. Son Makes Dad Proud in 2014
Gerry McIlroy couldn't have been prouder of his son and golfer, Rory McIlroy. He made a £200 bet at Ladbrokes in the UK many years earlier that his son (aged 15 at the time) would win the British Open within ten years at odds of 500/1. Rory went on to win the British Open in 2014, beating Spain's Sergio Garcia and American golfer Rickie Fowler. Gerry McIlroy won £100,000 from a £200 bet, and the friends of this proud father, who had also been encouraged to bet on Rory, also won a combined total of £80,000. There must have been quite a celebration at the McIlroy house later!