Play the new online slot in Canada - Ancient Fortunes: Zeus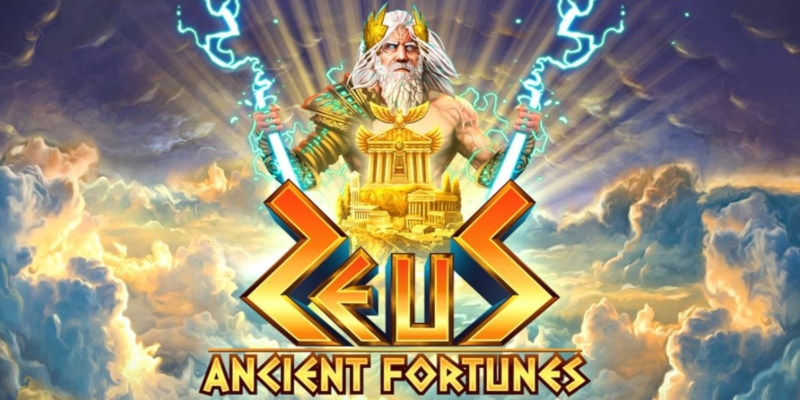 Climb Mount Olympus and join the powerful ancient Greek Gods in this brand new online casino game. Play with some of Canada's favourite video slot feature such as Rolling Reels, Multipliers and Free Spins. Win big with Ancient Fortune: Zeus and its 10 paylines!
Try this online slot game and travel from Canada to Ancient Greece
Imagine this. You go home after a long day at work, sit down at your computer and open the page to taste this new and exciting online slot in Canada. The first game you see is Ancient Fortunes: Zeus. You click on it and close your eyes. You hear a light buzz. When you open your eyes, you realize that you've been transported in a different world. All around you are beautiful golden columns and you can see Zeus, King of the gods, Poseidon, and Dionysus casually conversing by your side. You take a few steps forward and face an incredible wall covered in moving symbols, representing the most famous Greek monsters as well as the faces of your neighbouring deities.
The symbols keep spinning and every time a combination forms, you hear a divine sound before feeling gold coins falling at your feet. Jolts of lighting illuminate the three representation of Ares and you know you just won big. In a few seconds, your feet are covered in gold. You can't believe the gods favoured you like this, you feel like Midas himself. Welcome to Ancient Fortunes: Zeus!
A Powerful New Release
Released on 10th April 2019 by Microgaming's partner, Triple Edge Studios, this online slot game is one of the monthly releases of the casino software providers. As you might know, the software developer made a promise when it first launched in 1996 to deliver a new video slot every month. They have now released around 300 casino games and granted colossal jackpots to players all over the world.
Playing this online slot with real money
Ancient Fortunes: Zeus has a high Return to Player rate of 96.02%, which means that the machine gives back to the player 96.02% of the time. This online slot game with 5 reels has also 10 paylines, which is already a great opportunity to make a lot of real money. But what's even better is that it pays both pays, doubling your chances of scoring a big prize.
The minimum bet on this online slot game starts at a meagre $0.10, allowing the game to send 0.01 cent on each of its paylines. The maximum bet is $70, with a max wager per line of 7 CAD. The payouts can be impressive, with a jackpot reaching 625 times the initial bet. On top of that, the features can increase that wager by a gigantic amount with a final potential payout of 13, 000 times the initial betting.
Talking about those special features, this video slot has many of the best Canada's online slots bonuses: the rolling reel, the multiplier trail and the free spins. You can be sure that you will always go home a winner.
Rolling Reels
You might have heard about the Rolling Reels feature but not be certain of what it is exactly. This bonus has become a must-have in a lot of online slot games and can be simply explained: every time you make a winning combination, the winning symbols disappear and make place for new ones. That gives you the opportunity to make additional lucrative sequence and can even trigger the multiplier trail bonus.
Multiplier Trail
The multiplier trail feature is triggered when you make consecutive winning combinations. It multiplies your wager and can lead to massive wins.
In Ancient Fortune: Zeus, the multiplier feature can be generated on both the base game and on the free spins. Achieving consecutive wins on the base game can multiply your earnings by 2, 3 and 7 times, whereas triggering this feature during Free Spins will boost your value by 3, 7, 11 and even a grand 21 times!
Free Spins
The Free Spins feature is common on Canadian online slots. It gives you the chance to get big prizes at no cost, which is always a plus for any type of gamer!
On Ancient Fortune: Zeus, Zeus' lightning bolt is the Free Spins Symbol that unlocks the Free Spin feature. If you get 3, 4 or 5 of them, you will unlock 10, 15 or even a whopping 20 Free Spins. You can also retrigger up to 50 additional free spins while free spinning.
Symbols
There are various symbols on this online slot game. The higher value symbols are represented by some of the most well-known gods and monsters of Greek mythology:
The ecstatic god of Wine, Fruitfulness and Ecstasy, Dionysus
The fierce god of the Oceans and Seas, Poseidon
The trickster god of Trade, Merchants and Sports, Hermes
The dangerous god of War, Ares
The powerful king of the gods, master of lighting, Zeus
Ares: This is the highest paying symbol with a value of 62.5 times the stakes when landing five on a payline
Zeus: Zeus himself appears on the video slot and act as the Wild symbol, replacing any other figure
Zeus' lightning bolt: obtaining a minimum of 3 of these unlocks the Free Spins feature. 
Snakes, Panthers, Krakens and Vultures: lower-value symbols 
Join the Ancient Gods
Are you ready to join the mighty gods and strike the jackpot? If you are not already a member of JackpotCity online casino, this game will give you the perfect opportunity to join in the fun, especially since there is an awesome welcome bonus of $1600 for newcomers. So register now, and become as rich as Croesus!