Hope for the environment renewed in 2021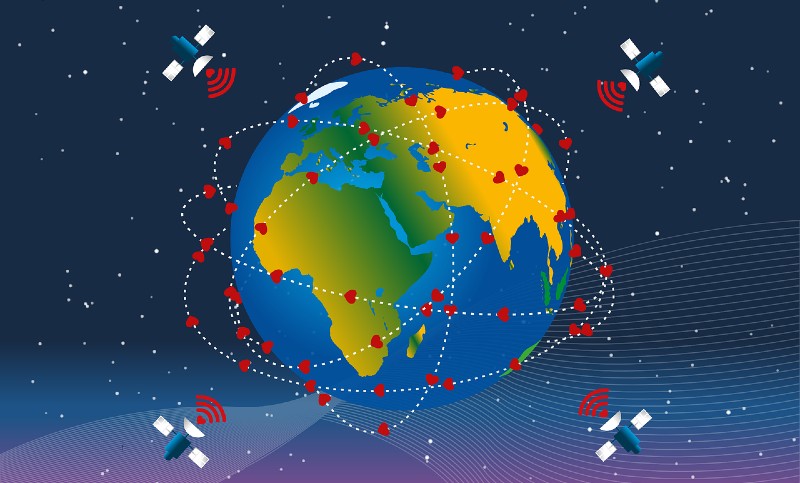 The election of President Biden in January 2021 was followed by a flurry of new presidential orders. Within hours of taking office, Joe Biden re-joined the Paris Climate Accord and restored the White House page on climate change, which had been removed by the Trump administration. Environmental activists and defenders of human rights all over the world let out a collective sigh of relief, particularly when the Keystone XL pipeline was cancelled and a moratorium was placed on oil and gas drilling in the Arctic National Wildlife Refuge, Arctic waters and Bering Sea.
This environmentally friendly shift is in tune with the policies of other nations around the world, as reflected in the Paris Climate Accord. While the current pandemic has also aided carbon reduction by preventing travel and forcing people to work remotely and move to online versions of favourite pastimes, like yoga and fitness classes, quiz nights and online casino. Other nations, like New Zealand, went so far as to declare a climate emergency in December 2020.
The Keystone XL pipeline extension: permit revoked
The Keystone XL pipeline extension has been fraught with controversy since its beginnings. The much-contested project was rejected by the Obama administration in November 2015, which acknowledged pervasive threats to the climate, ecosystems, drinking water resources and public health. The pipeline was then authorised by Donald Trump upon his arrival in office. Now, President Biden has once again cancelled the project. Many local communities and First Nations groups in Northern Alberta will be delighted by the cancellation. Greenpeace New Zealand has been working actively to stop the pipelines for many years.
The argument for the pipeline
The pipeline mirrors an existing pipeline, also called Keystone, that takes a more direct route to carry crude oil from Alberta to the Gulf of Mexico. The XL project, owned by TransCanada, was intended to boost the flow of tar oil from Canada to US oil refineries. Canada already sends 550,000 barrels of oil a day to the US via the existing Keystone pipeline. The increased supply was meant to decrease the dependency of the United States on Middle Eastern suppliers, reduce the price of oil for consumers and was purported to create 28,000 construction jobs. Most of these statements have been vehemently refuted. While acknowledging some of the environmental impacts, proponents have argued that Canadian tar oil will be produced and shipped anyway, so there's no point stopping the project from going ahead.
Many arguments against
The problems with the pipeline are multiple: first and foremost, the pipeline transports tar sands oil, which is a notoriously dirty form of oil. Tar sands oil is thicker and more acidic than conventional crude oil, which increases the likelihood of leaks. Since it began operating the original Keystone pipeline has leaked over a dozen times. The risks of leaking have been compounded by delays to the project because the pipes are being stored outside and exposed to the elements: meaning the anti-corrosion coating may now be defective.
To produce tar sands oil large areas of northern Alberta's boreal forest are being destroyed and the project crosses through agriculturally important areas and hundreds of rivers, streams, aquifers and water bodies. One of these is the Ogallala aquifer that provides drinking water to millions of Americans and supplies thirty percent of the country's irrigation water. A leak into this aquifer would be devastating to the environment and human and animal health.
The number of jobs created by the Keystone XL pipeline has also been greatly exaggerated. At most, roughly 1000 people are employed by Trans Canada on the pipeline and while construction would require a large number of workers, these jobs would be temporary, with only about 35 permanent positions upon completion.
Clean energy back on the US presidential agenda
For people interested in clean technology, the cancellation of the Keystone XL pipeline is good news. In line with the Paris Climate Accord, the move reflects a new political direction in the United States focused on the development of a clean energy economy and the creation of green jobs. President Biden's order states that "we will combat the climate crisis with an ambitious plan to build back better, designed to both reduce harmful emissions and create good clean-energy jobs. Our domestic efforts must go hand in hand with US diplomatic engagement". This renewed interest in clean technology by the US government has been welcomed by other governments around the world and widely praised.
The only country to have expressed its disappointment about the cancellation of the pipeline is Canada. Justin Trudeau expressed his "disappointment", while Alberta Premier Jason Kenney threatened to take legal action against the United States. In contrast, the Canadian Environment Minister Jonathan Wilkinson was feeling optimistic about the two countries being able to work together once again in the fields of clean electricity, decarbonisation of industry, transportation and methane emissions.
Clean energy in New Zealand
In New Zealand, Jacinda Ardern pursues her own policies to move away from oil in favour of clean energy. New Zealand declared a climate emergency in December 2020 in a largely symbolic, but very positive move. Nonetheless, the declaration is far from being a world first: at the end of 2020, there were already 28 countries to have declared climate emergencies, including the UK, Ireland, France, Austria, Spain, Japan, South Korea, and more than 1400 local governments around the world. However, the New Zealand government has put a ban on new offshore oil exploration that will take effect in 30 years' time. In the meantime, the 22 existing contracts will continue to explore an area of 100,000 square kilometres.
New Zealand has been promoting itself around the world as a clean green country since the '80s and has vast hydrothermal power resources, but, surprisingly, is not a shining example in the field of climate change mitigation. Net emissions in Aotearoa have risen 60 per cent over the last two decades putting New Zealand at number 17 on the list of 32 OECD countries for carbon emissions. Most of this pollution comes from road transport, closely followed by agriculture. In 2018, methane represented nearly half of the country's gross emissions, mostly from dairy farming.
New Zealanders want to have their steak and eat it too
Why hasn't New Zealand turned more attention to the problem of excessive dairy farming and other forms of agricultural pollution? A newsroom.co.nz article by Marc Daalder states: "the dairy cattle population grew from 3.8 million to 6.5 million in the 23 years between 1994 and 2017". He points out that the solution is "to reduce the number of cows and sheep in the country, but the powerful farming lobby opposes that for obvious reasons". The obvious reasons are financial.
But it's not just the farming lobby that is to blame for agricultural pollution. In another article, Daalder references an Ipsos poll that revealed that "New Zealanders say climate change is important to them – nearly two-thirds told Ipsos pollsters in April that it was as serious a threat as Covid-19 – but are unwilling to do much about it. The same Ipsos poll found nearly four in ten New Zealand respondents opposed replacing car travel with walking or cycling, compared with a global average of 23 percent. Reducing beef and dairy consumption was similarly opposed by 46 and 59 percent of the New Zealanders polled, respectively, while just 39 and 49 percent of the global population disagreed with these measures, respectively". In essence, the problem isn't just the farming lobby and insufficient government action: the problem is us – New Zealanders – and our love of meat, dairy products and big cars.
If you're over a certain age, you will probably have also noticed how the scenery on the road from Auckland to Wellington has changed a lot in twenty years. Previously, the drive went through endless stretches of pine forest between Taupo and Rotorua, but the landscape is now mostly cleared fields with tree stumps interspersed with cattle. This really made me feel sad when I saw it, and honestly, confused. I thought we were all about saving trees in New Zealand. The massive numbers of cattle in Aotearoa are in conflict with NZs desire to be a world-leading clean, green nation, and it's destroying the quality of our water. Maybe it's time we really got serious about climate change mitigation and made a few sacrifices: less meat and dairy, smaller cars or electric cars, and more trees and fewer fields.
The power we're supplying, should be electrifying
Back to Daadler's article on electrifying the economy. He describes a possible vision of New Zealand in 2035: "In 2035, the way you get your power could be very different. In the middle of the night, when power prices are low, your electric vehicle or home battery might switch itself on and charge up. In the morning, as you prepare for work and the price of electricity surges, your house may run on the power purchased overnight instead of drawing any from the grid. While you're at work, solar panels on your roof could recharge the household battery such that, when cooking dinner or watching television in the evening, when power prices are highest, you can again rely on what's left in your car and what your solar panels produced". Daadler's vision of NZ in 2035, is already available (albeit sometimes only to people who can afford it) in many parts of the developed world today. Why is New Zealand so behind in 2021 that this is our vision for 2035? As my ten-year-old self would have said – repeatedly – on that long trip from Auckland to Wellington: "…how much longer…?!"
New Zealand is lucky to have such an abundant supply of hydrothermal energy and is the perfect country for a widespread use of electric vehicles. Unfortunately, we really love our diesel-powered Ford Rangers and other SUVs and mini vans. Simultaneously, our use of trains, trams and trolley buses has fallen by the wayside. In 2018, the Wellington trolley bus service that took me to school was scrapped. That's one less electric transport network for the country. The scrapping of the feebate electric vehicle scheme in 2018 that promoted electric vehicle sales, won't help the situation either.
In an rnz.co.nz article by Ben Strang, the Massey University Professor Ralph Sims said that "Electric cars are up to four times better for the environment when being driven in New Zealand than in Australia". That's because electric power generation in New Zealand is mostly renewable. If you're a kiwi thinking about buying an electric car, but have concerns about battery pollution, you need to know that battery recycling is a reality, and although not available in New Zealand, "about 90 percent of the materials and chemicals in the battery can be reused in new batteries". Sims says that if you're really concerned about your carbon footprint "one flight to Europe would blow everything out of the water. One seat on a flight to Europe from New Zealand accounted for about a year's worth of carbon dioxide emissions from a petrol vehicle". In other words, if you were planning a trip in the distant future to Las Vegas to visit the casinos, you would be better to stay at home. You can play casino online at home while respecting NZ regulations and cut your carbon emissions dramatically. However, he adds that sometimes flying can be the better option travelling within New Zealand as long as the plane is full or close to full. The article concludes with Sims noting that "the best way to travel around the country from an emissions standpoint was rail, which could be up to eight times better than an electric car".
Less known advantages of EV cars
Apart from the reduction in carbon emissions, there are a few other advantages of owing an electric car. The most interesting is that you will pay cheaper vehicle maintenance costs because the engine contains fewer moving parts, which reduces wear and tear on the motor and means fewer breakable parts. You may also find that your car insurance is cheaper and there are often special discounts for electric vehicles from insurance companies and banks. Obviously, your travel costs will be reduced, although you will need recharging breaks on a long trip (admittedly, this is the annoying thing with ev). If you enjoy playing online casino games and are waiting for your car to charge on the road north, you might enjoy listening to our top fifteen podcasts.
Electric vehicles also encourage slower driving speeds since you use less electricity. This also reduces the chance of road accidents. And you no longer need to stop at the petrol station because you can charge your car at home. The best part is that electric cars are quieter inside and out. Less noise pollution too.
NZ governmental action in 2021
Jacinda Ardern's climate emergency declaration acknowledges an "alarming trend in species decline and global biodiversity". At the same time that the declaration was made, the government committed to a carbon-neutral government by 2025. This commitment requires the public sector to eventually replace its vehicles with electric or hybrid vehicles and eliminate the use of coal-fired boilers entirely.
These changes will be added to New Zealand's previous commitments, namely the signing of the Paris Climate Agreement and passing of the Zero Carbon Act 2019 that committed New Zealand to reducing carbon emissions. It is actually one of the few countries to have a zero-emissions objective enshrined in law. Action is urgent in this area, since as Robert McLachlan of Massey University wrote in The Conversation that "Of 43 industrialised countries, New Zealand is among 12 that have seen net emissions increase between 1990 and 2018". Unfortunately, NZ governmental action remains conservative. In 2017, The Dairy Action for Climate Change was launched to help farmers to reduce emissions on their farms and adapt in a climate resilient way. But the problem isn't really the dairy farmers, since as diarynz.co.nz reports, "New Zealand dairy farmers are already the world's most emissions efficient". The problem is that there have been no real financial incentives for dairy farmers to convert to other types of agriculture or low-carbon land use. There seem to be a large number of consultation groups that have been created or are currently working, but little action right now.
What next?
On 16 July 2019, the Energy and Resources Minister Megan Woods set the target of 100% renewable electricity by 2035. The same day the Minister of Climate Change, James Shaw reached an agreement with farming leaders to start a farm-level price for climate change emissions in the agricultural sector by 2025. Unfortunately, how these things are to be achieved remains fairly vague. The options that are being discussed are designed to link up with existing initiatives, which are as follows:
The Billion Trees programme,
$229 million in the Wellbeing Budget for sustainable land use – $122 million to support on-farm changes required to unlock more value and use land more sustainably,
$60 million for agricultural climate change solutions and emissions measurement tools,
$14 billion over the next 10 years targeting better public transport, and other clean transport options, including the recent Clean Vehicles discount initiative.
The Clean Vehicles discount initiative to help New Zealanders buy electric vehicles is still in the consultation phase. At present, NZ remains one of three countries in the OECD without a regulated vehicle CO2 standard, the other nations being Australia and Russia. The declaration of a climate emergency is a positive step, but just let's just hope it isn't all just too little, too late.