Coolidge's Art: Dogs Playing Poker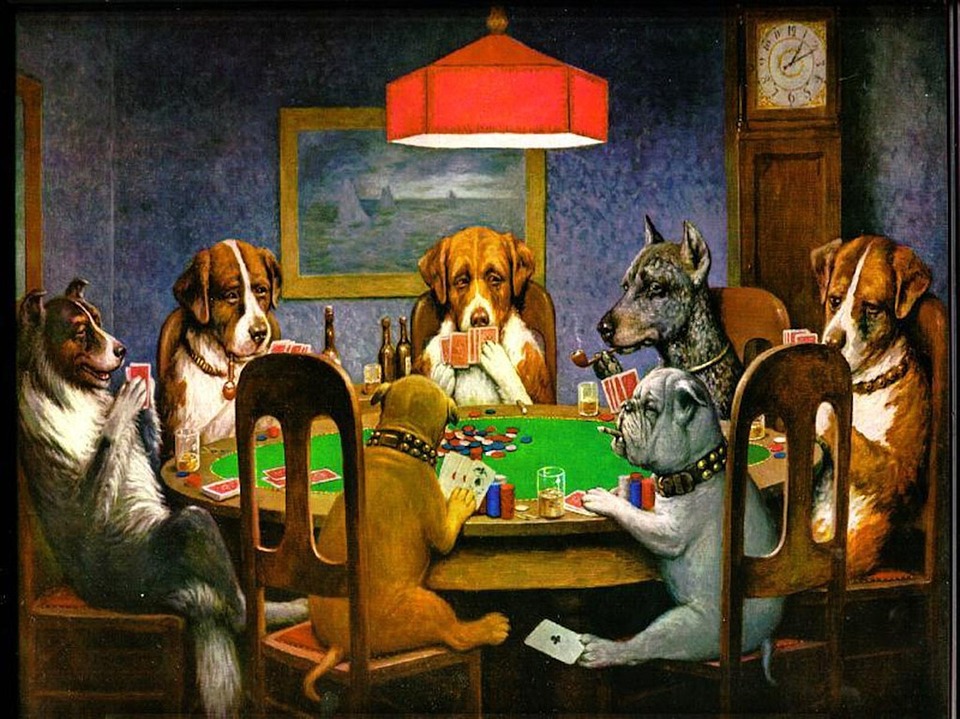 Source: Cassius Marcellus Coolidge
Casino-inspired artist Cassius Marcellus Coolidge became famous almost overnight with his paintings which featured dogs playing casino games such as poker. Coolidge was born into an American Quaker family in Antwerp, New York, on 18 September 1844. And even though as a young man he had minimal training in art techniques, Coolidge still managed to forge an illustrious career as a popular artist whose works often included a comic twist. His nickname was 'Kash', or sometimes 'Cash', which is why some of his 19th-century artwork was quite often signed off with a cheeky and deliberate misspelling of Kash Koolidge for humorous effect.
What inspired C. M. Coolidge's gambling canines?
Coolidge moved on from his family's farm smallholding at some time during the early 1860s. From then on, he tried his hand at a number of different career pathways. For instance, from 1868 until 1872 he was employed as a sign painter and a druggist, before founding a banking institution and launching a newspaper.
Later, Coolidge left Antwerp and went to work in Rochester. Here, he finally managed to kick start his art career, perhaps inspired by one of his first art jobs, which involved creating a series of cartoons that appeared in a local newspaper. This was also the moment he began to create comic paintings which featured dogs in lifelike human poses – a much-copied style which Coolidge is credited with conceiving, and which has made him a hero for many who play casino online games.
One important feature of Coolidge's art was the recurring theme of dogs playing poker. This topic became something of a Coolidge trademark resulting in the creation of portrait scenes which would be familiar to any of today's NZ online casino poker players. Given the artist's obvious familiarity with gaming environments – still featured in many casino online NZ live poker rooms – and his childhood upbringing, the artists' combined experiences can clearly be taken as the driving force behind his creative success.
Comic foregrounds – a lucky stroke of genius
Perhaps influenced by familiar carnival stands where children and adults could stick their face through a cutout shape to create a life-size comic caricature, Coolidge began to develop his own comic foregrounds. In these photographic works, he produced a new style of novelty photograph. These photos were assembled using a jokey foreground, which Coolidge himself drew or painted, before photographing the final image with the human subject's head inserted.
This type of work gradually gained him popularity, and by 1903 Coolidge had landed himself a position with Brown and Bigelow., a company that produced advertising calendars. It was while working for these advertisers that Coolidge was commissioned to paint his famous series of scenes depicting lifelike dogs. There were sixteen Coolidge images in this legendary artwork, and nine of them were comic studies of dogs engaged in casino gaming situations such as playing poker games.
Canine casino artist in popular culture
Coolidge's art has been referenced over and over in popular culture – especially the works depicting dogs portrayed as serious gamblers playing a round or two of poker, just like seasoned online casino players do. For instance, a particular scene broadcast on the TV show 'Newsradio' would have very much appealed to 'Kash's' own quirky sense of humour. In a sketch created as a spoof on the blockbuster film 'Titanic', characters supposedly trying to flee the sinking ship in a blind panic were dumping a number of famous works of art over the side of the floundering ship, yet holding on to Coolidge's 'Dogs Playing Poker' which one of the characters hails as a 'priceless' piece of art!
There's no shortage of prime time TV shows lining up to feature Coolidge's gambling dogs as a significant part of the backdrop: Sam Malone in the long-running 'Cheers' TV sitcom was supposedly an avid fan whose favourite portrait was 'Dogs Playing Blackjack'. And elsewhere in the 'Roseanne' show, a Coolidge reproduction was prominently displayed in Roseanne and Dan's bedroom – showing the timeless attraction of casino lovers to the famous gambling pups.