Game Review: Jungle Jim and the Lost Sphinx™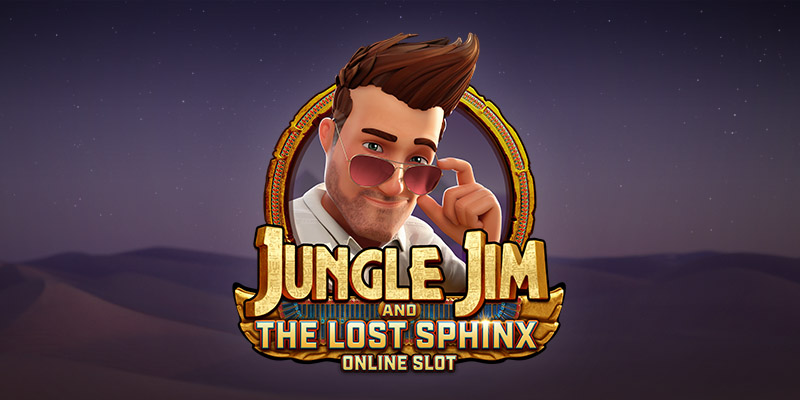 Microgaming's latest offering in the Jungle Jim genre, entitled Jungle Jim and the Lost Sphinx, is due for release in November 2019. This is another creation from Stormcraft Studios and is described as the sequel to Jim's El Dorado exploits which were based in South America. As the title suggests, this latest chapter finds the iconic Jim hunting through the desert landscape of Ancient Egypt. His quest is to discover the location of the secret burial chamber which legends say contains a Lost Sphinx. This golden icon is rumoured to be eternally standing guard over a rare relic which possesses phenomenal power and is of immense value. So that means playing Jungle Jim and the Lost Sphinx could put you in line for a jackpot mobile payout.
The Game's Environment
It seems no one is immune to the ravages of time. So while Jim's famous quiff is still intact and he's as lively as ever in this adventure, he does now look at a little older and more careworn with his three-day beard. As you would expect with an Egyptian action-adventure, there are hieroglyphics everywhere alongside intricately carved statues and symbols inspired by the iconic graphics and artwork of the ancient Egyptian kingdoms of the pharaohs. Jim's journey takes him deep into the sand-laden deserts of this land, and the game's graphics do a great job of suggesting the dark and forbidding nature of the forces which stand in the way of our favourite hero. Come to think of it, it's good to know Jim can at least rely on modern tools like a nippy jeep and a smartphone equipped with GPS tracking to see him safely through the maze of dunes and other tricky obstacles he encounters. Prepare to be impressed by a superbly crafted soundtrack.
Game Symbols
The large-letter Jungle Jim logo acts as a Wild and has a distinctive circular mosaic-tile design contained within a plain outer frame. The gold Scatter symbol, which is far more ornate, has the appearance of a broach design and features a pair of dangerous-looking serpents above and below the hieroglyph-engraved inner section. The Sphinx itself is a traditional depiction in antique gold with prominent wings and feathers around the margins of the frame. Jim's regular symbol shows him in a bright, optimistic pose, and he's joined by a Book with an ornate cover and bindings, a carved chest surmounted by a golden dog figure, and an ancient decorative pot covered in Egyptian designs and symbols. At the bottom of this symbol hierarchy, there are four richly coloured gems, each in red, orange, green and blue shades.
Game Features
The Rolling Reels™ feature will get you multiple consecutive wins from one bet, allowing you to advance along the adventure trail to start unlocking higher multipliers and additional paylines. You can aim to trigger the game's Free Spins by bagging yourself 3 Scatters. But if you don't plan on waiting around for this to occur, you can just activate the Win Booster™ instead. This allows you a permanent bonus Scatter, so you only have to land two more Scatters on the reels in order to trigger the feature you want. After playing a dozen Free Spins you can then collect the golden Sphinx Symbols. At this stage, the multiplier trail is permanently upgraded and you will be awarded extra spins! And don't forget you have a win potential of up to 6250x on every single spin!
Game Specifications
Jungle Jim and The Lost Sphinx is a cascading video slot. The game offers five reels, four rows and 35 fixed paylines as the default option. However, during gameplay, this can be increased to a 5×5 format which expands to 50 paylines. 'JJ' and the Lost Sphinx is a medium volatility game, so there's a good mix of smaller regular payouts alongside bigger wins. Its RTP (Return To Player) percentage comes out at 96.30% which is reasonably generous for a game of this type. The total hit frequency is quoted as 30.55% which suggests that, on average, a player could expect some kind of winning combination to show up on a payline about once in every three spins. Choosing the maximum bet and selecting the Win Booster option could give you a maximum payout of up to £125,000.