Le Kaffee Bar Is Open For Business!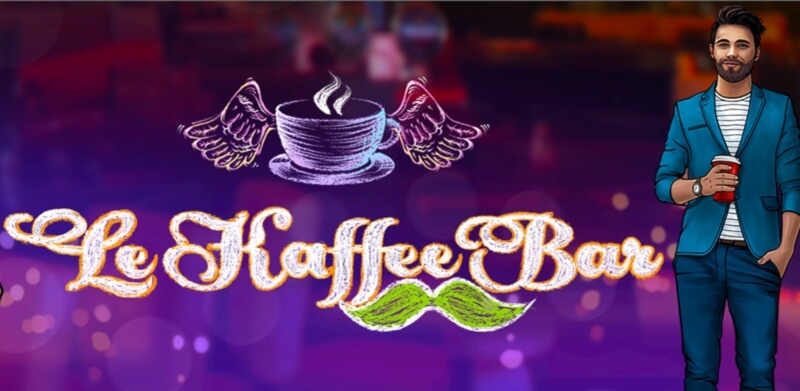 Come one, come all! Le Kaffee Bar, the coolest spot in town for a cup of coffee and a round of high-octane fun, is opening its doors for anyone in search of caffeine-powered online slots. Capturing the mile-a-minute frenzy of a morning coffee rush, this trendy hangout houses a five-reel slot game with 243 ways to win. Match the symbols, rack up multiplier combos and make your way to the ultimate jackpot, all in the space of a simple coffee break.
Symbols depict classic coffee shop images, from cupcakes and a milk jug to quirky chalk signs that show A, K, Q, J, 10 and 9, which helps to capture the feel of a contemporary café. You'll also encounter three human characters in this online slot game: a boy, a girl and the friendly barista who runs the shop. Line these symbols up and you can walk away with a brilliant prize pot.
The game is the brain child of Microgaming and is scheduled to be released on the 5th of June 2019. Everyone's welcome, from new players to seasoned pros, so make your way down to the new neighbourhood hot spot and discover the effortlessly hip ambience of Le Kaffee Bar.
Cherish a Complimentary Cuppa
Le Kaffee Bar rewards its loyal customers, in order to make sure you keep coming back for more. Like many cafés, you simply need to get ten coffees and you'll be eligible for your free bonus, so frequent play can pay real dividends. It's not a free cappuccino or mocha that awaits the faithful player, though, but rather the chance to indulge yourself in free plays.
Throughout the game, you may notice scatters popping up on the first or fifth reel. These may not seem valuable at first, but each one is added to your Cup Meter as an image of a cup of coffee. The more you play, the more likely you are to uncover these symbols and the more the Cup Meter will fill. Eventually, you'll be given the choice to convert these coffee cups into free spins, meaning you'll have the chance to win more money without spending any of your winnings to date.
Ten coffee cups can be exchanged for ten free spins, which means ten more chances to hit the jackpot and leave a lot richer than you arrived. It can be tempting to opt for this, but patient players may choose to build the Cup Meter further. Twenty cups can be traded for fifteen free spins, while thirty cups become eighteen free spins of the wheel. Once you've accrued thirty cups, you will have to trade these in, and eighteen free spins will automatically be awarded. Free spins play out at the average bet level.
Strategy is a key part of optimising your free spins. Trading ten cups for ten spins and then refilling your Cup Meter from scratch maximises the number of free spins you are able to achieve, but the game's nifty multiplier feature offers a further opportunity for strategy. The former trade-in results in a 3x multiplier of your bet, which is a definite bonus for players hoping to cash in big at the end of their coffee break.
However, if you decide to hold off and trade twenty cups for fifteen spins, the reduced number of free spins will be compensated by a 4x multiplier, which offers the chance of greater winnings. Similarly, trading thirty cups for eighteen free spins results in a 5x multiplier, which maximises the amount of money that can be won on a single spin. It's all a matter of preference – enjoy quick, sharp bursts of free spins with the ten-spin option (perfect for the espresso fans out there!) or build up your bonuses and savour the long game like a smooth, refreshing latte.
One More Shot
Sometimes one cup is not enough, but Le Kaffee Bar is happy to offer free refills from time to time. If you can match three symbols, either vertically or horizontally, you're entitled to take another spin, with the Spin Again feature. This can be won in both normal mode or during a free spin; in the latter case, the multiplier effect still applies. When the Spin Again feature is activated, the centre image is replaced by a Wild symbol, which is retained for the next spin. You will also be given the next spin for free, so there's nothing to lose and everything to gain.
Time for Coffee
Whether you're a casual coffee fan, a keen aficionado or are totally caffeine crazed, Le Kaffee Bar is destined to become your favourite spot for a pick-me-up. Log in or create an account and get ready for a morning rush like no other!