JackpotCity Casino: Betting on Nathan's Hot Dog Eating Contest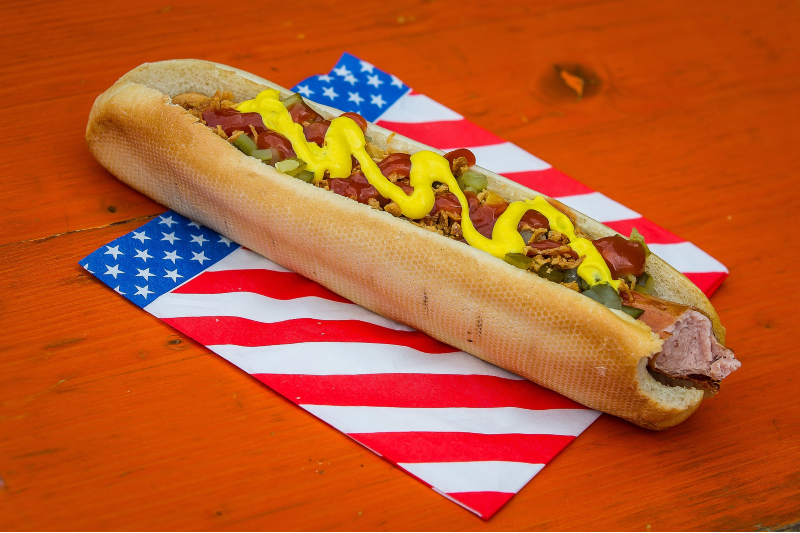 The Nathan's Hot Dog Eating Contest is an annual event, traditionally held next to the site of the very first Nathan's restaurant in Coney Island, New York. The event has been running since 1972, although the promoters have spuriously claimed that it all began way back in 1916.
The original story goes something like this: on the 4th of July in 1916 four immigrants had a hot dog eating contest to settle an argument over who was the most patriotic person. More recently, one of the promoters admitted that the story had been concocted for publicity in the 1970s, but the relationship between Nathan's hot dogs, patriotism and the 4th of July is still strong in people's minds. Today, no one cares whether the original story is true or not, and frankly, the entire thing has been a stroke of marketing genius. You will still find many American journalists describing the contest as "steeped in history" and one hundred years' old… while the Nathan's website itself calls its own story: "a tale as tall as 73 hot dogs". In recent years (pre-pandemic figures) the competition has been attracting up to 50,000 spectators and is a fun, extravagant and stomach-churning show in celebration of the hot dog: not the kind on a stick, the one in a bun with mustard. The American kind.
Like most things in 2020, the Nathan's Hot Dog Eating Contest was affected by the COVID-19 pandemic. For the first time since 1972 the contest was held indoors without any spectators and only five athletes present, rather than the usual fifteen. As with everything during the pandemic, people had to enjoy the e-versions of their favourite activities: casino-goers moved to online pokies, sports fans to esports, and eating contest spectators had to settle for watching it on ESPN. The year 2020, was also the first time in history that people could legally wager on the hot dog eating contest in three American states – New Jersey, Colorado and New Hampshire. Major League Eating (or the MLE), which is the co-organiser of the contest, was delighted by this change. The MLE president was reported as saying: "ESPN had already affirmed us as a sport in the early 2000s […] But, with legal betting, we are really now as legitimate as the NFL and the NBA".
Competition rules
So how does the competition work? There are about 20 competitors in each division: men's and women's; and the contestants have ten minutes to eat as many hot dogs and buns as they can. The entire hot dog and bun must be consumed for it to be counted, but the sausage and bun may be eaten separately. Contestants are also allowed to dunk their bun into liquid before eating it. However, they can only submerge the bun for a short time: it must not fully dissolve. It is recommended that contestants eat food in small chunks to cut down on chewing time. Right at the end of the contest, the contestants are allowed to "chipmunk". This means they can stuff their mouth full just before their ten minutes are up. Food in the mouth must be swallowed within 30 seconds of the final bell for it to be counted and if the contestant regurgitates during this time, they are disqualified. Contestants can also receive a penalty for messy eating and will be disqualified for vomiting (or if regurgitated food touches the table or plate). Lovely! Condiments are allowed but are rarely used and the winner receives a bejewelled belt and other cash and prizes. But the life of a competitive eater leaves nothing to be desired as you will see below… Playing online pokies in moderation is much kinder on your body.
The main contenders
Now that betting is approved in three states, many sites will be publishing odds for the upcoming event. At the time of publishing this article, these figures were still unknown, so keep checking them regularly for updates. What we do know for certain is that the favourite, as it is every year, to win the men's contest is Joey Chestnut. Chestnut is the defending champion and he has won the contest an astonishing thirteen times. The only time he ever lost the contest was to Matt Stonie in 2016 (who ate 62 hot dogs that year). Chestnut managed to gobble down a world record of 75 hot dogs in 2020, while Matt Stonie was stuck in California due to travel restrictions. This year, the two legendary eaters will be going head-to-head once again. You should also keep an eye out for Carmen Cincotti, Darron Breeden and Geoffrey Esper. The most common betting option will be to pick the winner of the men's or women's divisions. You will also be able to place Under/Over bets on the number of hot dogs they will consume.
The women's contest should be interesting because Miki Sudo, the defending champion, will not be competing this year. She is expecting a baby: congratulations Miki! That leaves the women's title wide open to other contenders… It would be a good year for Nela Zisser, the competitive eater from Christchurch, to give the hot dog contest another shot. Zisser came seventh in the women's category in 2015 after eating 16 hot dogs; Miki Sudo ate 38 that year. In 2016, Zisser managed to push this figure up slightly to 16.75. Miki's current record, set in 2020, is now 48.5 hot dogs! With Sudo out of the contest this year, keep your eyes on Michelle Lesco, Juliet Lee, Larell Marie Mele and Juliet Lee.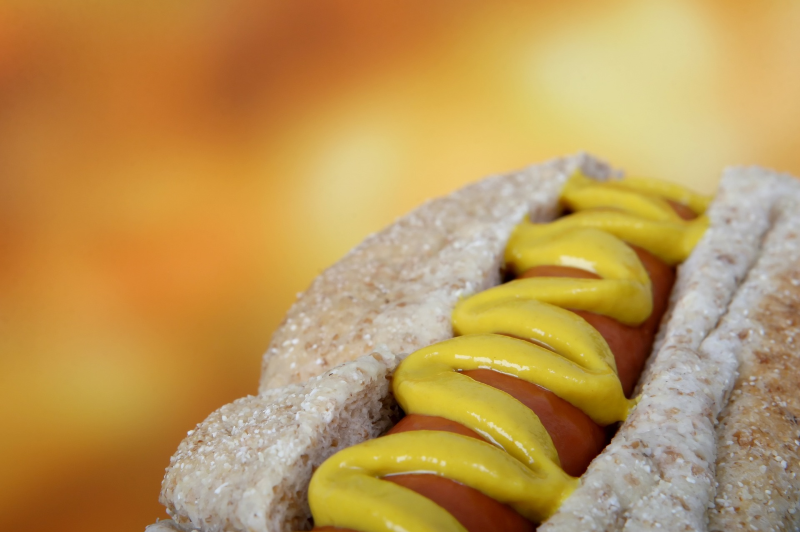 The history of competitive eating
Competitive eating was only recognised as an international sport in the early 2000s. The first official pie eating contest in North America took place in Toronto in 1878. The winner received a "handsomely bound book" as their prize. Pie eating contests have continued to be popular since that period and are a standard feature at local fairs. Nevertheless, it is the Nathan's Hot Dog Eating Contest that has really boosted the popularity of eating contests in the United States. ESPN has been broadcasting the contest since 2003 and Nathan's introduced a women's division in 2011.
The Major League of Eating (MLE) was created in 1997 and has helped promote competitive eating as a serious sport around the world. The MLE actively supports 70–80 eating competitions in North America, including the Nathan's Hot Dog Eating Contest. However, there are many other competitive eating contests in North America and many of them are televised, such as the Krystal Square Off Hamburger, the Glutton Bowl and MLE Chowdown. The United States has competitive eating contests for pretty much every kind of food you can think of… popcorn, ice cream, oysters, doughnuts, pepperoni rolls, sweet corn, shrimp, lollies, ramen, baked beans, milk and cookies, tacos, beef sandwiches, burritos, jalapenos, pizza, ribs, sausages, rice… even live insects! Some people will do anything to win a prize. If given a choice, I would personally rather play pokies instead.
Death by hot dog
Eating 75 hot dogs sounds kind of dangerous. That's because it is! Scientists generally agree that it must cause terrible damage to your body. And it's not just the contests that are dangerous because the training prior to a competition is just as extreme. Aside from the high risk of choking, athletes risk delayed stomach emptying, aspiration pneumonia, stomach perforation, Boerhaave syndrome (oesophagal rupture caused by vomiting) and water intoxication (one of the most dangerous things of all). There have been multiple deaths around the world caused by competitive eating contests and training programmes. As competitive eating becomes more popular in Oceania, this is happening closer to home. In January 2020 a Queensland woman died during a lamington eating contest on Australia Day.
Training for competitive eating contests
One of the first questions many people have when they see the top competitive eaters is how do they stay so slim? Most competitive eaters are in amazing shape (like most serious athletes). So why aren't they fatter? One explanation is that fat may actually restrict the stomach's ability to stretch temporarily, as is required during speed-eating contests. New Zealand's top competitive eater Nela Zisser is the perfect example! She weighs only 55 kilos. The best competitive eaters follow intense physical training programmes to keep their bodies healthy and most of them follow draconian diets and fast for days before a big contest. They also do daily exercises to stretch their stomachs and learn to suppress the gag reflex. This usually involves consuming huge quantities of liquids each morning: some will drink gallons of vegetable juice or water for breakfast.
The world champion, Joey Chestnut explains that during his three months of training, prior to an important competition, he only eats one meal a day. This is usually salad with a little protein. He runs every day to stay in shape and does a lot of yoga to learn to control his breathing. His training, programme includes a weekly practice eat on a Saturday or Sunday, followed by a few recovery days, during which he restricts his diet to cucumbers and lettuce to aid digestion. After a few days of this, he only drinks lemon water and coffee in the morning and fasts for 36 hours before his next practice eat. Unlike many other contestants, Chestnut doesn't usually vomit after contests, but he does say he feels very tired.