Latest Exciting Automotive Tech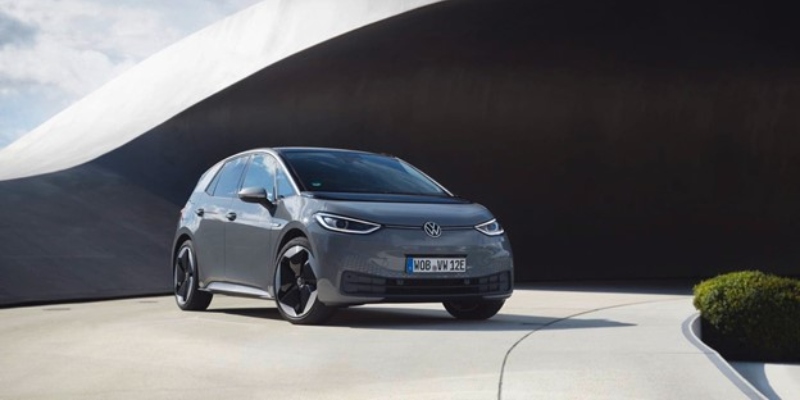 The technology market is booming, and nowhere is it more obvious than in the automotive industry. The smartphones have been a part of our lives for many years, and now large Chinese tech companies are powering into the auto manufacturing industry to enrich the lives of their customers. The electric car market is rapidly expanding and has become the next best prize for the development and implementation of new technological advances.
Chinese company expansion into the auto market
The current trend to make automotive industry eco-friendly, energy-efficient and intelligent has been driving the phenomenally fast change in the demands of the auto market. This transformation is especially evident in the EV vehicle segment, especially in the huge and hungry Chinese automotive market. Leading Chinese tech companies are taking this opportunity to develop new technologies and make a significant profit on introducing various innovations both to the smart electric and the autonomous vehicle markets. Many of these cars boast 5G internet connectivity, and have the capability to let the passengers take a spin at the online pokies, play mobile games, or browse the web directly from the car.
Recently, Chinese smartphone leaders Xiaomi and Huawei, the e-commerce giant Alibaba and even a drones manufacturer DJI have joined the novation market in developing new technologies for smart cars. Huawei's Chen said at the recent Shanghai Auto Show 2021, "(Huawei) will enter a new track in the future, and with its own advantages, including combining software and hardware, will help promote lightning-fast development of smart cars and autonomous driving."
Shanghai Auto Show 2021
At the recent major Shanghai Auto Show, a plethora of electric vehicles was on display, with a dizzying kaleidoscope of build-in gadgetry and technological addons. Both local and international vehicle manufactures presented their latest and best electric vehicles. There were EVs for every budget and age group, ranging from luxurious Mercedes Benz models to the small Hongguang Mini EV vehicles, aimed at the entry level car purchasers.
Many new and exciting technologies were on show. For example, Geely Zeekr 001 model, targeting younger consumers, boasted facial recognition for the passengers, adjusting personal preferences inside the salon. The Nio ET7 electric sedan, company's first autonomous driving model, was advertised as the 'second living room', equipped with heated massage chairs, a huge range of ambient lighting and tech for detecting bumps on the road and adjusting suspension for a smoother ride.
Some of the very cool features in the new EV cars include massive infotainment and instrument displays, mood lighting, self-adjusting cabins and control panels, automatically adapting air suspension systems and an incredible range of batteries, data collecting sensors, horsepower and travelling ranges.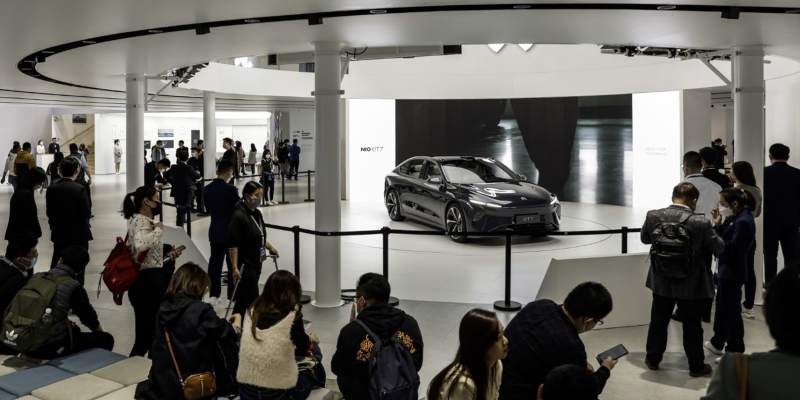 Source: Photo by Qilai Shen on Bloomberg
Growing EV market
Chinese vehicle market is rapidly electrifying, reflecting the current trend of green vehicles, reflecting the global drive for ecologically friendly technology. In 2020, due to the pandemic, total vehicle sales in China have contracted 1.9%, with sales still coming in at nearly a third of the world's global – about 25.31 million vehicles sold. However, the market has shown a very strong preference for the energy cars, with the sales of all-electric and hybrid vehicles growing 10.9% in just one year. The Chinese government's official projection is a growth up to 25% of the car sales market by the year 2025 – and all these cars will be integrated with the latest driving technologies. This push alone was enough to open the floodgates for investors in the electric vehicle market, with strong support from the government incentives.
Autonomous driving unit development
The development of new technologies has been progressing at an accelerated rate. Xiaomi is said to be planning to invest $10 billion in their EV tech development branch, and Huawei has committed to $1 billion in developments in 2021 alone. New partnerships are being formed, such as the collaboration between Alibaba's and Honda, a major Japanese car manufacturer, to test Alibaba's autonomous driving system AutoX in China. Another major car manufacturer Baidu is planning to install their autonomous navigation system Apollo on over one million vehicles in the coming years.  And yet more global technology companies, such as Apple, are also rushing to introduce their systems for self-driving vehicles to the market. Currently, only a few countries in the world are ready for autonomous vehicles on the roads, however Chinese trends are driving the development and cutting-edge technologies required for the inclusion of these vehicles in everyday traffic.
Electric vehicles globally
The popularity of the green energy vehicles has become a global phenomenon. For example, Sweden has released figures for the December 2020 auto registrations for passenger cars, showing a huge trend in the preference for EV vehicles, comprising 49.4% of the total. This data includes 8.8% of hybrid cars, 19.2% of full battery electrics (BEVs) and 30.1 plugin hybrids (PHEVs). The total was a rise over 11.4% of the plugin share from the entire 2019 vehicle registrations.
The EV market for electric cars in Sweden is more limited, compared to the huge range of Chinese vehicles. However, there is a clear preference for the Volkwagen ID.3, closely followed by Tesla Model 3 and Kia Niro. The ID.3 has shown a massive sales trend in December, with 2564 units sold, with the monthly average sales of 1002 vehicles – a far greater share of the market than any other model.
The ID.3 is a simpler model than most of the cars displayed at the Shanghai Auto Show, however it comes with some very cool technology assistance. The outstanding feature is an augmented reality heads-up display, which projects information onto the windshield for the driver, such as speed, navigation information, direction arrows and various navigation data. This vehicle is also equipped with adaptive cruise control and lane keeping assist, appropriate for the geographical region.
Electric vehicles in New Zealand
New Zealand's own EV car market has been steadily growing over the last several years. Electric vehicles make an excellent addition to a corporate fleet or to a family. The distances between towns in Aotearoa and relatively short commute distances make these vehicles an attractive option. Popular models include small hatchbacks such as Nissan Leaf, BMW i3 and Renault Zoe, versatile sedans from leading market auto manufacturers Tesla, Hyundai and Audi, and vans from Ford, LDV and Nissan. There are also plenty of plugin hybrids to choose from, for all requirements and budgets.
Currently there are no self-driving cars in New Zealand, and the public roads are not set up for this type of electric vehicles. However, there are trials taking place on NZ roads, with full automation potentially becoming accessible in the coming years. Many governments around the world are investing in the local car markets, and NZ is no exception. The most widely available tech in these electric cars is limited to lane keep assist, adaptive cruise control and salon tech gadgets, which vary from one manufacturer and model of car to another.
In the future, we hope to see the share of EV vehicles on the New Zealand roads overtake other types of cars, and that very soon New Zealanders will be able to enjoy the new technologies and self-driving vehicles, currently at the cutting edge of the Chinese automotive development.