The Promising Future of the 'Mad Box'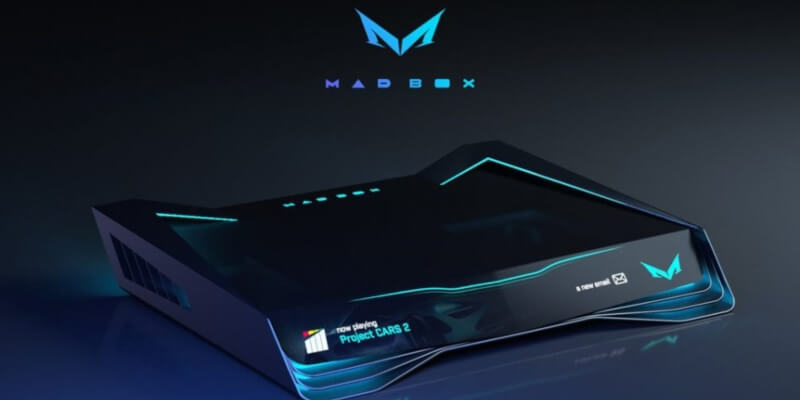 Ian Bell is CEO and founder of Slightly Mad Studios, the company behind the Project CARS 2 simulator titles. Bell spearheaded the recent launch of their new console concept, the Mad Box, a project which claims to take a fresh look at a market dominated by powerful players such as Microsoft and Sony. But will this bold move prove to be more hype than substance?
What is the Mad Box console anyway?
According to Bell, the Mad Box promises to be "the most powerful console ever built." It will host games running at 4K resolution and 60 frames per second and will also offer full support for all major brand VR headsets. We are told the new console should be ready to ship in around 3.5 years and will be priced to compete with the new generation of products expected to be on the market by then.
What the Mad Box will actually look like is still very much open to discussion. Slightly Mad Studios has revealed details and images of at least four possible designs on Twitter, with some pictures deliberately blurred where internal specifications have not yet been finalised. Bell has invited feedback from the gaming community, while also voicing his own tentative assessments.
The first concept (featuring built-in speakers and a flared chassis to accommodate heat dissipation) he thinks is a 'garish … WIP build'. By contrast, Bell finds the second design (a Portal 2 Companion type cube with standard cooling) "much less 'out there'". The third is a far more conventional model somewhat inspired by the Project CARS logo, and Bell designates the fourth design as his own "personal favourite."
Referring to the designs (and perhaps the company's open-ended marketing philosophy too) Bell explained: "It's all about getting the 'M' out there." And accepting that at the present time each one of these concepts could still be tweaked or even scrapped altogether, he added: "We'll watch the response metrics and act accordingly."
Signs of innovation?
Bell says his studio is looking at "digital only" options (none of the designs on show feature a DVD slot) and that all current concepts are "very light" and will aim to broadly match rival platforms in terms of dimensions. Twitter exchanges also seem to imply Bell has identified a partner for the controller, which is presently in "heavy development" and will only be unveiled "when it's ready."
The Mad Box will sync wirelessly with other Mad Boxes and will be released with a dedicated cross-platform engine ready to export games to Mad Box, Xbox, PlayStation, and PC. This feature, Bell reports, will be accessible with "an 'almost' one click press". Even so, we still don't know if any online casino games will be released for the Mad Box. And furthermore, it seems Bell's company won't be looking to develop their own series of platform-exclusive games, preferring to offer an essentially free game engine to developers who wish to create games for the Mad Box platform, yet leaving them able to promote their games on other platforms too.
What do the performance figures tell us?
Alongside these laudable proposals, the Slightly Mad Studios CEO seemed rather less sure of some important detail. While initially indicating the new console would run VR at 60 frames per second, which Bell later 'corrected' to 60 frames per eye (no difference!), he then proceeded to tell Variety the performance was actually a staggering 120 frames per second, only to change his mind again and settle for 90 frames per second. Such unfortunate frontline feature-level mistakes have already caused many observers to conclude this launch is primarily about hype rather than substance.
A strategic move?
PCWorld and others believe the real story here is more about what the likes of Microsoft and Sony are planning to do over the next two to three years. Slightly Mad Studios are presently developers, which thus means they are extremely likely to have seen the dev kits relating to forthcoming Sony PlayStation and Microsoft Xbox development plans. Armed with those proposed specifications, Slightly Mad would then be in a prime position to develop their own competitive Mad Box specs.
The future could be fun
While such speculation is not likely to alter the prevailing view that the over-ambitious Mad Box platform is not likely to take the market by storm, or even necessarily progress beyond the drawing board, it does perhaps afford a hint of what the next-generation hardware from established providers might possibly have in store for gamers. Looking ahead to 2021, it seems we can all look forward to taking advantage of lightweight graphics, 4K as the new 'standard' resolution and perhaps VR running at up to 60 frames per second.