How to Buy a Space Ticket: Online Casino?
A view from space showing a SpaceX Dragon craft like the one that docked with the International Space Station in 2020. Source: Pixabay
The successful launch of SpaceX's Crew Dragon opens up many possibilities for space travel and tourism in the future. But those ticket prices are totally out of the reach of normal human beings. While we're stuck here on Planet Earth we can still have fun playing our favourite online casino games and have a chance to buy our tickets to the moon one day.
Bob and Doug's Excellent Adventure
Bob Behnken and Doug Hurley, affectionately referred to as Bob and Doug by… well everyone! … launched into space aboard SpaceX's Crew Dragon headed for the International Space Station. The successful launch on 31 May marked a new era in space travel as the first commercially operated crewed rocket launch in history! Space X has been competing with Boeing to be the first commercial company to send people into space. After several aborted launch attempts in May, SpaceX, in partnership with NASA, finally achieved the coveted goal. Watching Crew Dragon rocket into space was incredible: we really were watching history in the making!
In the words of SpaceX, taken from their website: "Demo-2 is the final major test for SpaceX's human spaceflight system to be certified by NASA for operational crew missions to and from the International Space Station. SpaceX is returning human spaceflight to the United States with one of the safest, most advanced systems ever built, and NASA's Commercial Crew Program is a turning point for America's future in space exploration that lays the groundwork for future missions to the Moon, Mars, and beyond". Exciting stuff and they will be taking passengers too! But the money to travel to Mars might only be reachable if you win the jackpot on your favourite online casino New Zealand game. The ticket prices are out-of-this-world!
Capture the Space Flag
Doug Hurley was the pilot on the last shuttle mission to the International Space Station in 2011. At the time, the crew carried a flag up to the station leaving strict instructions that nobody was to touch it until the next crewed rocket arrived from Florida. So, when Doug returns to the station, he will be able to "capture the flag" and take it back home. But Bob and Doug may spend many months in the space station. During that time, they will be expected to take part in the platform's everyday science and maintenance tasks.
Preventing Travel Sickness
This launch was a first in many ways: it was also the first launch to take place in the middle of a global pandemic. While astronauts always spend two weeks in quarantine before visits to the space station, the COVID-19 pandemic has meant that NASA and SpaceX have had to introduce additional precautions: social distancing measures during training, regular temperature checks, special protective gear for all staff and more.
If you were one of the millions of people watching the "Launch America" YouTube live stream on Sunday, you would have noticed ground crew and mission control staff all wearing masks and maintaining the recommended social distances. Jim Bridenstine, the NASA Administrator even asked local people to stay home and not come and watch the launch. He is reported as saying: "It makes me sad to even say it, but we don't want an outbreak".
The crew rocketed into space from the historic launch pad at NASA's Kennedy Space Center in Florida. The same pad that sent the Apollo 11 astronauts into space in 1969. It was also the first space launch in the United States since 2011. Since then, American astronauts have had to hitch a ride on a Russian Soyuz rocket to get to the space station. A situation that was hurting American national pride. Consequently, on Sunday we heard a lot from NASA about "launching American astronauts on American rockets from American soil" … who were incidentally visiting the space station to retrieve an American flag. If I were American, I would be feeling pretty proud of my American-self right now. But since I am not, it quickly grew tiresome.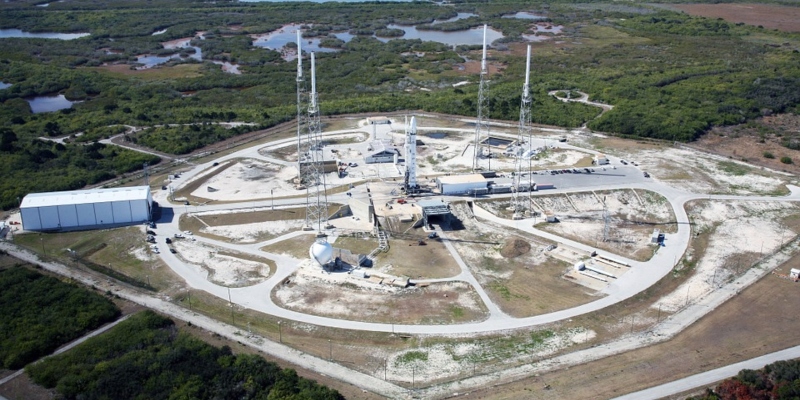 An aerial view of NASA's Kennedy Space Center in Florida site of the Apollo 11 launch in 1969 and SpaceX Crew Dragon Launch in 2020. Source: Pixabay
SpaceX Fashion and Sparkly Stowaway Dinosaurs
Bob and Doug were wearing the new custom-fitted SpaceX suits, which are less bulky than traditional spacesuits and come with built-in air-conditioning. The slick new suits have a distinctive Star Trek vibe going on that we cannot help but love. However, someone really let the design team down with those gum boots! Still, unexpected details like this are the sort of thing we have come to expect from Elon Musk's team: elegant high-tech that turns your head for more than one reason! Just look at the Tesla, a slick electric car able to perform light and sound shows with… farting seats! And my favourite, The Boring Company, Elon Musk's tunnel drilling enterprise. These adorable touches and a quirky sense of humour are hallmarks of Tesla… and now SpaceX too. One of the stars of the mission so far was a stowaway sparkly stuffed dinosaur. This little stuffed toy, which was used for the zero-gravity test, captured many people's hearts as it floated through the vessel. Sorry to say, the SpaceX online shop is already sold out of the lovable space dinosaur.
Hello adorable plush dino (?) passenger! pic.twitter.com/NK1HZXsb44

— Loren Grush (@lorengrush) May 27, 2020
The Dawn of Space Tourism
If everything goes smoothly over the next few months, a new era in space tourism will begin. The Dragon spacecraft is capable of carrying up to seven passengers. But before you book your ticket, there are a few things you need to know. First, start saving your pennies, because you will need to cough up US$55 million for a 10-day holiday at the International Space Station. And if we are being honest, space travel must be amazing, but a week living in the International Space Station……well it's certainly not for all of us. You have to really like cables, an industrial ambiance, freeze-dried food, pooping in a tube, and confined spaces. If that sounds like you, and you have tens of millions of dollars to spare, one of those three seats could be yours as early as next year! For most of us, the money for travelling to space might be only reachable by winning big on our favourite slot game.
Long-Haul Begone
Crew Dragon is just one of the many SpaceX projects worth watching in the coming years. Elon Musk's company is also working on an Earth-to-Earth transportation project using the Starship and Super Heavy rockets. By leaving the Earth's atmosphere they will complete most long-haul trips in 30 minutes or less. For those of you who have experienced the sheer horror of a double long-haul flight from Auckland to London, that's good news indeed. One day we may be able to look back on those interminable flights with the same mixture of dismay and admiration as we do when we try to comprehend the 75–120 day sea voyage to New Zealand people took in the 19th century.
The bad news is that space tickets to London probably won't be affordable in our lifetime. But you never know…. if we keep playing our favourite online casino games or guess the correct word of the year (SpaceX?) we have a chance of one day hitting the jackpot. And why not stay on-theme by playing Space Enigma! Just one of the superb online slot games at JackpotCity. Many online pokies at the best online casino in NZ feature stars, spaceships and aliens, but what is great about Space Enigma is the quirky design touches and cool animations, which make it stand out from the crowd.
Flights Around the Moon for Talented Artists
However, if you're an extremely talented artist you could get a flight around the moon for free. Well, not totally free… You will be expected to produce some artwork at the end!
The first paying customer on a trip to the moon was announced by Elon Musk in 2018, Yusaku Maezawa, Japanese billionaire and jack-of-all-trades: art curator, skateboarder, drummer, entrepreneur, and fashion designer. He has purchased all the seats on the first private spaceflight around the moon. Yusaku wants to share his experience with artists from around the world, and he is offering a one-week space holiday to the world's most talented. This is all part of a global universal art project called #dearmoon aimed at international peace. The website states… "In 2023, artists representing the Earth will head for the Moon. A painter, musician, film director, fashion designer...Some of Earth's greatest talents will board a spacecraft and be inspired in a way they have never been before".
So, if you have the talent, you may get a free ticket to space. Unfortunately for me, I still have to try to win my ticket money playing my favourite online casino games… wish me luck!