Discover the Fastest Online Casino Wager!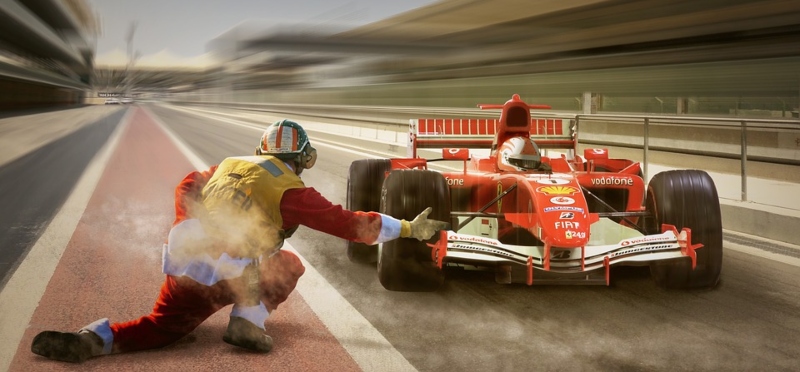 Whether you keep your car spotlessly clean or love to muddy it up off road, there's a great excitement that comes from a powerful vehicle. Our need for speed makes motorsports an attractive even to watch. There are lots of online casino games at JackpotCity that are dedicated to the love of fast cars. You can also place bets on a range of motorsports events in Formula One, NASCAR, and more.
Like most sports betting, motorsports gambling allows you to make a variety of bets for popular events around the world. Follow big-ticket events from around the world and enjoy watching the race after placing your bets. It's always fun to watch when you've placed a wager, since you have the chance to watch your chosen team fight for victory. You can bet on a team that drives cars from your favourite manufacturer or pick based on the odds you research before the race. Either way, it's a sure way to make race day even more fun.
How Motorsports Betting Works
Betting on motorsports isn't so different from betting on horse races, which is one of the oldest kinds of sports betting. Unlike horse races, though, the events last much longer so the excitement really builds as you watch your team progress. Plus, a bit of knowledge about the different car configurations and the drivers themselves can help you make the best online casino bets in a NZ casino like JackpotCity.
Before you bet on racing events, you should know what kinds of bets are available. The basic bets that are available are usually the same whether you're watching motocross, NASCAR, F1, or something else. Motorsports bookers offer more than just outright winner bets, which is good because there's often a large list of competitors. However, if you do pick a winner successfully, you could get a handsome payoff since the odds are so long.
Match race betting is a common motorsports bet because it narrows down the competition a bit to make the odds better. When you place a match bet, you choose two drivers and bet on how their results will compare to one another, with the odds based on each driver's stats. You may choose put your money on your favourite driver beating their close rival, or choose several different matchups.
It can be hard to know how a car race will pan out. Even if you bet on the best driver in the series, all sorts of mechanical problems and crashes can throw a driver out of the running—so anyone has a shot at taking first.
Motorsports betting isn't one of the most popular types of sports betting, so you can often get a good edge by knowing a bit about the sport. As usual, knowing how to pick a good underdog can turn into more handsome returns on your bet if you're right. The more you watch different motorsports events, the more familiar you'll be with the mechanics of the sport and the drivers themselves, putting you in a better position to make smart wagers.
Here are the most important series and races in motorsports, which you can bet on in NZ online casinos.
NASCAR Race Betting
NASCAR is a popular stock car racing series that started in the United States and is enjoyed by fans around the world. It began back in the 1940s and its fandom has grown ever since, with well-attended in-person events at large racetracks and a large TV audience. NASCAR racing cars are known for their low stocky build and flashy decoration, often with sponsorships and adverts from big-name companies.
It isn't hard to catch a NASCAR race, because the series runs for most of the year. The NASCAR Cup Series is the biggest event in the sport, with 36 races over the course of 10 months. Many drivers have gotten famous by doing well in the Cup, including 2019 champion Kyle Busch. Other famous drivers include Richard Petty and Dale Earnhardt.
The Xfinity Series is the second level of professional NASCAR racing. The races are less frequent, but the competition is still fierce, often featuring drivers who also compete in Cup events. Another fun event to watch is NASCAR Gander RV & Outdoors Truck Series, where drivers race modified pickup trucks.
You can find many big NASCAR events in online sportsbooks in order to place your bets. There is some strategy to betting that you can read about online or learn about from an experienced sports bettor. Popular bets for NASCAR include choosing the outright winner, picking the pole position (which driver has the fastest qualifying time), or a fastest lap time bet overall (regardless of who wins the race in the end). You can also place a prop bet, which says whether or not something will happen during the race, such as the race being won by a certain make of car.
Formula 1 Betting
Formula 1 is NASCAR's overseas cousin, with huge popularity in England and other parts of Europe. Formula 1 racing has participants in open-wheel single-seater cars, which must adhere to a certain set of rules for their configuration. Unlike NASCAR races that go around an asphalt track, Formula 1 races take place on specially constructed circuits and public roads, making the scenery a bit more interesting for both viewers and drivers.
Formula 1 boasts the fasted road-racing cars in the world, with speeds of up to 350 km/h. Because of their aerodynamic construction, they can also turn corners extremely quickly. This speed and manoeuvring make for a great event to watch. Look out for great performances by gifted drivers like Lewis Hamilton, Max Verstappen, and Charles Leclerc, who all impressed in 2019 races.
Each Formula 1 event, known as a Grand Prix, will take an entire weekend. It starts with practice sessions so that the drivers can get familiar with the course, followed by a qualifying session to determine the pole position for the actual race, by comparing each driver's fastest lap time. The main race event is always held on Sunday, lasting under two hours.
Like in NASCAR betting, the best way to get good results when you bet on Formula 1 races is to be familiar with the sport. Knowing details about the drivers, teams, routes, and cars will help you make an informed decision. The routes in particular are important, since different drivers may be good at different manoeuvres, like turning tight corners or speeding up on straight shots. By paying attention to how your chosen drivers do on different types of courses, you can improve your odds of choosing a winner.
For Formula 1 events, online casinos in NZ let you bet on multiple drivers to win a single race, because the pay out on an individual winner is quite high when you choose correctly. You can also take a look at what team a driver is on, since drivers are always paired up for the races and can benefit from working together - a strong team may help one of the drivers prevail.
Formula 1 betting system can be a little overwhelming for beginners, but it's great fun for the bettors who care to put the time and energy into background research! There are plenty of factors that have an effect on the race results, including drivers, constructors, teams and racetracks. We have put together a short guide to the basic bets that you can place on the Formula 1 races and a list of the key drivers to watch out for during the 2021 season. We have also come up with some ideas for strategies you can follow to ensure the best winning results!
Motocross Betting
If you're more into bikes than cars, there is a lot of excitement to be found in motocross events. Grand Prix motorcycle racing, or MotoGP, is the top organisation for road motocross racing. Some people find MotoGP racing even more exciting than car racing, because the manoeuvring of the drivers is even more impressive. It's also a risky sport, with frequent crashes and dangerous conditions—it's not hard to wipe out a bike at 320 km/h!
Motocross is most popular in Italy and Spain, though there are several drivers from other countries as well. The biggest name in MotoGP history is Giacomo Agostini, who holds 15 titles in motocross Grand Prix events. Currently, the best rider is Valentino Rossi, who holds 9 titles. The latest championship title was won by Marc Márquez, who now has 8 titles.
There are fewer races overall for MotoGP than there are for other types of racing, so they're even more exciting when they come around. In 2019, there were 19 races total held in 15 different countries at various race tracks. Just as in Formula 1 racing, it can pay to know a bit about the different machine configurations, knowing what might give a certain rider an advantage. There are several different allowed bike types, but there are regulations for fuel capacity, engine capacity, and weight. You'll see bikes made by brands like Honda, Ducati, Yamaha, and Suzuki.
Beyond MotoGP, the sport also includes other classes, including Moto2 and Moto3, which have different limitations on the bike configurations that are allowed, using less powerful bikes and younger riders. The newest addition to the sport is MotoE, which uses all-electric bikes made by Energica. This type of racing is particularly attractive because it uses cleaner energy. 
Like other types of motorsports racing, MotoGP books generally have online casino bets on the best lap, race winner, pole position, and winning team. You can also bet on the winning margin through some sports books, so you predict the time gap between first and second place finishers—without having to pick who you think will actually place in those positions. If you watch the whole season of races, you can also make bets on overall champions for the season.
As in Formula 1, you're more likely to be successful with MotoGP races if you consider how particular riders or teams perform on individual circuits or certain kinds of tracks. You can look at how they fared on a course in previous years, or how their season has gone so far. As always, you'll want to have a good idea of where a particular rider stands on the leader board to inform your bet. You can check the odds for each rider before the race begins to help you choose your bet.
Other Motorsports
Besides these three top motorsports, you can find other events in racing that make for an interesting wager. Even if you have a favourite series, it's fun to branch out and watch other types of races, particularly if it's an off week for your go-to sport.
IndyCar racing is another popular league to bet on. Like NASCAR, the races are on an oval-shaped circuit, but there's more variation to the cars to make them as fast as possible. The races also last a long time, so there's more to watch, and the competition is fierce. It's also one of the most historic motor racing sports, so it's an interesting series for car history buffs.
Fans of Formula 1 racing may also want to watch Formula E racing, which follows the same basic rules but uses only electric cars. The series is managed by the same organisation and has been going since 2012. Manufacturers for F1E can even come up with innovative custom electric power-trains to use on their cars.
Car aficionados will also like Grand Touring racing, which uses cars similar to the ones you see on the road for racing purposes. Look out for special events in series like the GT World Challenge Europe or the GT4 European series, where you'll see all sorts of cool vehicles and skilled drivers put to the test.
If you're not ready to start betting on actual races, but want a taste of the fun of motorsports, look for fun car-themed games at the best online casino in New Zealand, JackpotCity. You'll get the same fun of placing your bet and seeing how it pans out, with a huge selection of great games.