Favourite Online Slot in Canada - Avalon II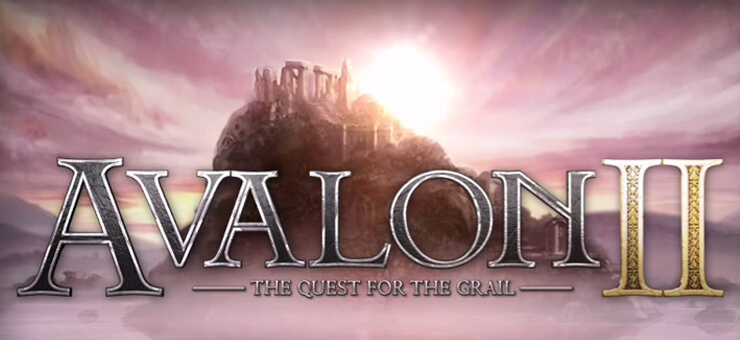 Are you ready to join King Arthur and his Knights of the Round Table in a new adventure? Following on the success of the first Avalon online slot game, Avalon II has beautiful lifelike graphics and a plethora of bonuses and rewards that will thrill you for a long time.
The Quest for the Grail
The heart of the Fortunate Island, Avalon, has been profaned by the wicked sorceress Morgan who stole the relic at the core of Avalon's prosperity: the Holy Grail. That vicious deed set in motion a chain of events with disastrous effects on the entire realm. To protect the kingdom, King Arthur and his Knights of the Round Table must partake in an epic quest to retrieve the Grail from Morgan and put it back where it belongs. The journey in this Canadian online slot will be filled with challenges and difficulties but also great rewards that will change the knights forever.
Playing the Game
The offspring of the partnership between Microgaming and Triple Edge Studios was a long-awaited sequel to the blockbuster Avalon that launched in 2014 and has been one of Canada's favourite online slot games since it came out. This popularity is of course related to the 3D animations, beautiful graphics and storyline but also to the amazing prizes and bonuses the game delivers including a jackpot of 1 200 000,00 coins!
Avalon II is a 5 reels video slot games that uses the 243 Ways-to-Win technology, meaning you have 243 paylines to make a winning combination. It has a minimum and maximum bet of 1 coin per line with coin size varying from 1.5 to 7.5. The medium volatility rate and high RTP of 97% will extend your bankroll for a long time and allow you to follow King Arthur through his journey to retrieve the Holy Grail.
Bonus Games
This online slot has a progressive storyline that involves 8 bonus games that can be triggered by obtaining at least 3 Scatter Symbols, represented by the Holy Grail. The mini-games will require your courage and wisdom as you are asked to partake in rewarding missions. As King Arthur's companion you will even get to Choose Your Path and determine the best direction to take between three mini-games: Whispering Woods, Forest Falls and Dusky Moors.
Lake of Legends – Reforge Excalibur
In this first bonus game, you are offered ten dice rolls to attempt to reforge the legendary sword Excalibur
Misty Vale – Choose your Wilds
In this misty vale, you are asked to choose your favourite symbol to temporarily transform it into a Wild. You are then offered 15 Free Spins to make the best of your enchantment.
Dusky Moors – Choose a Shield
If you select this path, the powerful White Knight will ask you to pick a shield out of five. The magical shield will endow you a multiplier that starts at 10 times your wager but can reach a grand 160 times your stake.
Forest Falls – Trailing Wilds
Upon choosing this road, you will be granted 20 Free Spins with Trailing Wilds.
Whispering Woods – Match the Helms
If you took this course, you will be asked to match the helms of fellow knights. Every time you fail at making a pair, you will obtain a higher multiplier that can go up to 8. That multiplier will then be used to boost the win bonus associated with your pair of helm.
Morgan's Keep – Rolling Reels
Once you are back on the main path, you will be awarded 20 Free Spins with a Rolling Reels Feature. This feature offers the great advantage of replacing the symbols of a winning combination with additional symbols, increasing your chances at winning again.
Hall of Shadows – Black Knight Battle
When you reach the Hall of Shadows, you will face the Black Knight in an epic combat to retrieve the Holy Grail. The fight will take place in five rounds, each with a sequence of 3 moves you'll get to choose. Every successful block or attack will grant you a cash prize.
Isle of Avalon – Wheel of Fortune
When you reach the final step of the quest, you will find a giant Wheel of Fortune consisting of 4 turning wheels, each awarding you with a multiplier. Although there are four wheels, the fourth one can only be unlocked if the third lands on a 0. This final prize is the end of your quest and will make you a rich knight.
Symbols
This online slot game has many rewarding and shining symbols:
10 & 9: Pay up to 2.40 coins
Queen and Jack: Pay up to 3.20 coins
Ace & King: Pay up to 4 coins
The character symbols
The Black Knight, the King's adversary: Pays up to 10 coins
Morgan, powerful sorceress and Arthur's half-sister: Pays up to 20 coins
Guinevere, wife of Arthur and Queen of Britain. Pays up to 30 coins
Merlin, wise wizard, counsellor of the King. Pays up to 40 coins
Arthur, King of Britain lead the legendary Knights of the Round Table. Pays up to 50 coins
The Avalon II logo: Pays up to 80 coins
Bonus Symbols
Lady of the Lake, Avalon's ruler and former keeper of Excalibur. This is the symbol of the Expanding Wild
Merlin, appears at random in the base game and uses his magic to award random cash prizes or multiplier
The Holy Grail, object of the Knights of the Round Table's quest: this is the Scatter symbol and obtaining 3 or more of these will trigger the Grail Bonus. Pays up to 120 coins
Conclusion
Are you ready to join King Arthur and his Knights in an epic quest and reap the rewards? If so, register into your Jackpot City account. If you are not already a member, Avalon II gives you the perfect opportunity to join and the Welcome Bonus of $1600 Free is a plus you should not pass on. And if you liked Avalon II, why don´t you try your luck in the new Ancient Fortunes: Zeus online slot?