Would You Dare To Join The Relic Seekers?

The legend of Huangdi, China's Yellow Emperor and mythological ancestor of all Chinese people, looms large in Microgaming's new adventure title Relic Seekers. The game action is located in a deep cave known as the Dragon's Tomb. Somewhere inside, there is a hidden relic known as The Dragon's Vein, and three explorers – the young and brave Free Man, the ultra-smart Professor Morgan and the ever-energetic Nora – aim to unravel its mysterious secrets. There is said to be a great fortune inside the ancient relic, but thrill seekers keen to get their hands on the Yellow Emperor's loot should be warned: There are plenty of mechanical traps laid for the unwary. So you'll need all the help you can get from rolling reels, symbol upgrades and free spins promising potential multipliers if you're really serious about cracking this amazing 5 x 3 reels online slot and grabbing the ultimate prize containing Huangdi's lost treasure!
Dragon's Vein symbols
The mystical, exotic atmosphere surrounding this epic adventure owes much to the superb graphics used to depict the game symbols and main characters. On your eerie descent into the heart of the Dragon's Tomb, you'll come across Tortas, a wolf/dog creature as well as the three archaeologists/adventurers: the intelligent Professor Morgan, the lively Nora and the daring Free Man. It's the Free Man who is actually the most valuable of the trio, returning 4, 16 or even 90 times your bet for combinations of 3, 4 or 5. There's an oil lamp, which acts as a wild symbol (so too do the three adventurers), plus different wall carvings as well as key symbols to collect as your quest continues.
Rolling Reels and more
If you're curious and ready to venture into the Dragon's Tomb in the hope of claiming the ancient treasure, you just may be lucky enough to encounter reels that roll. Rolling reels is a core feature of Relic Seekers and a great favourite with gamers who play online slots: When you hit on a winning combination payout, those winning symbols then disappear. This, in turn, leaves room for new symbols to take their place on the reels. This rolling can happen over and over, giving you more and more chances to keep on winning, ramping up the excitement every time.
Another great feature you'll want to see again and again is the Symbol Turns Wild mode. Every time you gain 2 or more consecutive wins, one of the three high-value explorer symbols will turn wild and give you the chance to profit by substituting for any symbol except scatter. Nora becomes wild following 2 consecutive wins, Professor Morgan turns wild after 4, and the Free Man goes wild after 6.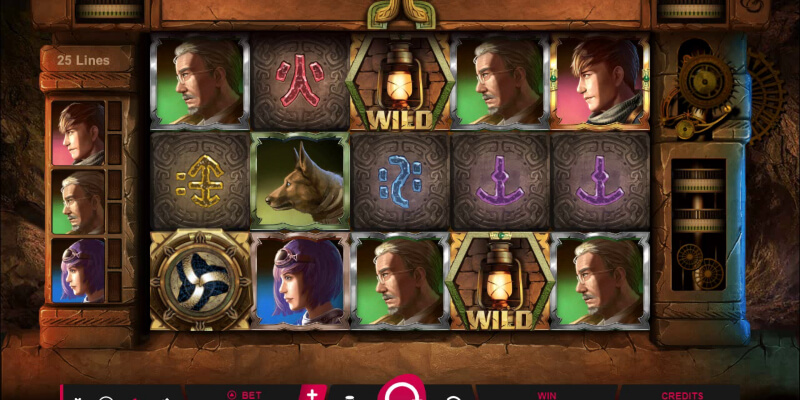 If you want free spins (who doesn't?), you need to be alive to collect keys on your fantasy adventure as you delve deeper and deeper down into the Dragon's Tomb. The intricate secret keys will help you unlock your extra free spins. And the more keys you collect, the more those free spins begin to mount up. You get 2 free spins once you have collected 3 keys, but if you can gather 6, you then gain 2 extra free spins on all subsequent wins, and access a 2x multiplier. And while we're on free spins, if you can collect 3 scatter symbols during free spins, that triggers 10 more free spins: so you gain even more chances to go for bigger prizes.
Game specs
Relic Seekers is a 5 x 3 reel slot giving you 25 fixed paylines. This thrilling game is highly volatile, so you may experience some winless spells, but it has a very decent RTP payout percentage of 96.03%. You can bet from 25p up to £500 per spin on any device. Microgaming can expect to do great business with this first Pulse 8 branded game, which is perhaps why it's also available in 31 different language variants.
Relic Seekers is a high-quality game which integrates state-of-the-art technology, brilliant graphics and game features to stunning effect. Its blend of history, mystery and epic adventure will challenge and thrill every player. So if you're looking for immersive fun, your quest is over. But remember, your search for the fabled Dragon's Vein may be only just beginning. Enjoy!