Work from home: are you sitting comfortably?
With remote work becoming the new normal in 2021, it's important to have a dedicated workstation that's properly set up – and when I say properly set up, I mean ergonomically. If you're one of the many remote workers using a laptop on the dining room table, it's time to get serious about your work-from-home comfort. Laptops aren't designed for permanent desk work (leave it for your online casino breaks) regardless of the quality of your laptop. To make it easier for you, we've put together a guide with all our best tips and favourite products to help you improve your work-from-home set up.
Hopefully, if you're an employee working from home, your employer will supply you with the best furniture and accessories. If your boss hasn't done this or if you're a freelancer buying your own office furniture and accessories, we'll also tell you about a few ergonomic hacks you can use to fix your set up.
Work-from-home comfort
Start with the basics. If you're not seated comfortably, you'll find yourself sore and fatigued at the end of the day. Eventually this can even lead to occupational overuse syndrome, which is extremely painful. If you think you already know how to sit, you may be surprised to find that sitting at a desk is a complex science. We've tried to simplify the correct furniture heights and angles in this article. Below is a checklist of the most important things to keep you comfortable.
Comfort checklist
Healthy viewing angle and distance for your monitor: screen roughly at eye height to prevent neck pain (40cm-70cm from eye to screen, 10-20° monitor tilt). The computer monitor should be arm's length from your face.
Ergonomic keyboard and mouse (silent if possible) to reduce tension in your wrists, arms and shoulders.
Comfortable, ergonomic office chair and desk.
Good lighting and microphone/speakers (important to look and sound your best in video calls and meetings; and for your eyesight).
If possible: a quiet room where you can close the door to prevent distractions (visiting kids, cats, dogs, the neighbour's cat, etc.)
Sit up straight! No slouching
You may have heard this at school, but it's really important when you're working at your desk for long periods. It's all about posture and keeping your shoulders, neck and back relaxed while you work. This isn't as easy to achieve as it might sound, which is why an entire industry of ergonomic office furniture and supplies has developed.
The basic requirements: Your forearms need to be resting lightly on the keyboard (no tension in your wrists and forearms) parallel to your desk. Your upper arms should be resting alongside your body, hanging down naturally and relaxed (so there's no tension in your shoulders). You want your arms to be relaxed at your sides forming a right-angle shape when placed over your keyboard or mouse – not bent upwards.
Your feet need to be placed squarely on the ground. If it isn't possible to put your feet on the ground, you need a footrest of some kind (some ideas later). Your back should be straight and supported by a properly adjusted office chair (not a wooden kitchen chair and definitely not the couch!).
It's all relative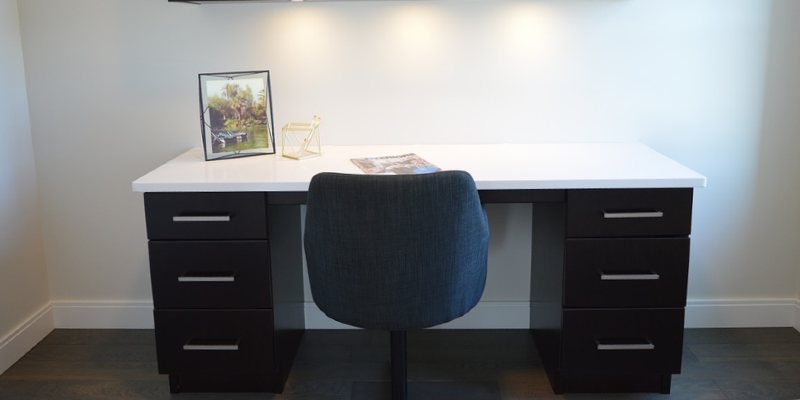 Keep in mind the relative height of your office furniture to achieve these things. If your desk at home is too high, you probably can't place your feet on the floor unless your other angles are skewed. You will either have your feet dangling while your screen and keyboard angles are correct, or your screen will be too high with your arms bent upwards and your feet on the floor. By raising the chair height and using a footrest this problem can be solved.
As you can see, getting the ratios right depends on your own height and the relative heights of your computer equipment and office furniture, so feel free to tweak things until you get it right. If you're investing in new furniture, you can buy an ergonomic bundle that will take care of everything in one go i.e. everything is height and depth adjustable – desk, chair and monitor.
To give you an idea of what the best seated position looks in practice, take a look at this link from ewiworks.com. This site has a wealth of information on ergonomics and wellness. The company has also developed two apps for office ergonomics that you can download on Google Play or the App Store to help you get your set up right.
Here are three office equipment options to suit different budgets:
The affordable choice
For an affordable ergonomic solution, look for a basic adjustable office chair and desk, an adjustable footrest, and a Bluetooth ergonomic silent mouse and keyboard. In New Zealand, the Cloud Ergonomic Chair Mesh Back from Office Max is our upper mid-price chair of choice at NZ$760.80 ex. GST. For even more affordable, take a look at something like the WorkPro Task Chair with Arms & Seat Slide Mesh Back & Seat Black at NZ$273.04 ex. GST. The mesh back is good in summer to keep you cool and dry. For your mouse and keyboard, we recommend the Logitech MK315 Silent Wireless USB Keyboard & Mouse Desktop Set for around NZ$65 on OfficeMax and Warehouse Stationery. In fact, both Warehouse Stationery and Office Max have a dedicated section for home office supplies with a wide range of affordable products.
If price is no limit – choose the Dot Com Throne!
Well, if price really is no limit you probably already have a stellar office set up. If you don't, head straight to Hermann Miller's online store and grab yourself the dream work-from-home bundle: Hermann Miller's Full Ergonomic Office Bundle. It's sold on the Hermann Miller US website for the special bundle price of US$3032. In NZ, there are a few local stockists, including Unison Workspaces, Ergostyle and Matisse.
The ultimate home office bundle includes the iconic Aeron office chair. This chair features in the MOMA permanent collection and is dubbed the "Dot-Com Throne". It has its own Wikipedia page and was even the subject of a Will & Grace episode (one of its many cinematic appearances). This iconic American chair is still one of the world's most comfortable and sought-after office chairs, said to make a fetish of lumbar support (Bloomberg Businessweek, 2010). The resale value should also be high if you take good care of it.
The rest of the full Hermann Miller ergonomic office bundle includes a Renew Sit-to-Stand desk, Original 1227 task lamp and Ollin Monitor Arm. Everything for the perfect home office! But if you're not a fan of the Aeron design, you might prefer the Hermann Miller X Logitech G Embody Gaming Chair with translucent flexible polymer attached to acetal H-flexor back structure in a black and cyan colour scheme, or the elegant Sayl and Mirra 2 chairs. Just wow!
Ergonomic hacks
If your confined at home or waiting for your Hermann Miller bundle to arrive from the States, then you can use a few stacks of office paper to raise your laptop or monitor to eye height. If possible, use a silent ergonomic mouse and keyboard, especially if you do a lot of typing. Otherwise just a regular Bluetooth mouse and keyboard will do. If your desk or table at home is too high, you need a footrest pronto. Use your imagination: a few stacks of paper or a pile of books could work. Remember that your legs should be creating a right-angle shape, hips in line with your knees, and feet firmly on something (ideally the floor). Your arms should be creating a right-angle shape too, with your forearms parallel to the table and gently resting over your keyboard (or mouse). If possible, at least try to scramble up a good office chair, this is really important for your overall comfort. If you need a quick-fix solution, we've put together a list of some of the main problems and corresponding hacks.
No problem without a solution:
Monitor is too low: put it on a box or pile of books to raise it to eye level.
Work surface is too high: try a taller chair, put a cushion on the seat to raise you higher, or find a lower desk. Some people even use an ironing board as part of a standing desk arrangement (it's highly adjustable if a little shaky).
Chair lacks lumbar support: put a pillow or rolled-up towel behind your back, try another chair or take stretching/movement breaks to release built-up tension.
Feet don't touch the ground: put stacked books or a box of printer paper (or any other solid item) under your feet.
Wrists not in line with your desk: use a small, rolled towel as palm support or raise your chair up higher.
Once your office is ergonomic, if you're still experiencing pain try to take more frequent breaks and walk around and stretch a little.
Zoom like a superstar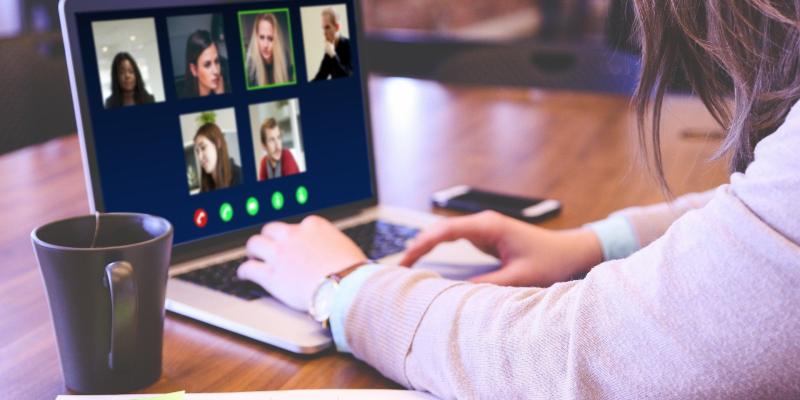 Zoom is one of the most popular tools for teams working remotely. Zoom meetings (or Skype, Google Meet, Microsoft Teams, etc.) make working from home easier and help employees feel less isolated but have also created some new home office requirements.
Looking smart and professional during a Zoom meeting is easy to achieve. The most important thing is to continue to dress and present yourself professionally while you work at home. A quick comb through the hair, good dental hygiene and a shave for those who need it. You might consider avoiding clothes with busy patterns too, which can be distracting during Zoom meetings. The same rule applies for your webcam environment – simple, plain and tidy is best (if achievable). Some people find that they can't get into a "work headspace" if they're not wearing shoes. If this sounds like you, you'll want to ditch the slippers for a pair of work shoes.
Zoom lighting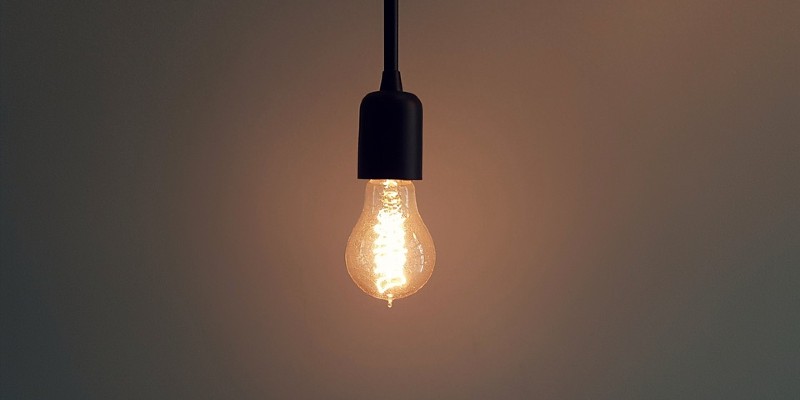 Lighting is your Zoom best friend. There's nothing worse than someone peering out of the shadows like a character from the Blare Witch Project. Back lighting or dramatic side lighting are equally off limits. We want to create a professional atmosphere, not gothic horror. Sitting in front of a window is also frowned upon because the camera will turn you into a silhouette. Instead, sit facing the window for softer, more flattering light. Brighter front lighting produces a better and smoother image that is more flattering (and bonus: reduces wrinkles!). This is what professional photographers use for classic photo portraits.
The more boring your background is for work the better. A plain wall with a picture is nice. This helps the people you're talking to focus on you and not all the gizmos on your bookshelf. Think about camera angles too. If you're using your laptop on a table your colleagues may have a close-up view of the interior of your nostrils. You want to avoid that. Here's a quote from usatoday.com interviewing professional photographer Larry Becker: "The camera under the face is the oldest unflattering look in the books. It's what director James Whale did in the original 1931 'Frankenstein' movie to make the monster look more menacing. Some people recommend having the camera look down at you, but Becker doesn't buy it. 'Eye to eye contact is the best connection'. Look at that camera directly, straight ahead. How to do that when the webcam is physically below your eye? Stack a bunch of books under your laptop until you see the webcam eye to eye". Nobody wants to end up looking like Frankenstein in a meeting.
Zoom sound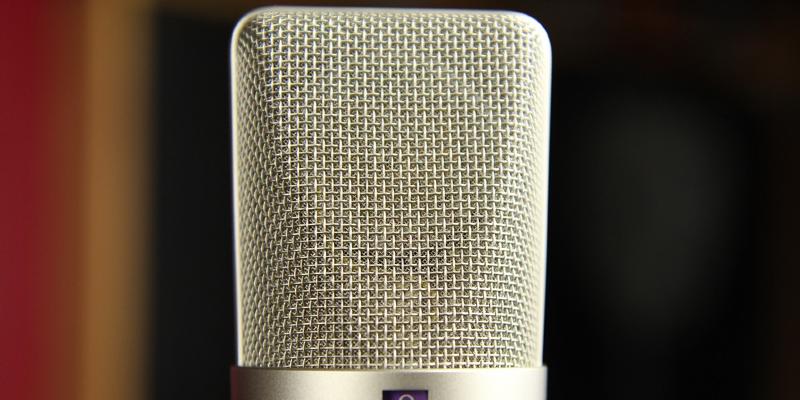 Another Zoom meeting essential, is good sound. There's nothing more frustrating than horrible sound during a video call. (Actually, scratch that, there is something worse: people who forget to mute their mic when they're not talking.) If you don't have good sound and a good mic on your laptop, consider using something like the BOYA BY-M1 Lavalier Microphone. When you're using a mic, also make sure you're close enough for it to work properly so your listeners don't have to struggle to catch what you're saying. You can pick up the BOYA BY-M1 mic for around NZ$40. For lighting, you might like the Revo Bi-Color Vlog Light, it can clip on your desk and is designed to make vloggers look their very best. If you're serious about the quality of your Zoom video calls, invest in an accessory microphone, webcam and desk lighting to look and sound professional.
Zoom settings
Zoom has three features that you can use to improve how you appear in video calls: Virtual Backgrounds, Touch Up My Appearance, and Video Filters. Although you don't want to play around with the special effects too much, we are still at work after all, these can be very useful tools.
Top of the list is the Virtual Backgrounds feature. If used correctly it can solve a few problems if you live in a small or cluttered house. Just choose your preferred background: immaculate home with uncluttered surfaces and freshly painted walls, or empty wall with minimalist painting, the choice is yours. This feature is a lifesaver for people with kids at home during the holidays who don't have a private office space. Unfortunately, if the cat jumps onto your desk in front of the camera, it will still make a surprise appearance in your pristine virtual office.
If you don't have good lighting you can try using the Zoom setting, Adjust for Low Light. You can find this under the video settings. You might also want to enable the option Touch Up My Appearance if it's available on your device. Unfortunately, I haven't managed to find it on mine yet.
Zoom like a pro on your mobile
If you're unhappy with the image and sound quality of your laptop or PC for Zoom, you might want to consider using your smartphone as a portable video studio. You can buy an all-in-one vlog kit to create a mini studio that uses your smartphone and includes a tripod, a microphone and lighting system. Of course, you need to have a really good smartphone for this to work properly. iPhones are perfect. You can buy the Rode vlogger kit in New Zealand for around NZ$300. This gives you all the advantages of a professional video studio. However, there are cheaper options available on amazon.com that cost around NZ$100–120, like the Ordro portable vlog kit and Movo iVLogger kit.
Read our other guides
After reading our guide, we hope you've managed to identify any problems in your home set up that are causing you unnecessary pain and fatigue. Don't forget to try out some of the hacks we've mentioned if you can't afford to buy new office furniture, and remember that you can download apps on office ergonomics from Google Play and App Store. Once you've made yourself more comfortable and finished work for the day, why not read some of our other JackpotCity New Zealand online casino guides. We have guides on the GameStop short squeeze, the bizarre Renaissance tradition of papal election betting, and the surprising world of celebrity divorce betting!