Slot Review: A Dark Matter™

Source: Microgaming
Microgaming is due to release a new Victorian mystery slot game 'A Dark Matter', created by Slingshot Studios, during October 2019. Like many such classic tales, this story opens with a growing sense of unease spreading through the quintessential small English town of Stonehurst. There has been a surge of unexplained disappearances, tongues are wagging, and all eyes are looking towards the lonely and forbidding Wraith Manor. Lord Wraith himself, now deceased, had acquired a reputation for dealing in strange artefacts of obscure origin, which meant there was always a shady side to the vast Wraith family fortune. However, if your luck holds while playing this most absorbing of online pokies, you could amass a tidy sum of your own by entirely legal means!
What's going on?
Like every decent Victorian mystery, you need the back-story to catch the atmosphere. So here's a little exclusive taster:
"Amongst the vast collection of relics and curiosities, something sinister had been lurking. Preferring the solitude of his study, Lord Wraith continued throughout the night documenting, researching and cataloguing his unique archive of oddities. Those shipments of the strange and unusual from parts unknown, were pieces for exclusive clients, plus a few additional items to be bargained off to the highest bidder.
One unexpected arrival was a small, unassuming, but strangely captivating statue of uncertain origin. The carving had elements of African influence but was quite unlike anything he had ever seen before. The craftsmanship was at once delicate and precise, though the piece still somehow felt ominous to the touch. Like an object at odds with its own duality, the statue seemed as though it were trying to tear itself apart and yet also struggling to fold back into itself.
Lord Wraith's fascination was immediate; he felt drawn in and compelled to unlock its mysteries. The statue appeared to vibrate under his touch as he rolled it around carefully in his hands. The material began to shift, acting as though it was neither solid, liquid or vaporous, but all of these at once. Even in the firelight, the darkness was more than a shadow, slowly wrapping itself around his hands, all the while growing and enveloping them. He should have been terrified, but somehow he felt oddly comforted and almost safe, like the reassuring familiarity of a childhood blanket. Nothing else mattered now as he slowly slipped into that darkness…
No one ever saw or heard from Lord Wraith again after that night, but Eleanor still senses his presence deep in the shadows of Wraith Manor.'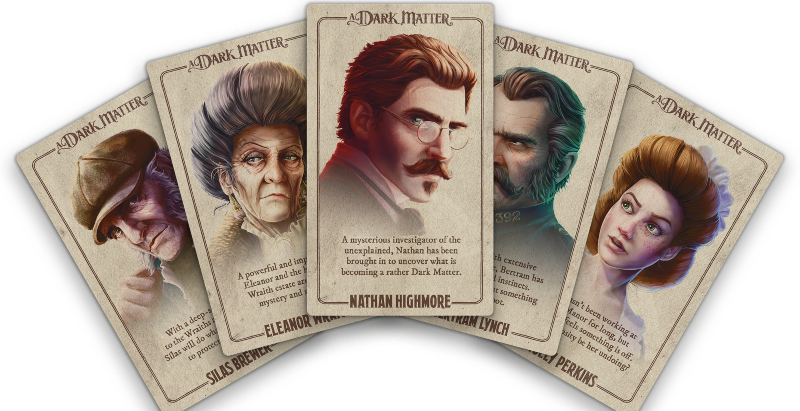 Slot game environment
Great artwork and graphic technology give this online pokie a dark, sinister aura. All the scenes are traditional Victorian clichés: long interior staircases, dim-yellow oil-lit rooms, stylised period clothing and hairstyles, bare trees silhouetted against a pale night sky and more. This helps the player to quickly become immersed in the quirky and quite scary aspects of this tale.
Slot symbols
The game's Wild symbol is the 'A Dark Matter' logo while the occult-influenced Scatter symbol is an ornate, geometric design featuring concentric circles inside a square, with a green gem as the centrepoint. Each of the game's personalities have their own part to play: Nathan Highmore is a mysterious investigator of the unexplained who has been brought in to uncover what is becoming a rather Dark Matter; Eleanor Wraith is a powerful and imposing figure, and both she and the history of the Wraith estate are enshrouded in mystery and superstition; Bertram Lynch, a policeman with extensive military experience, has highly developed instincts which warn him something sinister is afoot; Molly Perkins hasn't been working at Wraith Manor for long, but she already feels something is not right. But will Molly's curiosity be her undoing? Meanwhile, Silas Brewer, who has a deep-seated loyalty to the Wraiths and their estate, is a character who will do whatever is necessary to protect their legacy. Arranged in descending order according to their game payouts, the remaining symbols are five cards: Ace, King, Queen, Jack and Ten.
Slot features
The slot game A Dark Matter features Invading Wilds™ throughout the game as they unleash Dark Matter from the wild stacks. If these wild stacks land on reels 2 or 4 in the base game, you'll see an extra wild stack on the next reel. And should you get wild stacks on both reels 2 and 4, a further wild stack will turn up on reel 3, giving you a solid block of 9 wilds in the centre of your screen. Three Scatters unlock Wraith Manor's doors, which lets you access the game's Free Spins. You start with 12, but then get another free spin each time you land a further Scatter. During Free Spins, the Invading Wilds™ will activate if a wild stack appears anywhere on reels 2 and 4. And if you can get another block of 9 wilds here (see above), a 2x Multiplier could gain you a massive win.
Slot specifications
A Dark Matter is a challenging high-volatility slot game which players looking for big wins will find thoroughly engaging. There are 5 x 3 spinning reels and 5 fixed paylines which pay both ways. The title has an RTP (return to player) percentage of 96.18% – about average for this type of format. The total hit frequency is quoted as 20.24%, a fairly tight rate which you would expect with a high variance game offering some big wins, e.g. up to £120,000.