All you need to know about Online Slots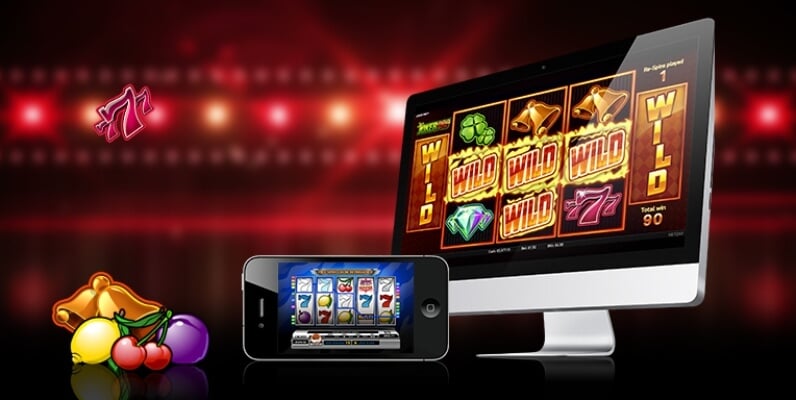 Have you ever wondered how slot machines were invented? Or how the classic 3-reel slot machine transformed into a high quality 3D online game? Did you ever try to explain the difference between a multi-payline slot machine and a 243 ways-to-win one and found yourself dumbstruck?
In this comprehensive guide to Online Slots in Canada, you will learn everything there is to know about your favourite online casino game. Here at JackpotCity, we have a team of writers and researchers who test and analyze all sorts of online casino games in order to give you the most accurate and up-to-date reviews on the online casino games we provide.
A quick history of slot machines
Have you ever wondered why slots-machines are called that way?
The first « slot machines » were invented in the early 1880s. Originally called « nickel-in-the-slot machine », the gambling machines quickly became popular with saloon owners. Sittman and Pitt commercialized the first slot machine in 1981. Based on the poker game, the machine had 5 drums and consisted of having the best hand possible within the 50-card deck. To reduce the chances of having a royal flush, 2 cards were removed from the machine: the jack of hearts and the ten of spades. The game had no monetary prize and the player would go directly to the bar to claim his prize, which usually consisted of free drinks and cigars.
In the late 1880s, the high demand for slot machines with automatic payouts encouraged the young German-born American engineer Charles (August) Fey to simplify the gambling machine.  By 1894, he had created his first coin-operated machine (the 11-4-11), whose success encouraged him to create the Card Bell (1898) followed by the Liberty Bell in 1899.  He had replaced the five drums of Sittman and Pitt's machine with three reels and the 50 cards with five symbols: horseshoes, hearts, spades, diamonds and a Liberty Bell. By simplifying the number of possible combinations he reduced the complexity of the readings and made the automated payout possible. Back then the prizes consisted of:
2 horseshoes = 5 cents
2 horseshoe + 1 star = 10 cents
3 spades = 20 cents
3 diamonds = 30 cents
3 hearts = 40 cents
3 Liberty Bells = 50 cents In the early 20th century, gambling was prohibited in most American States, following Canada that had made it illegal in 1892. To bypass the law, Charles Fey and his competitors built machines without coin slots and replaced the symbols on the reels with fruits (i.e., orange, cherry, melon, and apple) and a chewing-gum pack symbol ("bar") and called them chewing-gum dispensers.
Although they were illegal, the slots machines remained popular from the Prohibition to the Great Depression. After World War II, their popularity increased as worldwide Governments saw them as an opportunity to increase tax revenues. In 1975, the first video-slot machine was introduced in Las Vegas, leading the way to the electronic revolution in 1986 and later on to the online slot machines.
A new generation of slot games: video slots
Nowadays, video slot machines are very popular. These games have been around since 1975 when the Fortune Coin Company created the "Fortune Coin" video slot. Originally played on a screen on a physical machine, it wasn't fully embraced until the 90s when software developers started producing a greater variety of video slots. The Bally Game Maker was the game-changer: LMGames had the idea of incorporating a multitude of games in one machine, such as Blackjack, Poker, Slot Games, Quest for Gold, Wizard of Odds, etc. Its success resulted in increased interest for video slots.
The reason behind the boom of this type of slot machine, either land-based or online, is the greater interactiveness provided compared to traditional games. In a classical slot game, you will have 3 or sometimes 5 reels. In the video slots, the physical limitation of space is overturned by the electronic screen, making it possible to have as many reels as the developer wants. The electronic machine has also increased the possibilities of the number and types of paylines. While conventional slot machines only have up to three paylines, lined in a row, video slots allow the developer to have unlimited paylines in the shapes that they desire (V, ZigZag…). This freedom increased the creativity of the software developers that are now able to unleash their imagination to provide unique games to their players.
These video slots are also able to attract gamblers through the variety they provide. They can easily be tweaked to display a special theme or brand, attracting the gamers to their favourite display. For example, cat lovers will find a variety of kitty-themed slots, while dog people will be able to play with their favourite puppy slots. Additionally, the video slots have an amazing edge with the opportunity of including bonuses in the game. These bonuses can be adapted to the game topic and be as diverse as the developer's imagination permits.
Finally, recent video slots have the advantage of being able to connect through the Internet, making it possible to play with a progressive jackpot, as explained below.
Internet and online slot machines
The Internet Revolution changed the world, include the way we gamble. But how? ARPA, the ancestor of the Internet, first went online in 1969. With limited functionalities at first, the Internet quickly grew to allow computers (and people) to connect to one another through emails (1972) and websites (1991).
In 1995, Netscape launched the SSL encryption - Secure Sockets Layers - that allowed safe financial transaction online  (e.g. credit cards payments). The first gambling software had been developed by Microgaming in 1994, and in 1996, the SSL encryption safely supported the first real money wager through the early online casino. Although many websites claim to have been the first online casino, we are certain of the development of the games. The first online players could play Craps, Roulette, Video Poker and Blackjack and in 1998, Microgaming developed the first online progressive jackpot slot called "Cash Splash" that can still be played today. Since then, online slot machines have only gained in popularity. The Internet has made it possible to have huge varieties in the games. Online casinos, like Jackpot City, bet on the development of various specialized online slot games to give the players the best experience.
Online Classic Slots
Based on the vintage slots machines invented by Charles Fey, these games feature the classic 3-reel and few paylines of the original game. It also uses its original symbols (horseshoes, hearts, spades, diamonds, Liberty Bell).
Online Fruit games
Similar to slot machines found in bars and pubs in the 80s and 90s, these games are also classical in their design but often offer some other features. For example, they propose a "nudge" bonus that gives the player the opportunity to hold up to two "fruits" per spin in the hopes of obtaining the missing fruit, to get the jackpot.
Online themed and branded slot games
Today, you can find slot machines on pretty much any theme imaginable. Whether you prefer sports, animals, food, pirates, cowboy, space, etc. you'll always find a slot game that fits you. You can even play on online slots themed to your preferred TV-shows and movies or favourite holiday!
3D slots
Given their pretty self-explanatory name, you might have guessed that this type of slot machines have been introducing 3D graphics. Highly popular, these types of games have a very modern feel and give the player the satisfaction of playing a beautiful game.
Slots
This type of online slot machines includes advanced storylines in which you can progress through playing. The storyline is usually made up of different levels that you can unlock through playing different rounds. Whether you get a clue in a crime game, a few shots in skill-based target practice or some control over the gameplay, the storyline will help you get more involved in the game.
Mobile Slots
New technologies have seen the rise of mobile casinos. Highly adaptable, these games can be played on smartphones and tablets and accessed whenever you want. The Las Vegas Casino slots has been releasing its most popular games on mobiles and give you the opportunity to gamble with real money.
Progressive Jackpots Slots
Another reason behind the popularity of online slot games is the potential of a huge jackpot prize. Online progressive jackpots are raised online from casinos all over the world. Every time someone makes a real-money bet on a progressive slot game, the money inflates the global jackpot until a lucky player hits the jackpot and resets it for future gamblers. Four types of progressive jackpot slots exist: the standalone progressive jackpot slot, the in-house progressive jackpot slot, the network progressive jackpot slot and the multiple progressive jackpot slots.
Often considered the most exciting type of online casino games, the progressive jackpot slots usually have a Jackpot Meter on screen that you can see grow before your eyes. Of course, the progressive jackpot slots games also have intermediate prizes that you can obtain through different combinations of symbols, in the same way as the jackpot combination.
The progressive jackpot slots lead to massive wins:
CAD 23 849 000 - Mega Moolah slot game won by 26y/o soldier from the UK (2015)
CAD 23 456 000 - Mega Fortune slot machine won by Finnish player with a 25c bet (2013)
CAD 15 682 000 - Mega Fortune slot machine won by Norwegian player (2011)
CAD 12 051 000 - Mega Fortune slot machine won by Sweden play (2015)
CAD 13 052 000 - Mega Moolah slot machine won by an anonymous player (2017)
Online Slot tournament
Another type of online gambling is playing online slots tournaments. The most common type of competition will ask you for a buy-in, allowing to play. They can be either high or low and they will determine the final prize. Once you've been admitted in the game, the online casino will give every participant the same number of credits (or bankrolls). These credits will then be used to spin your reel until the competition ends. After each spin, your winnings are set on a separate account than your credits. At the end of the contest, each player's winnings are summed up - without the leftover credits - and the player with the highest result is declared the winner. The leftover credits are forfeited and the players get their prizes. As these tournaments are not winner-takes-all kind of games, each player receives a reward. Typically, the firsts will collect a generous payoff while the following positions will receive a set number of free spins.
3 or 5 reel slots games
As seen earlier there are different types of games with different numbers of reels, most common ones being 3 and 5 reel slot games, completely changing the gamblers experience.
3-reel slot games
While the first slot machine developed by Sittman and Pitt had 5 drums, Charles Fey's Liberty Bell was simplified to display only 3 reels, in a way that fitted more the mechanics of the late XIX century.
Today, 3-reel slots (or classic slot or reel slots) are the modern version of Charles Fey's invention. They are composed of 3-reels (obviously) and up to five paylines. They are fairly easy for new slot gamblers to understand and are a great way to introduce beginners to the world of slot machines. The great advantage of 3 reel classic slot games is that they have fewer symbols, generating frequent payouts when they appear on a payline. They are ideal for gamblers who prefer low volatility, meaning only losing or winning a few dollars per session.
5-reel slot games
5-reel slots are a pretty recent development in the casino world. The development of video slots and online gambling these past decades has given developers the opportunity to increase the number of reels and paylines, inducing an enhanced gameplay experience. More complex than the classic slot, it offers the player a stimulating game with higher earnings than the 3-reel slots. These high prizes are due to lower chances of hitting the jackpot as well as the frequency of 5-reel games providing a progressive jackpot.
As 5-reel slots games are mostly found online or on video slots, they have the advantage of presenting high-quality graphic as well as great animation, themed and branded games, large variety of symbols and forms of paylines. Additionally, they often offer various types of bonuses to the players. These types of online slots games are ideal for players who prefer high volatility, meaning risking higher losses to obtain huge jackpots.
House edge in online slots
Being aware of the house edge means understanding how much money it will cost to play, or in other words, how much money the gambler will lose per original wager. House edge in online slots is calculated for each and every game you can find at a casino, whether it's online or land-based. So if your favourite machine has a house edge of 8%, and your wager is C$10, you will, on average, lose 0.8 cents per spin….
Casinos playing with real money will typically have a house edge on slot machines between 2% and 10%. In Canada, gambling laws and regulations are regulated by the relevant authorities and legislation of the jurisdiction. According to Gamesense, the average house edge for slots machines in Canada are around 8%. Many casinos mention Return to player (RTP) which is a way of reversing the house edge. Taking our earlier example, the house edge of our favourite slot was 8%. If we reverse it, we will find the game to have a 92% Return To Player.
How to win in slot games: Paylines vs Ways to Win
For the past two decades, video slots have introduced new ways to win on slot machines. Traditional games would have a few paylines, usually between one and three, and the player would win once he landed specific symbols, or symbols combination, across a single payline. 5-reels video slots offer the software developers the possibility to increase the number of paylines, resulting in slot games with higher opportunities to win. Instead of being limited to straight paylines, developers can now go up to 100 paylines.
But how do these multiple paylines work?
The player wagers on a certain number of paylines. He can choose to bet on 1, 2, 3, 20, 40… paylines at once and will win if any combination falls on any payline he betted on. The difficulty with this type of game is that you have to bet on paylines one by one or you risk losing a potential win. Another obstacle with this type of game is that the gamblers have to put a certain amount of money on each payline they choose to bet on, making the game quite expensive.
To prevent players to find the game too expensive, developers came up with the assumption that the gambler will bet his real money on all open paylines. By doing that, the game is more straightforward and implies a smaller wager. The other advantage of this type of slots machines is that the player will probably score on most of his spins, reducing the frustration of having the right symbols on different paylines. The only downside to these types of games is that given the frequency of success, the amount received for each win will typically be lower than on a traditional slot.
The Random number generator
Gamblers often believe that there is a certain skill or recognition of persistence behind slot machines win. The truth is that there is none. To make sure that the game relies purely on luck, developers have included a computer component - microprocessor - called the Random Number Generator (RNG) that makes sure that the video slot machine will always generate a completely random and different combination of symbols, independent of the outcome of the previous spins. Slot machines, whether online or land-based, do not have a memory. They will not know that you have played hundreds of spins in the same way that they do not know that your 25c wager was your first one. Random Number Generator makes sure that the video slot machine is always fair and safe for the player.
High and low volatility online slots
Slot machines volatility can be easily explained:
High-risk slot games are referred to as "high volatility". On this type of game, the player rarely obtains a winning combination but the payouts will usually be quite large. These games are preferred by gamblers with a large bankroll and a lot of time in front of them.
Medium volatility slots are very popular with gamblers as they represent an average level of risk. They require small amounts of money while still providing the possibility of big wins.
Low volatility slots involve low amounts of risk. The slots are characterized by frequent but low or medium-sized payouts.
Bonus in slot games
Top online casino games often grant the player a few bonuses features and these can be different in every game. The most common bonuses on Canadian online slots played for real money are:
Free Spins: many different slots offer free spins to their player. The games that offer this bonus tend to perform better than the ones who don't
Wild Symbols: this bonus acts as a joker symbol, meaning that it can be used to replace any other symbol in the slot game. They can also have special features, such as expanding, multiplying, etc.
Scatters: this bonus offers an easy win as it counts wherever it lands on the reel. They can also generate the appearance of a bonus round Many other types of bonuses exist, such as bonus symbols or rounds, re-spins, instant win prizes, etc.
Best Online Slots
In Canada, online casinos revenues have been rising consistently since 2011. According to the Canadian Gaming Association, online slot games are Canadians' favorite online casino game due to the straightforward games, beautiful graphics, the variety of themes and brand games and the potential of big jackpots. Some of Canadians' favorite games are:
Avalon 2 Slot: On this game, you will go on a quest to retrieve the Holy Grail alongside King Arthur and his knights. This Microgaming production offers amazing graphics, lucrative prices and great animations. With 243 ways to win and bonuses like free spins, rolling reels and trailing wild, the game will always surprise you!

Game of Thrones Online Slot: The online slot version of the HBO series Game Of Thrones is available in 2 versions, 243 ways to win or the more classic with 15 paylines. In order to play the free spin bonus game, you will have to choose one of the four houses. Each house gives you a different number of free spins, stacked symbols and multipliers.

Break da Bank Slot: If you like your slot machine to remind you of what you'll win at each spin, this game was made for you! With money relevant symbols and a Break da Bank Logo wild multiplier symbol, this 3-reel, 5-payline classic slot game will always entertain you

Thunderstruck Slot: Based on Thor, the Nordic god of thunder, storms and lighting, this 5-reel, 9-payline Microgaming video slot is still a favorite of slot players a decade after it was first released. With a great jackpot that can reach ten thousand coins, Thunderstruck online slot offers bonuses like free spins and rewarding wilds.

What's Up? Slot:With a great RTP of 97%, this Microgaming online slot machine lets you play a mad scientist creating a mega-storm while slowly losing his mind. This 5-reel/3-row slot machine offers 243 Ways to Win and many different bonuses including free spins, wild multipliers and scatters. All of that with beautiful graphics and a chance to win a jackpot of 10,000
Online Slot Software Developers
The  casino industry has been changing rapidly with the help of online slot software providers, adding an entire other industry to the traditional land-based casino. The following software provider are the three most popular online slot software developers:
Microgaming: founded in 1994, Microgaming was behind the first online casino software and the first ever progressive jackpot slot, The Cash Splash. Responsible for the biggest payoffs in online slots history, they are also very renowned for their games with 243-Ways-to-Win and their Hollywood branded slots. Their most popular games include The Dark Knight, Mega Moolah, Thunderstruck (1 & 2) and Avalon (1 & 2).

NetEnt: founded in 1996, it's the biggest casino software provider. Their most popular online slot games include Archangels: Salvation, Angel and Demons, Fruit Spin, Gonzo's Quest and Starburst. Well known for their beautiful graphics, animations and sounds, they are also appreciated for their capacity to release new games almost every month. Finally, they also have a free play option and tutorials to help beginners get used to their games.

Playtech Casino Software: founded in 1999, Playtech is the worldwide number one online gaming company. Considered innovative, fun and rewarding, these games have great graphics, absorbing stories and a good payout system. Sticklers for regulations, Playtech only operates with lucrative licensing agreements. Their most popular games include Age of the Gods, Hulk, Iron Man (2 & 3) and Beach Life.
The Future of Slots
In the future, online casinos will be able to provide gamblers the same experience they would have had if they were in a land-based casino. How is that possible? Virtual reality casinos. Aimed at the 30 to 40 years old demographics, this new way to gamble will provide the player the glamorous experience he might have felt was missing from traditional online casinos. Still in its infancy, this technology is still quite limited although it already can provide great pleasure to slot players who want to try this new way of playing.