Online Slot Game Review: Banana Odyssey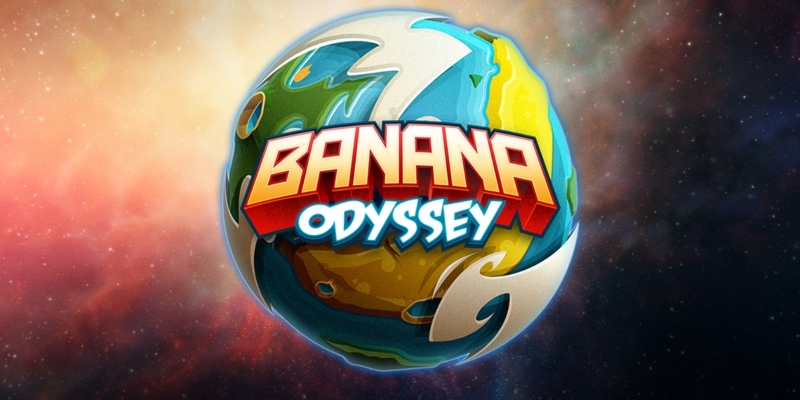 Working in partnership with renowned developers Microgaming, Slingshot Studios have produced Banana Odyssey, a sparkling new high-energy video slot game full of out of this world adventure to rival the best of online slots in Canada. Due for release on 04 September 2019, Banana Odyssey brings together two sparky space chimps, Buck and Chip. This pair of monkeys, whose enthusiasm for locating the galaxy's richest prize, the famous Banana Planet, feeds and encourages their endless rivalry, are on an exciting mission. As they race through space at a hectic pace, each desperately wants to be the first to stake a claim for this sought-after simian Eldorado.
Extra-terrestrial game layout
Microgaming slot titles are well known throughout Canada's online casinos, and Banana Odyssey certainly won't disappoint. The game is set far out in the cosmos, and its breathtaking graphics and exciting visual fx immediately transport players into a galactic environment where shooting stars, glowing comets, spinning asteroids and astrochimps roam free. Within this clean and punchy banana-oriented sci-fi universe, beyond the 'final frontier', the brightly spinning Banana Planet looms large and colourful. There's an energetic in-game electro-funk soundtrack, plus a range of soundscape fx which help to keep the excitement bubbling along. You'll also discover an array of strobe fx and 'exploding' light sequences which, alongside subtle changes in the background speed and colours in response to game features, all combine to add rich depth and a vivid intensity to the game's visual interest.
Banana Odyssey's game symbols
Banana Odyssey has a set of eight regular pay symbols. Ranked in ascending order, these start off with the four picture cards: Jack, Queen, King and Ace. Next comes the banana blaster, a decidedly futuristic zap gun whose design owes a lot to cupcakes and hair dryers, a priceless jar of astro nuts which look particularly nourishing, and then the stars of the show – the two high-value astrochimps Buck and Chip. In addition, there's also the beaming Banana Planet itself which acts as the wild symbol for this slot, as well as a Free Spin logo which features a design using no less than eight bananas and, of course, functions as the game's highly enriching scatter symbol.
Paytables
- Each card suit symbol pays out from 2x to 3.5x for 5 symbols per payline
- The astro nuts symbol payout is 6x for 5 matched symbols per payline
- The banana blaster payout is 8x for 5 matched symbols per payline
- Each Astrochimp symbol pays out 10x for 5 matched symbols per payline
Slot specifications
Banana Odyssey is a slot game that is compatible with both mobile and desktop devices and focuses on the essentially fun aspects of space exploration. With an arrangement of 5 x 3 spinning reels, there are 10 fixed paylines that will pay out on winning combinations read from either left to right, or right to left (but only on the highest win combination per line). The wild symbol is the game's own Banana Planet, and the Free Spin logo works as a scatter symbol.
The game is a medium volatility slot, which will thus strike a broad balance between smaller, more regular payouts and the occasional larger win. It offers an RTP (return to player) percentage of 96.3%, which is fairly standard, and bets can be accepted in the range 0.10 to $400 per spin. Banana Odyssey's maximum jackpot payout (? top banana) is a fairly generous $160,000 (= 400 x the maximum bet).
Special game features
Banana Odyssey's commercial mission is to provide a blend of new technology and traditional slot game elements to compete with other respin titles which have proven to be exceptionally popular in the gaming marketplace. When playing the base game, there are Banana Planet wilds to be found on reels 2, 3 and 4. If you can secure these three wilds, you can advance your mission and these wilds will then expand vertically to fill their respective reels. This expanding wild feature will then remain in place, allowing the remaining reels to then respin (at no additional cost). This feature considerably extends the player's potential win total.
During the base gameplay, if you can also land a scatter symbol on reels 2, 3 and 4, that will then trigger 10 free spins. And if any further Banana Planet wilds should also happen to land and expand, they will be locked in place and continue to function during the remainder of your free spin feature.
Banana Odyssey is yet another high-quality game from the legendary Microgaming stable. This time the emphasis is on a fast-paced action slot which nevertheless produces a smooth and aesthetically pleasing gaming experience. Meanwhile, those who are hoping to find a title which includes the very latest gaming features such as expanding wilds, respins and free spins will find Banana Odyssey also meets those expectations.