Bank Vault Online Slots Review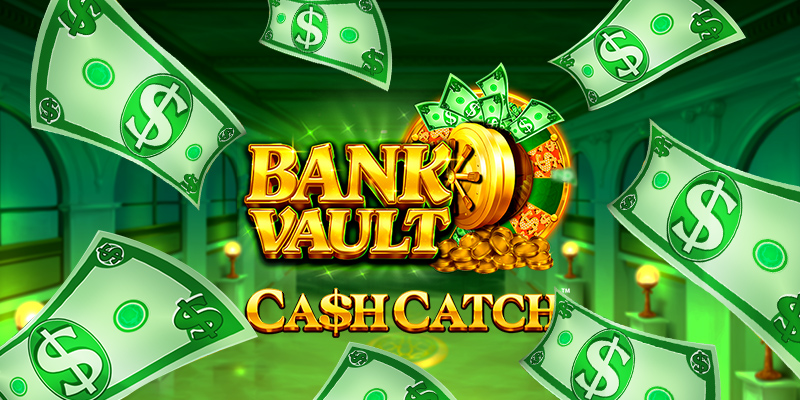 Source:Microgaming
Ever watched a movie, seen a giant vault inside a bank and wonder what's inside it? Wonder no more, because software provider Microgaming, in partnership with SpinPlay Games, has created Bank Vault, and it's standing open at JackpotCity Online Casino, where you get to take a peek inside to find rich symbols, special features and more.
Bank Vault is a 5-reel, 25-payline online slots game with exciting features such as Diamond Dollar, Cash Wheel, Free Spins, Cash Catch™ and Multipliers, but we'll get to that later when we open the vault to see what features are inside. It's a medium to high volatility game with bet sizes that range from a minimum of 0.20 to a max bet of 25 credits per spin. And yes, in case you're wondering, JackpotCity also has a mobile casino version where you can enjoy this game – but let's move on to those symbols.
Rich Symbols… Really!
When we say rich, we literally mean it, because all the symbols you'll find when playing Bank Vault are money-related which, of course, equates to being rich. Those are only the symbols, so we have to make a cautionary reference here to always play within your budget as JackpotCity supports responsible gaming – don't go chasing those symbols! So what exactly do we mean by "rich"? Well, the symbols you'll find include a stack of money notes, a watch, a ring, gold bars and diamonds. There's also a Wild symbol, which is really just a symbol with the word Wild written in gold, but at least you won't mistake it for something else when it lands, because when it does, it will substitute for other symbols to complete possible winning combinations – neat!
Want to open the Bank Vault further to find out more about the exciting in-game bonus features? Let's go.
What's Inside: The Features
One of the symbols, which actually plays an important role in the features, is the Diamond Dollar. When 3 or more of these appear anywhere on the reels, a cash prize will be awarded. Then we have the new and unique Cash Catch™ feature, which can really happen at any time when you play – during this feature money will literally fall onto the screen and you simply need to grab the flying cash (by clicking or tapping) to win credit prizes, which are randomly selected.
When playing other online slots at JackpotCity, you'll probably notice that most of these have a Free Spins feature, and Bank Vault is no exception, although it comes with a slight twist in the form of the Cash Wheel. When 3 of the Bonus symbols (that is the closed bank vault with the word Bonus written underneath it, in case you're wondering) land anywhere on reels 1, 3 and 5, the Cash Wheel feature will be triggered. This will reveal a wheel which can be spun, and can award either a Diamond Dollar prize (remember those are the cash prizes), the Cash Catch™ feature or a Free Spins feature, where up to 30 spins can be awarded. There are also Multipliers of 2, 3 and 4 on the Cash Wheel, which will be allocated accordingly to the relevant feature that has been won.
But Who Created The Game?
In case you missed it right at the beginning, Bank Vault was created by leading software Microgaming, in partnership with SpinPlay Games. Microgaming has, over the years, created plenty of online and mobile casino games for JackpotCity, and has recently joined up with 3rd party software providers to create even more online slots with exciting and unique features – Bank Vault is one such an example. SpinPlay Games was created in 2019 and even though it's not the first collaboration with Microgaming, we certainly don't think it will be the last.
Open The Vault At JackpotCity
Now that you know what Bank Vault is all about and you know who the creators are of this online slots game, it's time to find out where to play it. Yes, we have mentioned JackpotCity Online Casino a few times, and since you're on our blog, it's quite the obvious choice – but let us tell you why. In case you don't have an account here yet, and are wondering whether you should sign up or not, here are some facts.
JackpotCity has been around since 1998 and is fully licensed, and also eCOGRA-certified. This means that it has to adhere to strict measures when it comes to online gaming – things like safe and secure deposits, fair gameplay and so on, so you can rest assured that you are in good hands when playing here. There are plenty of promotions, including a welcome bonus to new players, and with our loyalty programme you can earn extra bonus credits for simply playing the casino games (visit the Loyalty Rewards page on our website to find out more).
Enjoyed this review? Keep an eye out for more reviews about online slots that are available to play at JackpotCity, via the online or mobile casino.