How About A Casino-Themed Man Cave?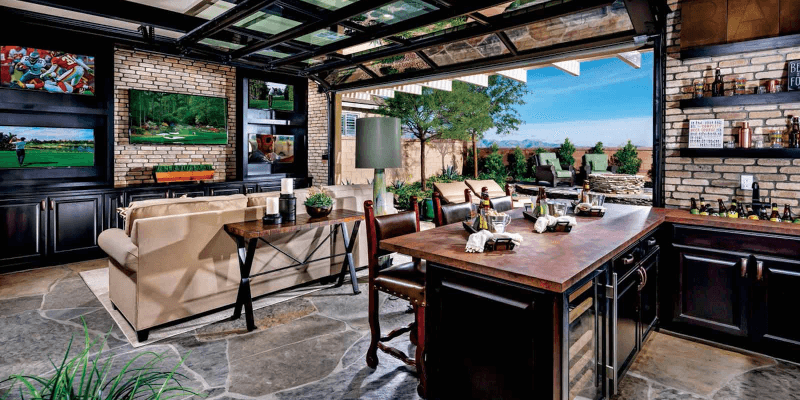 Every man needs a spot to himself in his home. It could be your basement, your garage, a shed, even a room in the "regular" part of the house (if you're lucky and your wife agrees to the latter). A place where you can relax, have fun, and take a break from it all. Wherever you find to place it, your man cave should reflect you and what you love. Once you're done creating your awesome hideout, you may never want to come out – and when you invite your friends over, you may make them pretty jealous!
If you love casinos and gaming but don't have a casino nearby or want to save a little money, why not create your own at home? We have some ideas for your perfect casino-themed man cave!
Start with the basics
Casinos are often classy spots – think of the Bellagio with its chandeliers and inlayed tile and intricate carpeted floors or the Venetian Macao with its painted ceilings reminiscent of those found in the Sistine Chapel. While you may not be able to find a Michelangelo to come paint your ceiling, there are still several aspects you can replicate of your favourite casino gaming floors.
Try warm, rich brown wooden cabinets, table, chairs, and bar to add a classic look. Don't forget to carpet the floor just like in casinos. The ideal lighting will be warm and inviting as well. They could be in the form of wall sconces and a few hanging lights over your game table to make sure you can see every detail and try to crack your friends' poker faces. Add some leather chairs in one area for relaxing and hang multiple flat-screen TVs to keep up with the matches and races. Above the bar (more about this area later), why not add a neon sign like those found on the Vegas Strip – maybe even the iconic "Welcome to Las Vegas" sign?
Prepare the games
If you want to be sure yours is the spot where the weekly casino nights will be held, do not forget to have all the games. Start with a high-quality poker table to host poker tournaments and practice for the next World Series. Why not toss some visors and sunglasses in one of your cabinets to pull out and wear like the pros do while playing?
Some tables are even convertible, allowing you to also play such classics as blackjack and roulette right at home. Will you be the croupier and set the house advantage or take turns with your buddies?
You can buy or even have a DIY slot machine in your man cave! Delta Hack provides a step-by-step video on YouTube to make your own mechanical slot machine with carboard and wood. Up to you if you keep the money your friends put in your slot machine, or if you allow them to win it back in another casino game.
And when you want to take a break from casino games, why not have a dartboard next to the bar? If you have the room, you could even have a pinball machine, billiards table or foosball table.