Hold'em Poker 2 Review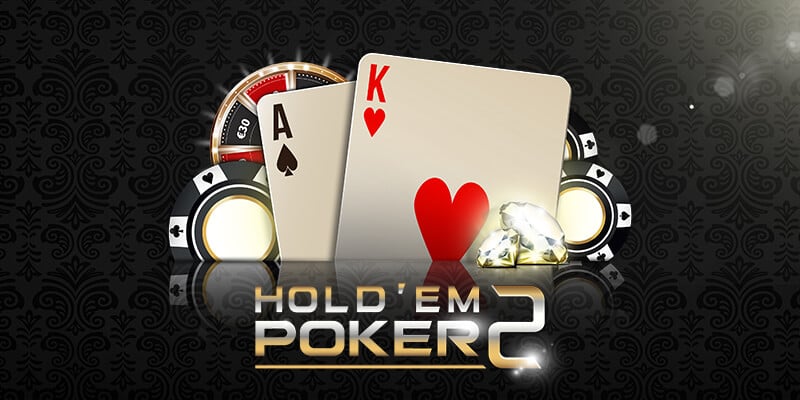 Source: Microgaming
Casino games come in various forms – from online slot games to table games and poker. And while there are only so many categories one can cover, every now and then an online casino will release a new version of an old classic. One such an example is Hold'em Poker 2, which is basically a Texas Hold'em poker sit & go experience, but in this case the prize pot is determined by a wheel, much like the ones we see in roulette games. Before we get to this exciting addition, it's important to understand how a normal Texas Hold'em poker game works, for those who are not too familiar with these type of casino games. And we'll also let you know why JackpotCity Online Casino is the place to be for Hold'em Poker 2, which is available to play on both desktop and mobile devices.
About Texas Hold'em
Texas Hold'em works as follows: at the start of each game, players will be dealt two face-down cards, which only they get to see. The betting then starts and players can either "see" the bet (bet the same amount as the previous player), or raise (betting a higher amount than the previous player). Once no more bets are raised, three cards will be dealt face-up in the centre of the table, which is called the Flop. These cards are available for everyone to see, and players can therefore use these cards to create their hand. Betting commences as per the first round, after which one more card is dealt face-up, which is called the Turn. Again, players will bet until the fifth and final card is dealt, called the River. Once betting has been closed, players will reveal their cards to find out who the winner is – of course, players who know they have lost do not have to reveal their cards, as they may have bluffed their way through the game (pretending they have better cards than what they had). The winning combinations of cards work the same way as with any regular poker game, and can go from the highest card (Ace) all the way to a Royal Flush.
Poker With A Twist
Now that we understand the basics of Texas Hold'em a bit more, it's time to find out what makes Hold'em Poker 2 so exciting to play at an online or mobile casino. The basics, as discussed in the aforementioned section are the same, with one or two differences. For starters, there are only 3 seats available in a Hold'em Poker 2 game, which means that you will get to play with only 2 other players for a buy-in of €2 per game. You will also notice a big roulette-type wheel next to the table, with various cash amounts in each wedge. Before the start of each game, the wheel will start spinning and the amount it lands on will determine the prize pool of that specific game of poker. There is also a progressive jackpot wedge which, should the wheel land on this, will continue to grow as the game progresses until the end of the game. Should the wheel land on either this progressive jackpot or the €200 prize, the prize pool will be split across the table as follows: 50% to the winner, 30% to second place and 20% to third place. This ensures that every player gets a share of the pot. Overall, Hold'em Poker 2 adds a whole new level of engaging gameplay to the classic poker game, dealing up high-end entertainment on desktop and mobile. And if, at any time, you need to know more about the rules of the game, simply click on the help file within the game for a full explanation as well as the paytable.
Microgaming
The software provider behind the innovative Hold'em Poker 2 is Microgaming, a company that's been around since 1994 when the first online casino was launched. Over the years, Microgaming has released numerous online and mobile casino games, and while they specialise in slots, Hold'em Poker 2 is a true testimony of how versatile this software provider can be.
Available At JackpotCity
The casino offers a variety of casino games, including popular online slots, table games, video poker and casual games, with new and exciting games, such as the latest Hold'em Poker 2 being released on a regular basis. JackpotCity is available as an online and mobile casino, and it has various promotions on offer, including a loyalty programme, where players can earn points for placing real bets, and a support team is available via email or live chat.