Play Online Casino Video Poker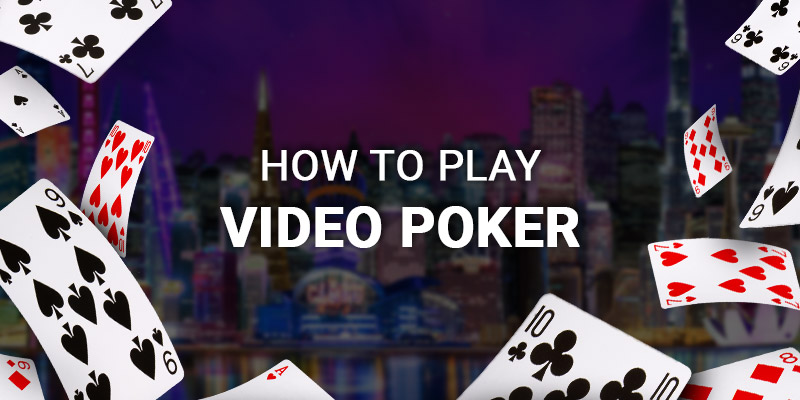 Online slots may be one of the most popular game types out there, but JackpotCity's all about providing variety. Lots and lots of variety. Enter video poker, a well-loved game both online and off, and one that you can easily learn to play by following the tips in this handy online casino guide.
To get things started, we'll unpack the importance of responsible money management. Then we'll go over some of the basic rules. Before a quick word on some of our featured video poker games, we'll also take a look at some poker hands that we recommend learning off by heart.
Manage Your Bankroll
The key to enjoying video poker and other casino games is effective money management. In video poker, this ties strongly to knowing the various hands and their scores. We'll touch on these a bit later.
More so in offline poker, but still possible in Microgaming video poker and Evolution live dealer poker, you may be required to bet multiple times per round. As you can see, it's already a bit different to online slots gaming, where a single bet is required per spin.
We suggest setting aside a predetermined budget for your session before logging in.
An excellent way of sticking to a budget is to set up deposit limits. JackpotCity Online Casino offers a range of daily, weekly and monthly deposit limit options, as well as other responsible gaming tools, on login.
To set these up on our mobile casino, locate your username icon. You'll tap on this to activate your account menu. If you're using JackpotCity's online casino on desktop, you'll hover your mouse pointer over your username to achieve the same action.
Once there, find the item that says Help, then scroll to view the Responsible Gaming tab, which expands when tapped or clicked on. Last, set up your chosen features from JackpotCity's range of tools.
Voila! You're on the way to playing safely and responsibly.
Learn the Basic Game Rules
Now that you're aware of how important effective bankroll management is, it's time to learn some basic video poker rules. You can apply these to both the online casino and mobile casino space – or often, even to offline poker games as well.
Firstly, you need to know the game's objective. In any game of video poker, your goal is the same – and that's to score the most points via the hand you're dealt.
Played with a 5-card draw mechanic and controlled by RNG (random number generator) software, video poker follows the rules of draw poker, even though this version involves up to 8 people in real life. In video poker, it is you playing against the dealer.
Of course, you must first log in and select the video poker game you want to play. To start the round, you'll need to select your bet size. You can do this by toggling the number of coins you want to bet, as well as your coin size.
As soon as you place your bet, or more accurately, press the deal button on your screen, the game is in full swing. You'll receive 5 face-down cards that will flip over on their own to reveal your hand. You'll then get to choose whether to keep (hold) one or more of your cards, or receive replacement cards instead.
You can hold a card by clicking or tapping on it, but, if you feel you could do better, you can just as easily choose to replace all the cards in your hand.
Once you've made your decision, a simple push of the deal button will either yield new cards or show whether you've lost or won the hand.
Some video poker variants include a gamble feature. If you win a round, the gamble feature will activate. This gives you the chance to guess the outcome of a card flip. Usually, correctly guessing the card colour (black or white) doubles your payout. Correctly guessing the card suit (hearts, spades, diamonds, or clubs) quadruples it.
Memorise Key Poker Hands
Tying back to effectively managing your money, it's in your best interest to memorise the various poker hands that video poker paytables feature. And it's super important to remember that not all video poker variants pay out for the same hands.
Before you bet, have a look at the poker hands featured on the paytable. While one game might list The Royal Flush, the top-ranking hand, others might only include hands from the Straight Flush or Four of a Kind and down. Some other medium-value poker hands you might come across include the Full House and Flush, as well as the Straight and Three of a Kind. You could also encounter the lower hands, known as Two Pair and Pair.
Listing them in detail would be a whole other post with another day, but we highly recommend jotting down which cards make up each hand. You can find this with a quick Internet search or watch our videos for more details! Then, simply keep the paper handy for reference as you play.
Another solution, if you're using our online casino instead of playing on mobile, is to have a separate tab open with the hands listed there.
Playing Our Casino Games
JackpotCity Online Casino players can choose from many popular video poker variants. Our featured games include All Aces Poker and Deuces Wild Bonus Poker, just to name a few. You could also check out Aces & Eights Poker or Aces & Faces Power Poker. Of course, you're welcome to pick any other video poker game that catches your eye on login, too.
Besides video poker, we also have hundreds of other fun games to explore. JackpotCity app players can choose from a range of select online slots and table games, whereas desktop gamers and mobile casino members get the full range of Microgaming-powered creations. As we mentioned, there are hundreds to pick from!
If you enjoyed today's handy how-to guide, keep an eye out for future posts or check out some of our fun videos on YouTube for more quick and easy tutorials