Blackjack And Eleven Online Blackjack Games In NZ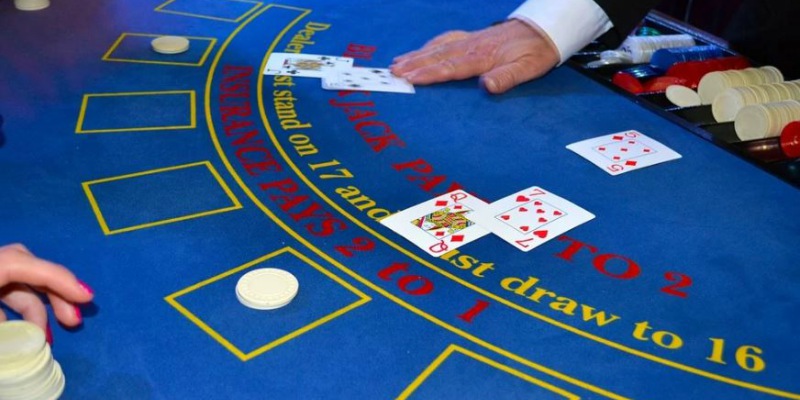 Blackjack is a truly classic card game — one which many New Zealand gamblers consider the ultimate casino challenge. But blackjack is also a game which goes beyond mere luck and gambler's instinct, it's a contest of strategy which requires plenty of patience, and bravery too. And don't forget that the aim of any blackjack strategy is not just to score as close to 21 as possible, it's also to stay ahead of the dealer and therefore win yourself as much money as you can.
When you play online blackjack you are playing an iconic casino game in your own home, or anywhere else you choose, it also gives you the option to find the best online blackjack casino regardless of its location. And you won't be limited to just playing the traditional form of blackjack because there are lots of blackjack variants on offer. Each has its own specification and version of blackjack rules. So here's an overview of 10 popular online blackjack games available in New Zealand, so that you can choose your online blackjack strategy accordingly.
Atlantic City Blackjack
With multiple-deck games played under Atlantic City rules, the dealer is obliged to draw to all scores of 16 or below, and must stand on 17 through to 21. A player can choose to double down on any initial hand, and also split an initial pair. You can double and then split, but subsequent re-splitting is not allowed. Split aces are permitted just one single card. Insurance on a dealer is available at 2 to 1, and a blackjack pays out 1½ to 1.
These Atlantic City game rules are considered just about the most player-friendly you could ever ask for. In addition, you won't find any variance in interpretation, because these blackjack rules are set by the New Jersey gaming regulators. So the game will play out the same in all casino locations.
European Blackjack
Offering a great alternative to the classic blackjack casino game, the European Blackjack Gold Series is a slick Microgaming creation which has some unique features players will love. You'll find stunningly crisp graphics, game-enhancing animations, and action which moves at just the right pace to make playing European Blackjack Gold an absolute joy to play.
Just like traditional blackjack, the game's objective is to acquire a hand which scores 21, or else gets as close to that score as you can manage – of course, without going bust.
Before you play, you must choose the amount you want to bet. Then, once the dealer has dealt the cards, you will see your two cards face down on the table. You will also see the dealer's two cards – one face up, and the other face down. You must then decide to show your cards or request another card. Beating the dealer's score, or securing a hand which scores 21, gives you an automatic win.
Vegas Strip
Vegas Strip blackjack uses four decks and has the same basic rules as classic blackjack. So the aim is to gather a hand which beats the dealer without exceeding a total of 21. The type of table, dealing procedure and blackjack terms used all remain the same. Variations in the gameplay are down to small details, such as the number of decks used and minor alterations to certain rules and player actions. If you know the standard blackjack rules, you'll have no trouble playing Vegas Strip.
Here are some of the variations: A blackjack typically pays out at 3 to 1; the dealer must stand on soft 17; if 10's and an ace are the face-up cards, the dealer will peek; doubling down on any initial cards is allowed; different kinds of 10s can be split, e.g. jack + queen, or queen + 10.
Big 5 Blackjack
The Big Five blackjack game uses five decks. However, in most other respects it quite closely resembles the classic blackjack game. For instance, a blackjack (an ace + one of the other 10-point cards) pays out at odds of 3-2. In addition, the dealer will hit on all hands totalling 16 or below, as well as on a soft 17. Big Five blackjack has a house edge of 0.47%.
Bonus Blackjack Gold Series
Bonus Blackjack Gold Series uses two decks of cards and is quite similar to Vegas Downtown blackjack, with the extra incentive of a bonus bet option. After the initial deal, players may draw up to 9 further cards to complete a hand (not exceeding 11 cards) scoring up to 21, without going bust.
Bonus Blackjack players can access an optional bonus bet to gain extra (bonus) payouts. Bonus bets are placed at the start of any game, alongside your main bet. Only the first two cards count for a bonus payout. The winning combinations are: Jack and ace of spades (pays 50 -1); jack and ace of diamonds, clubs or hearts (pays 25-1); two cards of the same suit (pays 5-2).
Hi Lo 13 European Blackjack
Hi Lo 13 European Blackjack sounds complicated, but if you're confident about blackjack rules, you're virtually ready to play.
Here are some rules you should note: This game is played with two decks; doubling down is only possible on hands of 9, 10 and 11 cards; you are allowed to draw to split two aces, but can split no more than two hands.
With the optional Hi Lo 13 side bet, the player wagers his initial hand will be below 13 (Lo), above 13 (Hi), or exactly 13 (tie). Bet payouts are: Lo (1-1), Hi (1-1), tie (10-1).
High Stakes Blackjack
High Stakes Blackjack is a NZ online casino game offering big profits, but it's only for those who can play smart. As well as giving you a great chance to win big, the game also features plenty of excitement. However, you do need access to a sizeable bankroll.
Regular blackjack rules apply, but remember that the stakes are always high. Of course, betting more means you stand to win more. In addition, casinos will often offer exclusive benefits to those who play high-stake games. You may qualify for VIP Clubs, a personal account manager, bigger bonuses and more.
Perfect Pair Blackjack
European blackjack mostly uses 6 decks. Of all the game's rules, the 'dealer stands on soft 17' is the most important. This hugely improves the player's payout percentage (99.38%), but note that you'll need to have mastered basic blackjack strategy and play an optimal game to secure this.
A perfect pairs side bet means you can access three special payouts:
Any unmatched pair pays at 7-1.
Any pair of the same colour (mixed suits) pays at 15-1.
Any two identical cards pays at 30-1.
Vegas Downtown
Vegas Downtown blackjack loosely varies some classic blackjack rules and offers some good payouts. It's a game played with two decks of cards where the dealer is expected to hit on soft 17 and stand on hard 17 or more. Doubling down is allowed after the first two cards are dealt, regardless of their value. A player can re-split, but only up to a maximum of three hands.
Premier Blackjack
Premier Blackjack Hi Lo Gold Experience offers all the thrills of classic blackjack within an online casino game. The major feature is you'll feel just exactly as if you were sitting at a table in any upmarket New Zealand casino. Great graphics and fluid animations make this a true premier experience. So follow blackjack rules, place the bet you want, and you're good to go.
Spanish Blackjack Online
Spanish blackjack, or Spanish 21, is played with eight decks. However these are 'Spanish' decks (48-card decks from which all the 10s have been removed). Some special rules and bonuses more than overcome this player disadvantage.
With a tied blackjack, a player blackjack trumps a dealer blackjack. Likewise, a player tied 21 trumps a dealer 21. Spanish blackjack also allows multi-card double downs, and allows this twice per hand too.
Certain hands access bonus payouts: For instance, a five-card 21 pays 3-2, a six-card 21 pays 2-1, and a seven-or-more-card 21 pays 3-1.
Why not visit JackpotCity if you're looking to experience some of the very best in online blackjack games in the best online blackjack casino.