The Long History of Papal Betting Before Casinos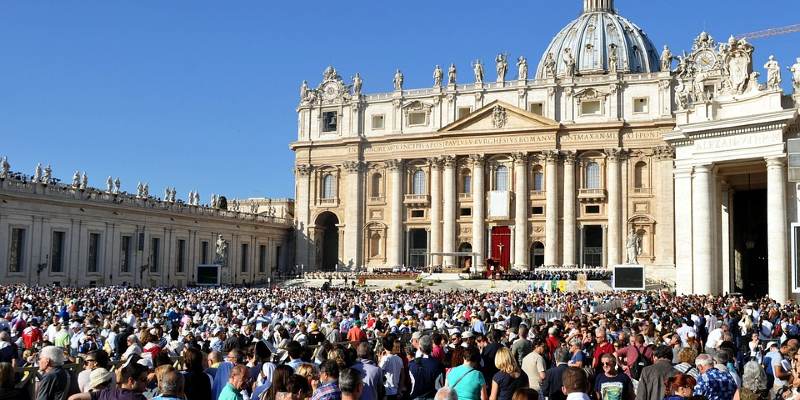 Crowds gathered in front of the Vatican Palace, residence of the pope, in Vatican City. Source: Pixabay
Betting on the next pope has a long and controversial history. Did you know that betting in general was something of a national pastime in 16th-century Italy? It wasn't unheard for even the cardinals to make a few wagers on the next pope (albeit not in an online casino). In 1550, the Venetian ambassador Dandelo wrote that "amongst the cardinals themselves, there were wagers of amber rosaries, perfumed gloves (which no one can do without), she mules, chains, and even of money". However, all of this clerical gaming finally ground to a halt at the end of the 16th century when the pious new Pope Gregory XIV was appointed. Today, this age-old form of betting is becoming popular again, online and offline.
How is the pope chosen?
Pope Francis I currently holds the most prestigious and sacred position in the Catholic world. When Francis I is no longer pope, the College of Cardinals will gather in the Sistine Chapel and choose the future pope in total secrecy. Four rounds of voting are held every day until a candidate receives two-thirds of the vote. Cardinals vote by secret ballot and the result of each ballot is counted up and registered by three designated cardinals. If no one gets the required two-thirds of the vote, the ballots are burned in an oven near the chapel with a mixture of chemicals to produce black smoke, signalling to the outside world that no decision has been made. If a cardinal receives the required two-thirds, the dean of the College of Cardinals asks him if he accepts the position. If he accepts, he can choose a name. The ballot papers from the last round are burned with chemicals that produce white smoke to tell the world that a new pope has been elected. The new pope then dresses in his papal robes and goes to address the eagerly awaiting crowd from the balcony of St. Peter's Church in Rome.
Papal betting peaks in the 16th century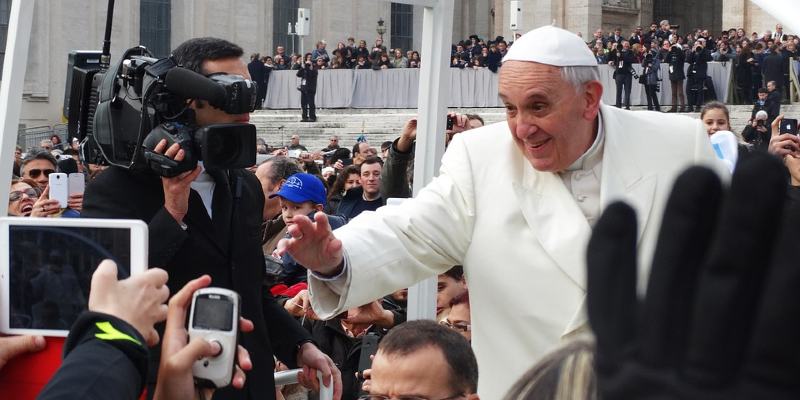 Pope Francis I, the current pope. His real name is Jorge Mario Bergoglio and he's from Argentina. Source: Pixabay
During the Renaissance, the election of a new pope was one of the most important events in the world. The pope was the centre of the spiritual and political world in the greater part of Europe and held immense power – more than kings and queens. Since this was such an important position, the election was supposed to be held in total secrecy, inside the conclave, far from interfering royals and the great masses. The Cardinals were supposed to listen only to the divine guidance of the Holy Ghost in a process entirely free of political influences and personal ambitions.
But the inhabitants of 16th-century Rome (and every other century) loved to gamble! They would gamble on nearly anything and, since the election of a new pope was the event of the year (or decade), betting on who the next pope would be was the most popular type of betting around. This led to problems. As John M. Hunt explains: "Brokers and their clients kept well-informed of the election taking place within the closed doors of the conclave. Consequently, wagering on the election proved to be a source of disruption since – intentionally or not – it begat rumours of a pope's election and spurred brokers to use illicit means of discovering the secrets of the conclave".
Information continually slipped past the locked doors of the conclave to the outside world. Spies, covert messengers and sometimes even the cardinals themselves kept the inhabitants of Rome informed about what was going on inside. The leaked information often promoted betting frenzies as rumours spread through the city like wildfire that a particular cardinal was about to be elected. The rumours and speculation caused so much chaos that the College of Cardinals made repeated efforts to squash the practice. After Paul IV was elected, they outlawed gambling on the election entirely (1555). But according to John M. Hunt, Romans continued to place bets regardless, since: "Cardinals maintained an ambivalent stance towards wagering on the election. On one hand, they could condemn the pernicious effects it had on the election; on the other, many actively participated in the wagering. Even the sister of Sixtus V, one of the sternest Counter-Reformation popes, could take part in the wagering".
Meanwhile, Sixtus V allowed other kinds of betting to continue in a regulated fashion. One of the most popular forms of betting that continued was maschio et femina (betting on the sex of an unborn child). It was regulated by thirty official brokers who had received an authorisation from the Apostolic Chamber. Brokers could take bets on whether a local woman would have a boy or a girl, monitor the results, and then advertise the fact in their offices. Concurrently, illegal papal election betting continued until the pious Gregory XIV was elected in 1591. He managed to finally abolish the practice by threatening excommunication and perpetual banishment to anyone involved and torturing renegade brokers.
Nonetheless, it's unlikely that the practice disappeared completely after 1590. It probably went further underground until it completely died out. During later centuries, popes continued to campaign against citizen gambling by issuing decrees against dicing, card playing and betting on sports events. However, official forms of papal election gambling in Rome did disappear, re-emerging in new forms only many centuries later.
The renaissance of a Renaissance past-time
Although officially dead, the practice seems to have continued in some underground form in Italy up until the 19th century. The Wikipedia page on papal betting points out that in 1878, a New York Times article reported that, "The Italians are all superstitious, and all fond of the lottery. Every great event leads to speculation in numbers. The deaths and advents of the popes have always given rise to an excessive amount of gambling in the lottery, and today the people of Italy are in a state of excitement that is indescribable. Figures are picked out which have some relation with the life or death of Pius IX. Every day large sums are paid for tickets in the lottery about to be drawn".
In the 20th century, Italy reinstated institutionalised papal betting through the national lottery. Newspaper coverage proves the existence of papal election betting in 1903 and 1922. The Italian government-run lottery even went as far as offering odds on the timing of the death of the pope in 1903 and only narrowly avoided a government loss of US$1,000,000!
Today, thanks to the rise of online betting and online casinos, like JackpotCity, you can once again partake in the controversial Italian tradition. An opinion article by Dr. Belinda A. Aquino explains as surprising as papal gambling sounds, it is nothing new, and cites James Martin, S.J. of America magazine, who wrote that "Unofficial betting has probably been going on since as long as there were conclaves". She adds: "More than 2,000 years ago that is. Or even long before the first pope was named. Didn't the Roman praetorian guards at Christ's crucifixion in Golgotha draw lots as to who would inherit the dying Jesus' robe?" In other words, Romans really love betting, and will certainly still love betting in another 2000 years.
Even New Zealanders are enjoying a little papal election betting these days. In 2013, a local Catholic priest ran a sweepstake on the outcome at St Mary's diocese in Papakura. St Mary's parishioners eagerly awaited the moment when white smoke would be emitted from the Sistine Chapel chimney…
Papal betting options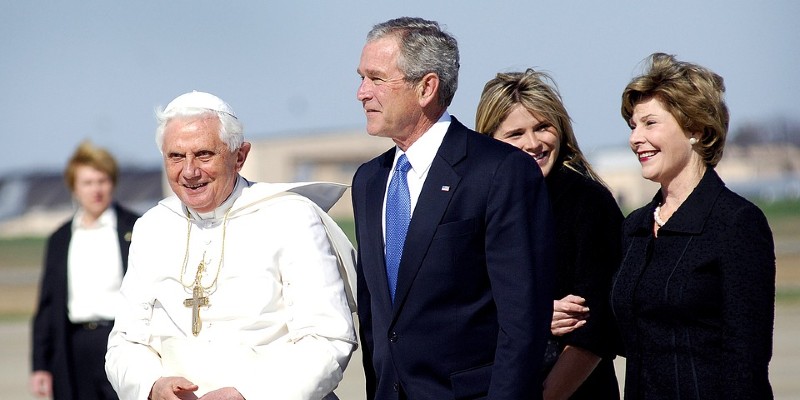 Pope Benedict XVI with George W. Bush. Source: Pixabay
If you'd like to bet on the next pope, you will have a variety of options. However, these bets are only available at certain times and will be found under the entertainment, political/election or novelty betting pages. These bets are almost exclusively found online, and you will need to check your favourite sites from time to time to see what they're currently offering. At this time, you are more likely to find betting options on Kim and Kanye getting divorced and none of the major sites were accepting bets on the next pope at the time of publication. So check back regularly for updates.
The most common type of papal election betting is, of course, on who the next pope will be from among the popular cardinals. You can also bet on what the next pope's choice of name will be (since the new pope gets to pick a new name for some strange reason).
Papal names
I was curious about why the new pope changes their name and also whether the new pope has to be a "he" (I mean, I know it does, but why?). The pontifical name change turns out to be a convention and has only been in practice since Pope John II in 533. Pope John II was actually called Mercurio by his parents, which is much more interesting than John, but also happens to be the name of a pagan god. Considering it unwise to call himself Pope Mercurio, he changed his name to John. His successors kept their own names up until Pietro Canepanova became pope in 983. He didn't want to have the same name as St. Peter, the very first pope, so he changed his name to John too (John XIV). He was followed by Giovanni di Gallina Alba, who decided to keep his own name, becoming…you guessed it, John. He was John XV. From this John's death in 956 nearly all the popes got in on the act and decided to choose their own names… because, why not, everyone else is doing it? The last exception was Marcellus II in 1555 (born Marcello Cervini degli Spannochi). Cardinal Albino Luciani in a burst of papal originality, renamed himself John Paul I; and was soon followed by Karol Józef Wojtyła, who less originally called himself John Paul II.
Of course, in reality, none of these popes were consistently called "John" or "John Paul". Here's an explanation from Wikipedia about that: "The pontifical name is given in Latin by virtue of the pope's status as bishop of Rome and head of the Catholic Church. The pope is also given an Italian name by virtue of his Vatican citizenship and because of his position as primate of Italy. However, it is customary when referring to popes to translate the regnal name into all local languages. Thus, for example, Papa Franciscus is Papa Francesco in Italian, Papa Francisco in his native Spanish, and Pope Francis in English". So all of these Johns spent most of their working lives being referred to as Papa Ioannes or Papa Giovanni on their Vatican home turf.
My all-time favourite papal name is, and will always be, Pope Hilarius (he was bishop of Rome from 461 until 468). My vote for the next papal name goes to Pope Hilarius II. Although I believe the odds are stacked against me. If I were to play it safe, I would suggest that "John" is a strong contender.
Why can't a woman become pope?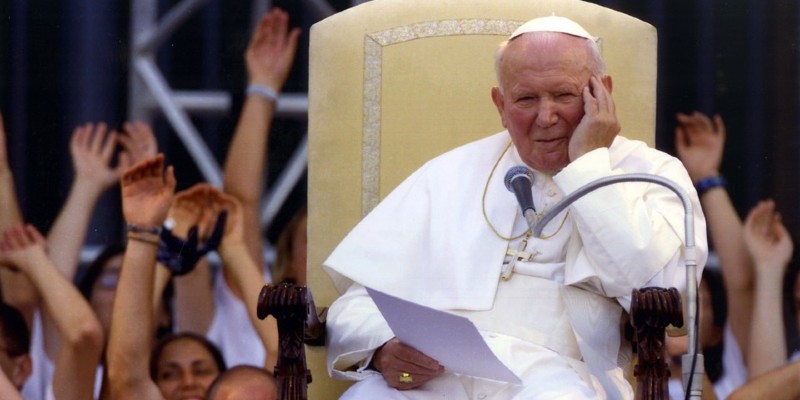 Pope John Paul II. Source: Pixabay
I've never really understood how such an important position like that of pope can be closed off to half of humanity. Surely, there must be a good explanation for this. So I did some research. After reading through the betting odds, I was getting quite excited about the possibility of a future Pope Sarah from Africa, only to discover that Sarah was a man, who will soon, perhaps become a John. But he's still at the top of my list of future popes to bet on.
When it comes to papal traditions the Church is very clear that the pope must be a man. The premise is that a pope cannot be female because only a priest can become pope, and since a woman cannot be ordained that is impossible. The next reason given is that when a priest is reciting Jesus's statements from the Last Supper while saying mass and says, "do this in remembrance of me", this needs to be mimicked in the physical body of a man. Another common argument is based on the fact that since Jesus only chose men to be his apostles, Jesus only wanted men to be his priests. Since Jesus chose 12 men to be his apostles, he must have done it intentionally and, therefore, the Catholic Church is bound by that precedent.
An article by Tia Ghose on inquirer.net states that some theologians dispute this, since: "the claim that Jesus chose male apostles doesn't hold water in supporting females being banned from priesthood. For instance, just because apostles were Jewish fishermen, that doesn't mean priests have to be Jewish fishermen. And Jesus also surrounded himself with women who played a very important role in his ministry". Personally, I don't think this is an argument you can expect to be resolved any time soon.
The current contenders for future pope
According to the most current odds online available in January 2021, which were posted online in December 2020, the contenders for the future pope include: Peter Turkson from Ghana at +300, Cardinal Luis Antonio Tagle of the Philippines at +400 and Cardinal Marc Ouellet of Canada at +600. Cardinal Robert Sarah of French Guinea is currently at odds of +1600. At the other end of the spectrum, the four underdogs are Cardinal Albert Malcom Ranjith of Sri Lanka, Cardinal Angelo Bagnasco Of Italy, Cardinal Antonio Canizares Llovera of Spain and Cardinal Vinko Puljic of Bosnia at  +2200 each. For more details, you might like to read the article by Will Cormier on thesportsgeek.com, which has a wealth of information on this subject.
Odds on the next papal name: Leo and Francis at +330, followed by John (ha!) and Pius, both at +400, then Benedict and Gregory +750. Paul has odds of +900. At the bottom of the list you'll find Alexander and Joseph/Joesephius with +1700 each and Urban/Blessed Urban and Celestine at +2200. No mention of Hilarius.
The most common and uncommon papal names according to Religion News (as reported by usatoday.com).
The ten most popular: John (23), Benedict (16), Gregory (16), Clement (14), Leo (13), Innocent (13), Pius (12), Stephen (9, although some debate 10), Boniface (9), Alexander and Urban (tied at 8 each).
The ten most unique: Telesphorus (c. 125-136 A.D.), Eleutherius (c. 174-189 A.D.), Zephyrinus (198-217 A.D.), Eutychian (275-283 A.D.), Miltiades (311-314 A.D.), Hormisdas (514-523 A.D.), Zosimus (417-418 A.D.), Symmachus (498-514 A.D.), Simplicius (468-483 A.D.), Vigilius (537-555 A.D.).
As you can see, all the most original and unusual names date from the period prior to pontifical name changes becoming the norm. So, unless there's a massive change in practice, we can assume betting on one of these top 10 most popular names is safer than on a new Pope Militades or Hilarius.