The Top Trends in 2020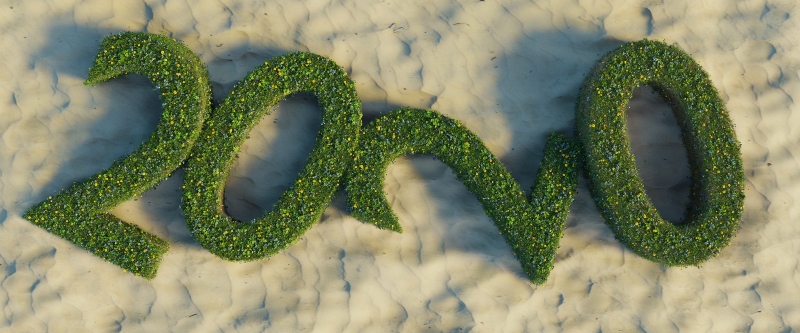 Well, here we are at the start of a brand new decade. The 2010s weren't always the best time for many of us, but nobody can deny that we've just been through one of the fastest-moving decades in history. What's more, it doesn't look like things are slowing down. Let's take out our crystal ball and sneak a peek at what's going to be big in 2020...
What's new in food in 2020?
If you invested money in plant-based food a few years ago, you'll definitely have the last laugh. Veganism continues to rise, but even people who aren't willing to take the full plunge and cut out meat, dairy, and eggs are opting for a flexitarian lifestyle. Meat substitutes continue to grow. We've already seen bleeding veggie burgers and scarily realistic fake steaks. Now, vegan fish looks set to be the next big thing.
Wellness and food will go hand in hand in 2020. Collagen infused smoothies - said to be great for your skin, bones and lips - are sure to be popular with influencers, while CBD oil has been finding its way into all kinds of foodstuffs. At the moment, CBD products are still quite niche, but they're set to explode into the mainstream very soon. The potential health benefits may not yet be confirmed, but that's not going to stop anyone.
What are the top casino trends for 2020?
In the last 10 years, online casinos really took off, and they won't be slowing down as we enter a new decade. In fact, many casinos will soon be accepting cryptocurrencies such as Bitcoin, enabling savvy web users to take their gaming to the next level.
We've seen some casinos experimenting with VR versions of popular games already, but Virtual Reality looks set to be the big trend. In fact, many casinos are beginning to consider it as the future of gaming. You can also expect to find more casino games similar to popular apps, with slot machines being tweaked and upgraded to involve a bit more skill, rather than just luck.
You can also expect to find more casino games similar to popular apps, with slot machines being tweaked and upgraded to involve a bit more skill, rather than just luck. You'll find plenty of classic online casino favourites as well as brand new games aplenty to keep you busy as we enter this new decade.
What are 2020's biggest tech trends?
5g internet continues to roll out, giving people access to speeds that were once thought impossible. With this, online entertainment will be more accessible than ever. Streaming is set to continue to be a major part of our lives, but Netflix may have to relinquish its throne, as other industry titans like Disney want a piece of the pie. Sadly, this could end up meaning that the consumer will pay more, as you may need subscriptions to multiple services to watch the shows and movies you want.
2020 is also set to be a big year for gaming. Apple Arcade and Google Stadia are offering a new, exciting spin on classic gaming, which could mean stiff competition for traditional console giants like the Microsoft X-Box and Sony PlayStation. We'll see how everything plays out as people get more used to accessing games on their phones and other handheld devices, not just in front of the TV.
What will the fashion industry look like in 2020?
Sustainability is the word on everyone's lips, with more and more designers trying to boost their eco-friendly credentials. Recycled materials and upcycling will be huge. You're sure to see influencers showing off outfits that they've upcycled. Home sewing could even see a resurgence, as the environmental movement shows no signs of slowing down.
However, that doesn't mean that we've seen the end of fast fashion, and we can expect to see plenty of fleeting trends come and go, as always. The shirt dress is set to be big in spring/summer 2020, and women with relaxed dress codes will be rocking city shorts to work. Both men and women will enjoy hitting the streets in chunky trainers, which started to appear in the late 2010s and will still be going strong in 2020.