Discover the Splendour of Camelot With Arthur's Gold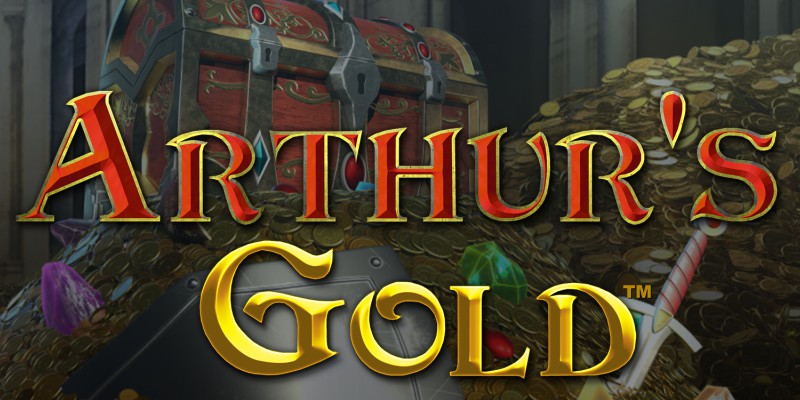 The latest casino online slot title from Gold Coin Studios is called Arthur's Gold and it is based on the legendary characters who inhabited the mythical court at Camelot. The game is one of those online slots which keeps to its chosen theme very consistently. Not only will you come across King Arthur and his bride Guinevere when playing the slot but also many of the other famous protagonists of the Arthurian legends, such as Merlin, Viviane and Lancelot. Laid out with five reels spread out over three rows, the game features some of the usual symbols you get with most online casino slots – aces, queens and jacks. The main game symbols, however, are much more individual looking and really transport you back to the medieval world of quests and chivalry. Overall, the game provides some superb graphics, smooth animation and great sound effects. What can new players expect when they first try it out?
Arthur's Gold – What You Need to Know
To begin with, Arthur's Gold has 20 different paylines which means you can win in a myriad of ways every time you take a turn in the game. These are fixed in what is a high volatility game, so it seems that the game designers have thought about the sort of players who like the chance to win big. The game functions well with dynamic scaling, so you will be able to see everything you need to enjoy it on a range of devices. There is even a portrait variant of the game layout you can make use of if you want – something that not all slots offer.
To obtain a winning combination, players simply need to get matching symbols on the same row. All of the paylines work from left to right and the highest winning payline is used to calculate your prize if you happen to be lucky enough to obtain more than one. Wilds are used in the base game and these can appear on any reel. However, the game's special wilds will only ever turn up on the middle three. Furthermore, up to five scatter symbols can appear following a spin which is more than most games offer. Finally, double symbols also turn up here and there – such as two Lancelots or a pair of Merlins – and this means they count as twice as much for the payline concerned.
Game Features in Arthur's Gold
There are free spins offered in Arthur's Gold when you see a minimum of three scatter symbols following a turn. These can appear anywhere and if you get them, then you will be awarded with no fewer than ten extra turns. During this feature, wilds can be especially effective. Wilds that turn up on the middle three reels following a free spin will expand to fill up all three rows and stay locked in place for your next spin. Crucially, this turn will be a respin so your remaining free spins won't diminish. Such respins are limited to a total of three, however.
Next is a novel feature offered to all players in Arthur's Gold which, perhaps unsurprisingly, offers the chance to double your win. Importantly, this feature comes about when you win a prize following either a base game spin or from the free spin feature. The feature works straightforwardly insofar as you just need to predict whether a coin flip will turn up heads or tails. If you are correct, then Arthur's Gold will immediately double your prize value. It is a way of significantly upping your winnings if you can hold your nerve!
Summing Up
Like many other slots online, Arthur's Gold has a broad appeal but it stands out from the mainstream in certain ways. For example, it provides an attractive total hit frequency rate that is over 30 per cent. Many players will enjoy it simply because of the historic theme of the game's design but others will get into it because of the high payout percentage it provides which is well over 96 per cent.