Top 10 Tattoos for Online Casino Fans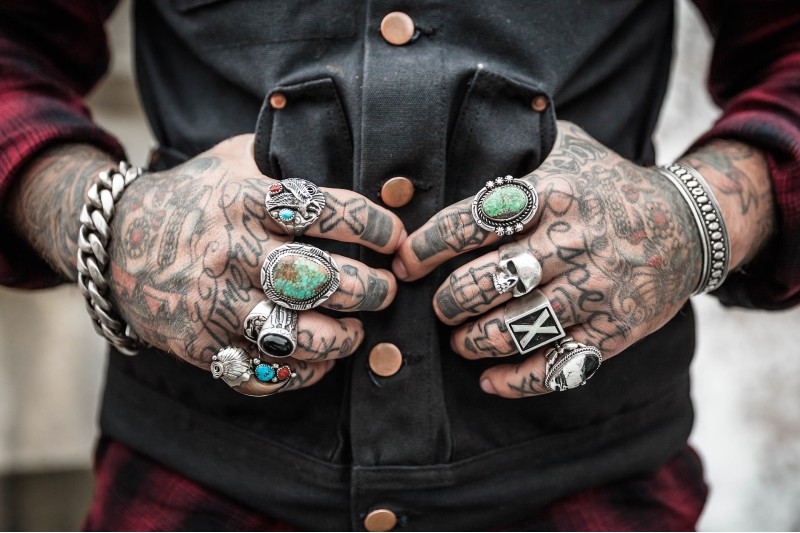 Today's tattoo art is more beautiful, precise and colourful than ever. Simple rose tattoos tucked carefully away under a shirt are a thing of the past. Contemporary tattoos can be big, bold and worn proudly, or intricate fine-lined ornaments. There are even watercolour tattoos and photographic tattoos now... The modern tattoo covers large areas of the body as well as some formerly untouched areas thanks to precise, advanced tattooing techniques: inner lip tattoos, post-mastectomy tattoos, microblading... As for millennials, they seem to be completely tattoo crazy! The generation born post-1982 are keeping tattoo artists busy all over the world. Not only do more people in this age group have tattoos, but they have more tattoos, and the tattoos are more visible than before.
A recent survey in New Zealand by UMR Research targeting people over the age of 18, found that one in five New Zealanders are tattooed. Broken down by gender, the figure is 22% of women and 17 percent of men. Naturally, that figure is much higher among Maori and Pacific Islanders for whom tattoo art is a powerful form of cultural identity and expression. In this group, 47% of respondents were tattooed. Among younger people (under the age of 30), of all ethnicities, the number of people with tattoos has risen from 20% to 36%. This passion for ink has even entered the office. Tattoos are no longer taboo! Unless you tattoo your entire face with a picture of the joker, you will still be able to find employment and mingle in respectable society… Teachers, politicians, students, musicians, athletes and businesspeople alike are all some sporting serious ink.
The passion for tattoo art among millennials has been boosted by the many heavily tattooed celebrities in the world of sport and music, but also by popular TV shows like Miami Ink. The improved quality of tattoo ink and tattooing needles has also helped foster this trend. Justin Bieber, Miley Cyrus and David Beckham are prime examples of some well-inked influencers. The popularity of ink has even forced the US Airforce to change its policies regarding body art in order to maintain its intake levels of new recruits.
Tattoo studios are and as clean and modern as hairdressing salons in most cities. This reassuring appearance encourages more people to step through the door. It's not uncommon today for people to visit a tattoo studio for mother-and-daughter tattoos, graduation tattoos and wedding ring tattoos.
Feeling tempted by the ink? Improvements in modern tattoo needles and technology mean that you can get tattooed without being in such excruciating pain. You'll also be able to choose from a rainbow of colours, styles and designs. But remember, less painful procedures are far from being entirely pain-free! Tattoos remain painful, expensive, and again – painful to remove. But these drawbacks don't seem to be slowing down this inky trend any time soon.
On this subject, if you would like a tattoo that reflects your love of online casino (or whatever, or whoever, you're passionate about) you need to think very carefully about where you would like to have it done, how much you can afford to spend (there's a budget involved), when you will have it done (it takes time) and handpick your *hopefully* timeless design.
Choosing a design you'll love forever is no easy feat! If you get sick of things quickly, as I do, maybe your best option is to stick to semi-permanent tattoos or just remain entirely sans tattoo. Otherwise, do lots of research to find the right design for you, and the right tattoo artist, well ahead of time. There is a tonne of information online about different styles of tattoos, tattoo artists and current tattoo trends. Take your time to look around. You don't want to wind up spending all summer wearing long sleeve tops or pants. Think carefully, consider hygiene issues and do your homework… Tattoo regret can strike quickly, and there's only one known cure: laser removal. Another painful, expensive process that is effective but still leaves traces.
10 Most Popular Casino Tattoos on Instagram
Since JackpotCity is New Zealand's favourite online casino, we've done our own research to find out what the most popular "casino-themed" tattoos are on Instagram right now! We used tattoo hashtags to gather information about popular tattoo designs on casino-related themes. We've counted the posts and created our own top-10 ranking. And with no further ado, here are the results…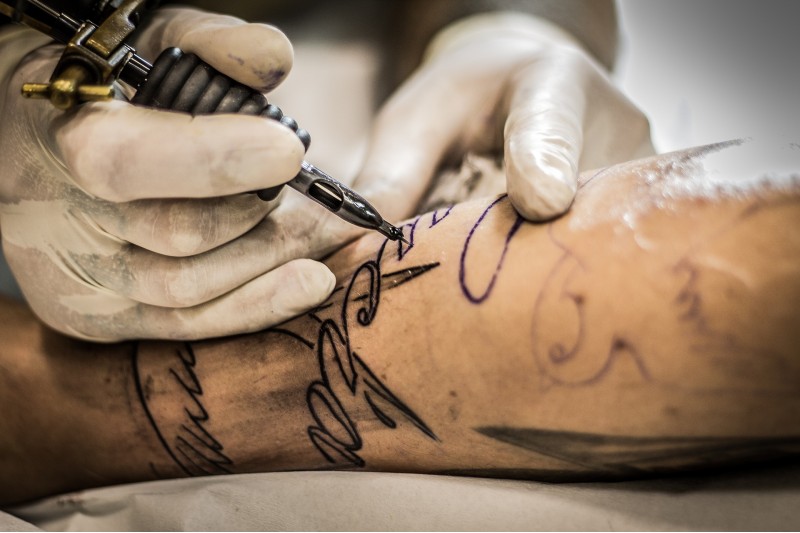 1. #dicetattoo: 11,372 hits
Tattoos of dice are a popular theme, usually done in an old school tattoo style. Old school tattoos have heavier outlines and use a restricted colour palette. You may also see this style described as Western traditional, American traditional and so on. Old school tattoos usually feature typical tattoo themes: roses, anchors, barely clad ladies, possibly featuring snakes.
Dice tattoos are traditionally a symbol of risk taking and gambling. The dice could be part of a larger design containing other elements on the same theme (a gambling sleeve or Lady Luck piece) or form a standalone image. The traditional tattoo is a pair of dice with a "good luck" banner. The number on the dice may have personal or cultural significance. Sometimes this number represents a birthday, an anniversary or a personal lucky number! Since the traditional dice tattoo is meant to bring good luck, no wonder it is so popular. Another iconic tattoo on this theme: the flaming dice, symbolise having luck on your side.
2. #pokertattoo: 10,743 hits
Poker tattoos are the second most popular tattoos on Instagram. Poker tattoos are part of a larger category of playing card tattoos, which occupy a large number of spots on this list. Images usually represent a favourite card or card combination, like the royal flush or four-of-a-kind. Favourite cards are often the Ace of Spades, Queen of Hearts, Joker and other members of royalty. Since the royal flush is the best hand in the game, it is seen to be a symbol of power, winning and success. Of course, some people probably just really like playing poker and want a tattoo to show it.
3. #cardstattoo: 4984 hits
Many of the tattoos on Instagram featured under #cardstattoo could also be counted under the #pokertattoo category. Often, the cards make up part of a larger Lady Luck or casino-themed tattoo similarly to #pokertattoo. Clearly, playing cards and card games are a popular tattoo choice!
4. #queenofheartstattoo: 4635 hits
The Queen of Hearts is one of the most popular cards in the deck and pops up regularly in song lyrics too. In cartomancy, this card traditionally symbolises a sincere and loving woman or, more generally speaking, unconditional love and caring. However, there is another meaning that originates in Lewis Carroll's 1865 novel, Alice in Wonderland. Carroll's Queen of Hearts is a frightening, unpredictable figure with a short temper and murderous streak! This comic villain famously screams, "Off with their heads!" several times in the book. Carroll tells us this is her way of settling all difficulties, both great and small. The number of hits for #queenofhearts could be slightly elevated because of a tattoo studio of the same name, but there were many genuine hits for this hashtag, so #queenofheartstattoo keeps its number four spot.
5. #casinotattoo: 3872 hits
Number five on JackpotCity online casino's list of the most popular casino-themed tattoos is…. drumroll please… #casinotattoo! The typical tattoo is often a larger design composed of several casino-related elements, many of which feature elsewhere on this list e.g. dice, cards, roulette wheels and slots machines. They might also include casino chips, showgirls, images from movies like Casino Royale, rolls of money, skulls, 8 balls and triple 7s. Since Las Vegas is synonymous with the casino for many people, these tattoos often feature the famous diamond-shaped Las Vegas sign.
6. #aceofspadestattoo: 3160 hits
Number six is the legendary #aceofspades. The symbolism of the Ace of Spades runs deep and has evolved over the centuries: it was connected with Queen Anne's tax duty in England in 1711, asexuality, skin colour, wealth, power, death and war. Everyone is familiar with the symbolism of the Queen of Hearts, but the Ace of Spades has the most intriguing symbolism of all. There is the song by Motorhead, of course, but traditionally this card has had the highest value in the game and stands for success and power. Then, during the Vietnam War, American troops believed that the card could intimidate the enemy. Some American soldiers kept the card in their helmet bands or, as portrayed in the film Apocalypse Now (1979) by Francis Ford Coppola, are said to have dropped this card on dead enemy soldiers. In fortune telling, the spades suit also represents death, suffering and war.
7. #roulettetattoo: 1375 hits
Another incredibly popular casino game, roulette, is equally popular in tattoo art. You can't deny that the roulette wheel is a beautiful, rather mesmerising object. Roulette tattoos on Instagram are often in a realistic, monochrome style with lots of shading. The wheel is often part of a larger piece in combination with a beautiful showgirl, dice or the Las Vegas sign. Many of these tattoos could have also been posted under the #casinotattoo tag.
8a. #blackjacktattoo: 1339 hits DISQUALIFIED
Number eight, like numbers 3, 4 and 6 in this list, is another well-loved, playing card tattoo. The blackjack symbolises luck, success and winning. However, the Instagram hits for blackjack tattoos feature a LOT of irrelevant images. There appears to be a tattoo studio of the same name that frequently posts work on Instagram. So, sadly #blackjacktattoo has been disqualified from this ranking.
8b. #gamblertattoo: 671 hits
Since blackjack has been disqualified number 8 goes to #gamblertattoo. This popular tattoo tag is closely related to #casinotattoo and #roulettetattoo. The designs often contain an arrangement of casino-themed images: the royal flush, slot machines, dice, Las Vegas sign, chips, triple 7, roulette wheels, cherry symbols and 8 balls. These tattoos often use a reduced colour palette of red, black and white.
9. #royalflushtattoo: 571 hits
The royal flush is a very popular tattoo, which probably needs no introduction. It represents the best hand in poker and symbolises luck, winning and success. Basically, it represents being the best.
10. #slotmachinetattoo: 398 hits
It might not be the first thing you would think of, but slot machine tattoos are the last in our ranked list of popular casino tattoos. Many slot machine tattoos on Instagram are kawaii-style cartoon designs in punchy colours. There are also many old school tattoo designs featuring a line of triple 7s, and other symbolic combinations. You might not expect it, but slot machines, known as "pokies" at home, make quite adorable tattoos!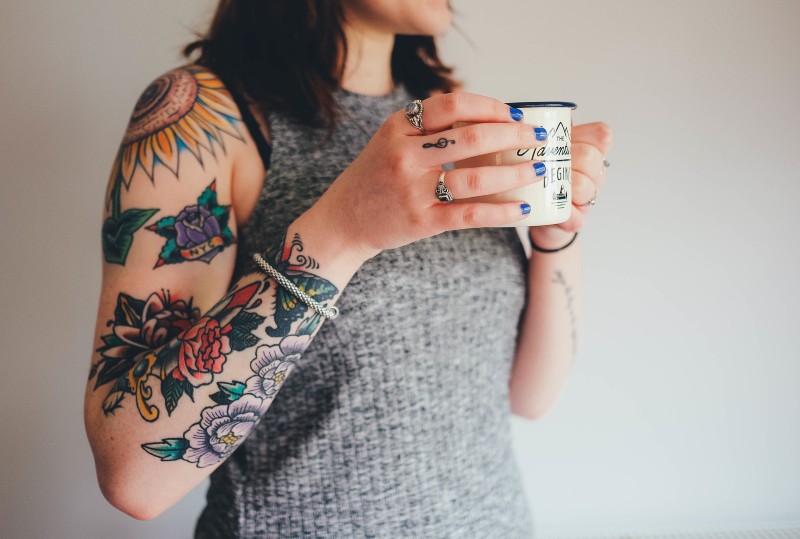 Disclaimer: Things to be aware of beforehand
So you've narrowed down a design that you like and are ready to get tattooed. There are still quite a few things you need to keep in mind. Choosing a professional tattoo artist who works in a reputable studio is a good place to start. The studio should be spotless! If it's not impeccable, just walk on past and keep looking for one that is. Remember, there's a risk of health complications and scarring if a tattoo gets infected. It's possible to catch skin infections and, in the worst-case scenario, other diseases like hepatitis or HIV, so the studio needs to be hospital-level clean. A study of young people in New Orleans, conducted by Tulane University School of Medicine, found that three percent of tattoos become infected and four percent of people who get tattoos have pain that lasts for more than one month. Twenty-two percent experienced itching that lasted for over a month! Yikes!
On another health-related topic, remember that many components of tattoo ink can be bad for your health. A study by the European Synchrotron Radiation Facility found that potentially toxic elements in tattoo ink can leech into your lymph nodes. Many harmless pigments can become damaging once inside your body. Most tattoo inks contain organic pigments along with nickel, chromium, manganese or cobalt. Ask your tattoo artist about the type of inks they are using, so they can address any concerns you may have. A good professional tattoo artist will be happy to discuss these things with you.
However, the best tattoo artists are also expensive, so you will need to start saving up for your tattoo early. This is something you'll be wearing forever, so it's definitely worth paying a little extra to be tattooed by a great artist in a clean studio. A 2016 Harris Poll reported that nearly one in four people surveyed regret getting their tattoos. If you have a tattoo done by an artist whose work you love, it will reduce the likelihood of you being one of those people.
There are hundreds of amazing tattoo artists in New Zealand. We really are spoiled for choice. Of course, tattooing also carries very significant cultural connotations in NZ. For example, if you are non-Maori and are interested in a traditional Maori tattoo, ta moko, you need to talk to a Maori tattoo artist who can design you a tattoo that is respectful to Maori and honours Maori tradition. Maori tattoos are cultural symbols that are sacred. If you just want one because you think it looks cool, choose something else. There are many other designs that are equally beautiful and less culturally sensitive. You might want to take a look at painterly watercolour tattoos, Japanese-style tattoos or neo-traditional tattoos. There are also many stunning ornamental or geometric tattoos available today.
It comes as no surprise that the most popular designs in our top 10 ranking are images of poker cards and dice. The hashtags #dicetattoo and #pokertattoo have proved to be our tattoo champions by a mile. If you'd like to find out more about getting tattooed in New Zealand or look for a local artist you can trust, visit Inkppl, an online tattoo magazine. You can also learn more about current tattoo news, styles and trends and explore samples of work from the world's best tattoo artists on this website.