A Guide On How To Claim the Daily Deal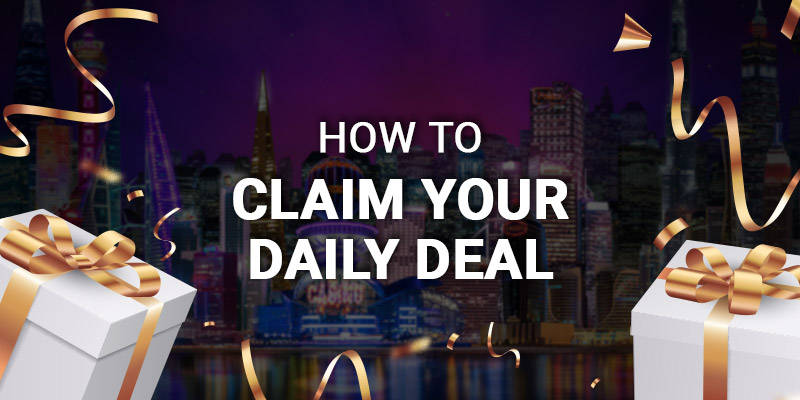 Members of JackpotCity online casino in Canada have a whole lot of fun at their fingertips to look forward to when it comes to the best in online entertainment. By now, it should come as no surprise that our mobile casino is one of the most acclaimed out there, thanks to the fact that we are licensed and registered, and offer a broad range of tried and trusted banking mechanisms, with all transactions being protected by 128-bit SSL digital encryption.
Of course, safety measures aside, it's the games and promotions that keep our players entertained and excited, with plenty in store. We will discuss the gaming selection a little later on, but for now, we discuss the Daily Deal promotions, and how you can claim yours.
Daily Deals At JackpotCity
While there are plenty of promotions and events to look forward to on a regular basis at JackpotCity, many of which are themed around specific holidays and regionally-relevant events, it is the Daily Deal that really kicks off a day of play. What makes these Daily Deals so unique is exactly that: they're unique. Different players have different play styles and betting behaviours, so it only makes sense that their daily offers should be customised to suit them, rather than a one-size-fits-all approach.
That being said, if you choose not to take up and claim your Daily Deal, that's entirely up to you. If you do, however, and would like to learn a little bit more about how to do so, just keep reading.
How To Claim The Daily Deal
The first step to claiming your Daily Deal at JackpotCity is simply to sign into your account. Regardless of whether you're playing on your PC, laptop or mobile device, the first screen you should see upon entry is your Daily Deal match offer. If you have the Calendar function enabled within your account, you can also find your Daily Deal there.
The next step is simply to click or tap on Claim. It's very important to claim any bonus that requires a minimum deposit before making a deposit, so that the bonus will be automatically credited. Don't panic if you forget, though, as our customer support team will help you out in no time.
After claiming, you'll be taken to your Banking page. Here, simply use your preferred method to make a qualifying deposit, and once you have done so, your Daily Deal bonus should automatically reflect in your account. It's as easy as that!
Should you ever have any questions or concerns about your Daily Deal, as above, simply get in touch with the Live Help team, either by means of the Live Chat facility or an email. The hosts on call will be more than happy to assist you with anything and everything, quickly and efficiently.
Fun And Games
As with any bonus promotion at JackpotCity, the purpose is to boost your bankroll and give you the opportunity to explore more games and keep the entertainment coming. We have a massive selection of premium games from a wide range of providers, with Microgaming at the helm of the majority of them.
Microgaming has long been at the forefront of online entertainment, having been established back in 1994. Their repertoire (as well as the games we have on offer) include online slots, table games, keno-style offerings, video poker offerings and even a Live Casino. Whatever you choose to play, your Daily Deal bonus offering is there to help you along.