Live Dealer Games And Their Development In Canada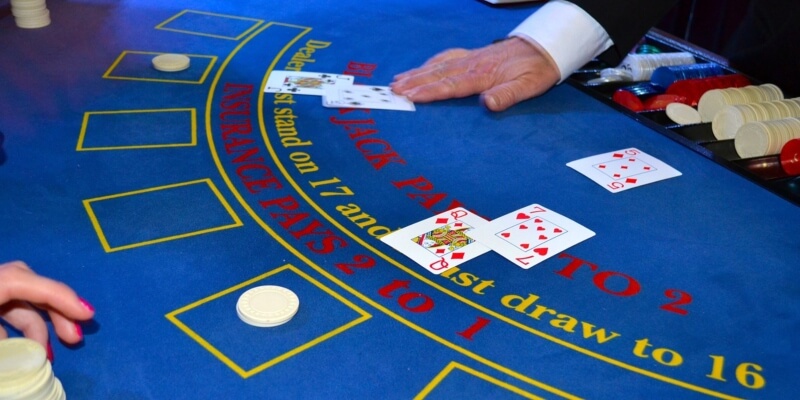 Source: Online Casino Live Dealer
The emergence of the Internet was the crucial feature which kick-started the development of online casino gaming. This vital infrastructure now plays a pivotal role in driving an industry where mobile access can be taken for granted, where gamers can enjoy a social atmosphere which is very similar to a live casino environment, and where large jackpot prizes are always part of the mix.
A History of Online Casino Games
Early online casino formats appeared in the mid 1990s and the first Internet poker room was launched towards the end of the decade. Multi-player gaming which enabled player interaction came into being in 1999, allowing gamers to enjoy casino games such as poker, slots, blackjack and roulette in online formats. This was also the time progressive jackpots emerged, and by 2001 the estimated number of online casino gamers was put at around 8 million. By 2003, eCOGRA – an independent authority internationally approved to uphold standards, perform testing and act as an accredited certification body – had been established to regulate the industry. Further regulation followed in 2006 when the US Unlawful Internet Gambling Enforcement Act became law.
Six years later in 2012, Internet gambling was attracting more than one billion players. And with Bitcoin crypto-currency becoming accepted within the industry in 2014, online gaming then turned its attention to social media and the phenomenal growth of mobile phone platforms.
Understanding the need to keep abreast of technological innovation, online casinos have fully embraced online access via handheld devices such as smartphones and tablets. And future projections anticipate online sports betting will continue to grow at a fast pace, primarily via mobile devices, with some experts suggesting revenues could exceed $1 trillion by 2021. The continued appeal of online casino gaming owes much to improved graphics and audio, as well as significant advances in computing power.
Virtual reality technology is about to offer players the prospect of an even more realistic and immersive experience, and online casinos will undoubtedly be early adopters of this revolutionary development. And alongside this new VR possibility, online casinos are now able to offer gamers the opportunity to play multi-player games which are enhanced by the presence of a live dealer who controls the gameplay in exactly the same way as would happen inside a casino.
The Advantages of Playing Live Dealer Games
With the best live dealer casino games it is often very hard to tell the difference between that experience and playing in a real land-based casino. The dealer will act in the same way, and as a player you will be able to hear and take part in social exchanges just as if you were actually present. Of course, one important difference is that you can take part in live dealer games at any time you choose, because online casinos really are open 24 hours a day.
You can join in a range of classic games such as Live Dealer blackjack in Canada, roulette, baccarat and three-card poker. And what is more, an online casino should be able to offer you a range of different tables to accommodate players of different abilities. For instance, some inexperienced blackjack players might opt for a 'blackjack party' option, perhaps with bets starting as low as $0.50. Furthermore, advances in video streaming technology really bring each game to life, with opportunities to view dealers cutting the deck and the chance to follow every spin of the roulette wheel.
Entry Requirements
There are four essentials you must have in place to enjoy live dealer casino games.
Reliable Internet connectivity: An interruption to your Internet connection in the middle of a crucial play could place you at a considerable disadvantage. Therefore it is in your interests to ensure your home system has sufficient bandwidth and a strong enough connection to stream HD video without signal dropouts or other continuity problems. In technical terms, there may be less stress on your system if you play during the day when Internet traffic is lighter. But to be safe, make sure your system at least has the capability to stream YouTube videos without glitches.
A reliable microphone and headset: You must be able to maintain two-way audio contact with your online casino at all times. That means you should use good-quality equipment to avoid sudden failures – as explained above, you otherwise risk causing yourself major problems. And if any of your hardware relies upon batteries, make sure you check their potential performance beforehand and always have any replacement batteries or other parts immediately to hand.
A fluent understanding of live dealer games: You may be playing for fairly high stakes alongside professional players, so you must be familiar with the demands and expectations of such environments. Amateur players often opt to play free-money live dealer games before moving into real-money versions. This is a sensible strategy and also means your initial lack of knowledge won't hinder other players. Dealers are always happy to answer queries, but don't bring any novice uncertainties to the table, otherwise you may annoy seasoned gamers. You can always switch over from free plays to betting with real cash once you feel more confident.
An online casino account: You must set up a live casino account before you can participate in JackpotCity Live Dealer games. And of course, you will need to have sufficient funds deposited before you take part in real-money games.
Some Tips for Live Dealer Offerings
The most important advice is to use your common sense and keep to the same standards of behaviour as would be expected in a land-based casino. In particular:
Observe good manners. Any failure to behave properly will annoy other participants and could get you banned.
Don't dawdle. Instant reaction is not demanded, but you are playing alongside other live players who will not appreciate time wasting, whatever the cause.
Stay connected. Even though you are relaxed and playing at home, it's no more acceptable to disappear offline without a word than it would be to walk out during a real-life casino game.
Look out for bonuses and promos. These offers are a great way to build up your bankroll to give you more gameplay opportunities.
Check your equipment. Regular equipment checks will reduce your chances of equipment failures, which could be costly in many ways.
Know when to walk away. If luck really has deserted you, the best strategy is to quit and come back another day. This will allow you to take stock, as well as helping to limit your financial loss.