Which Online Pokies Machines Are Actually Paying Out The Most?

Source: igorovsyannykov / Pixabay
Which Online Slot Machines Are Actually Paying Out The Most?
It's no mystery why people like playing slots. First of all, they're easy to learn and don't require any sort of strategy—just choose your game, place your bet, and spin the reel. And there are endless games so you can find something that strikes your fancy. But for most people, the real fun comes when you hear that winning sound, signaling that the reels lined up just right and you're a winner. That fun is multiplied when you're playing a game with a big jackpot.
Some people don't care about winning money when they play—they just like to enjoy the graphics and take a chance on getting winning combos. If that's you, go ahead and enjoy your entertainment. But if winning is important to you, and especially the chance to win life-changing amounts of cash, then perhaps it might help to check out your present strategies against the advice and gaming stats offered here. Even though you don't have to learn a strategy to play slots, it does help to know the different kinds of games and what chances you have at winning in each.
Make the most of your online advantage
In your search for decent payouts, playing in Canadian online casinos is your first advantage. If you had to rely on land-based casino play rather than mobile gaming, you would certainly have to do plenty of travelling to secure all the games offering the best cash prizes. But when you're sat at home in comfort, or playing anywhere else you have access to an iPhone or other hand-held device, you can easily play a vast choice of online slots all across the world. Playing online also gives you the chance to play whenever you want, meaning you don't have to make a whole night of going to the casino—you can play during a commercial break, your commute, or whenever you want a chance at a win.
You'll also find that online casinos like JackpotCity tend to have a much wider selection of slots than on-land casinos. Plus, the selection is constantly changing as new games are released. We work with the biggest developer in the industry, Microgaming, to get the best new games as soon as they come out. That means you'll find slots based on current trends, including video game franchises and films. And, since they're updated frequently, you'll never run out of games to play. The larger the selection, the more types of games you can find—here's what you need to know as you pick your game.
Look at the data
When you're playing at an online casino, it's much easier to find statistics about the performance of different slot games. These statistics can tell you which game is right for you based on your playing style and personal preferences. One figure you should know is the RTP (return to player) average of any particular slot. While this often appears somewhere in the slot info, it helps to be aware this figure can vary between 92-97 percent for different games. That's why experienced players often prefer to play games where the RTP sits at upwards of 96 percent.
Another important statistic is the winning volatility (often called variance) of any particular slot game. Volatility just tells you how often you'll have a win, and how often you'll have a big win as opposed to a small one. If you're lucky, you may find the volatility of a game mentioned in a review. Otherwise you'll have to play a little to discover this characteristic, though you may be able to use some free spins to do this. A high-volatility game will pay out higher amounts, but less frequently. This is good for players who want to enjoy the fun of a big win and don't mind waiting a while to get there.  A low-volatility game will give you more winning payouts, but for smaller amounts, so you get a more frequent reward. Some people like this more constant excitement, and don't mind trading off smaller wins for more frequent cha-chings.
You should also decide if you want to play a 3 or 5 reel slot (it's usually easier to make combos on 3 reels) and see how many paylines (possibilities for winning combinations) there are in a game.
If you want to play games that frequently pay out good winnings, look no further than the JackpotCity Casino homepage. The page shows a selection of featured games and calls out games that have recently had big jackpots. You can keep an eye on progressive jackpot games there, too, to see which games are racking up a large pot of winnings. Don't forget to look out for new releases and member perks while you're there.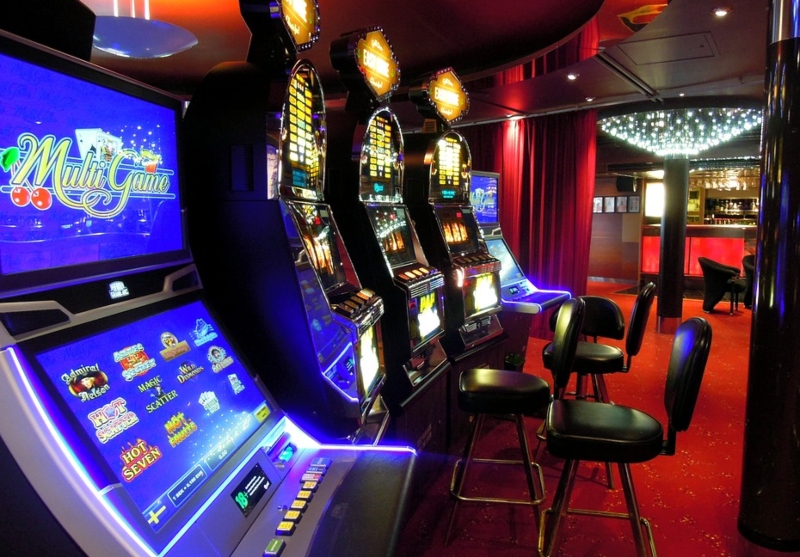 Check out the features
Besides just looking at the stats for a game, you should also look out for slots that have fun features. These not only give you more chances to win, but also make game play more exciting. Depending on the slot, there will be different variations, but some of the most common features are wild tiles, bonus rounds, and re-spins. Usually there will be a symbol or two to look out for, or you may have to get a certain combination to trigger the special features. (You can generally find this information in the slot instructions.)
Wild tiles will complete a combination to give you a higher chance at getting a winning pay line. Bonus rounds are usually triggered by scatter tiles and give you a certain number of extra spins for a chance to stack up more coins. Games with re-spins let you choose to pay an extra amount of tokens in order to re-spin a certain reel, which lets you have another chance at completing the combination in those "but I was so close!" moments.
A further obvious trick to use if you want bigger payouts is to look what other players have to say about any games you fancy. If the payouts are good, you'll find players happy to say so, and if the opposite is true then you'll certainly find gamers screaming out the facts on forums and other social sites right across the universe. You can also just play around and see which games are the most fun for you or where you tend to win the most.
To give you some extra guidance, here are some of the 'vital statistics' and special features of a few of the popular progressive jackpot games now riding high in the payout charts.
Mega Moolah
The highest jackpot payout of £13.21 million was won on Microgaming's Mega Moolah. This is a world record for an online slot win. Also known as the 'Millionaire Maker' this 5-reel slot has 25 paylines and features an African-style environment with monkey scatter symbols which signal potential free plays. There are four jackpot options altogether.
Hall of Gods
Massive payouts grab the headlines. But how important could it be to know the highest average win? That's why it's definitely worth knowing that Hall of Gods (by NetEnt) tops the chart with its average win payout of £5,428,073. This Norse-themed slot, which has 5 reels and 20 paylines, is for those who enjoy mythological environments. Its RTP average is a respectable 95.5% and there are up to 20x free spins (with 3+ scatters). There are special symbols like Thor's Hammer for a bonus game, and shields which must be shattered to access cash prizes or to gain one of three possible jackpots.
Mega Fortune
The average time between jackpot payouts with Hall of Gods is 24 weeks. But what if there was a game with a slightly lower average payout which paid out much sooner on average? The good news is that there is! NetEnt's Mega Fortune slot game pays out an average of £4,212,042 (so it's still high in the charts) but the average time between jackpot payouts is down to just 11 weeks. Mega Fortune is a 5-reel progressive slot with 25 paylines and an RTP of 96.6%. The game has three jackpots and, as its name might suggest, the focus is on a life of wealth and luxury – which is fair enough for a big average payout game. Look out for the yacht wild symbol, champagne which will get you some dizzy free spins, and the wheel of luck which can win you a bonus game.
Major Millions
The only other top game to compete on average time between jackpot payouts is Microgaming's Major Millions which pays out a jackpot on average every 10 weeks. But even so, that average win is (only?) £528,961, which is a lot less than the average payout of the other games listed here. Major Millions has 5 reels, 3 rows and 15 paylines and involves a military scenario with a warlike soundtrack, bomber planes and battle ships. Look out for this game's wild symbol which will instantly triple any win!
How to choose what to play
With so many different slots to play and lots that offer you a great chance at winning, it can be hard to know where to start. The JackpotCity Casino page makes this a little easier for you by giving you a way to sort games by theme, popularity, newness and more. You can also add games that you like a lot to your favourites so you can come back and access them later. Plus, keep an eye on our blog for news of new releases so you don't miss out on the next big thing in slots.