How Video Poker found its way into online casinos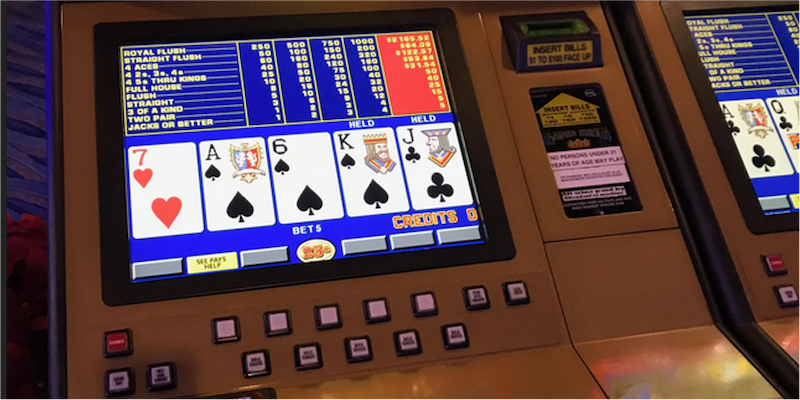 Source:Wikimedia
The average Canadian player is likely to have played at least one version of Video Poker. It is one of the most popular casino games in the world, with players from all four corners of the world taking part. However, since this fun card-based game borrows its rules directly from classic poker, it is easy to understand why it has become such a popular game.
However, an online casino is likely to offer more than just the classic version, with so many variations that it can be difficult to keep track. From Joker's Wild to Deuces Wild and Jacks or Better, there's a veritable smorgasbord of video poker entertainment.
The question is where this phenomenon of the game started and how it got to the point where it is today.
Let's take a look and learn how video poker has become a staple.
Early Days
The story begins with one of the most popular casino games in the world - slot machines. It turns out that the connection between poker and reel spinning goes all the way back to its beginnings in 1891, when a company called Sittman and Pitt unveiled an exciting new invention: the strange mechanical apparatus consisted of 5 spinning reels, each adorned with a row of 10 playing cards. As soon as a lever was pulled, the reels were set in motion and finally came to a standstill when the lever returned to its initial position. Predictably, payouts were made on the basis that the visible symbols produced a winning hand.
This early version was very impressive and quickly gained enormous popularity, so it only made sense to work on a better version. After several repetitions, the Skill Draw appeared in 1901 with an exciting new feature. Players could now hold advantageous cards with one button and spin the unheld cards a second time. The new addition turned the already massive popularity of the machines into a phenomenon.
Interestingly, the vending machines only paid out on cigarettes, beer and whisky, as the games were illegal in the US at the time.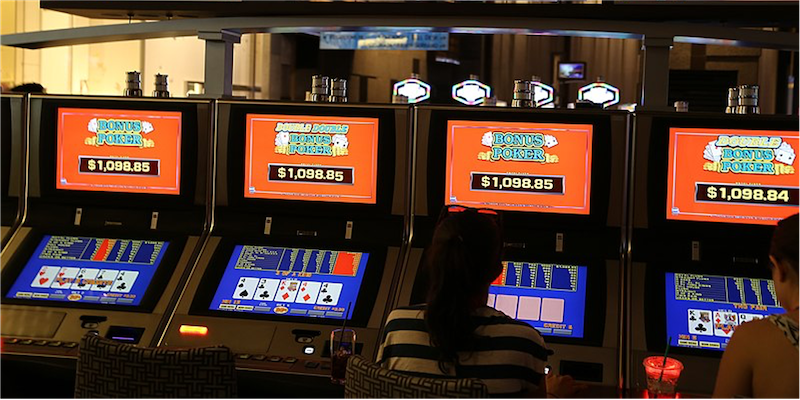 Source:Wikimedia
Going Electronic
Leaping forward, but not yet fast enough to reach the modern online casino era yet, we see the first digital version of the game. At the end of the 1960s and early 1970s, electronic components finally appeared on the machines. The new Poker-Matic was distributed to virtually everyone in Las Vegas. But, contrary to expectations, it was not a success. The designers could not understand why and were willing to give up the idea altogether.
But then came Si Redd of Bally Gaming.
Si launched a new version, aptly called Video Poker. Bally Gaming declined and decided they would rather focus on classic slot machines. So, still thinking he had a winner, Redd dropped out and founded Si Redd's SIRCOMA coin machine. Business was slow at first, but by 1981 had far exceeded even the wildest expectations.
Small Changes
An interesting detail is that the first version of the game was designed to be less gracious than the one seen today. At least two pairs were needed to make a payout, giving players the impression that they were being cheated out of winnings. Redd turned to IGT technicians in search of a solution. A few important changes were made, and eventually the version was born that most modern Canadians know.
Instead of two pairs, the payouts were moved to trigger a much simpler hand: a pair of Jacks. The player reception went through the roof and kicked popularity into the stratosphere. This formula has been maintained and is central to the most recent repetitions.
Going Global
The secret to the success of video poker was that players intimidated by actual poker tables now had to go. The digital version was a more private way for players to enjoy card games at the time. Si Redd continued to cash in and eventually made another big expansion, changing the name of his company to International Gaming Technology IGT with his eye on the global market. That IGT is the largest manufacturer of electronic game consoles today should offer some perspective.
In the 1990s, there was hardly a single casino in the world that did not have a video poker console. In fact, most of them had a wide selection as the mechanics of the game gradually began to evolve. Different versions were created, offering different graphics, new rules and thousands of pay tables.
So it was only logical that video poker was included when the first fully digital casino developments began to appear online. It's not necessary to say where it went from there, as video poker is as popular today as ever. And at JackpotCity you can enjoy this incredible game on your desktop or mobile, all thanks to Si Redd - and state-of-the-art technology!