Almighty Aztec – What Is That?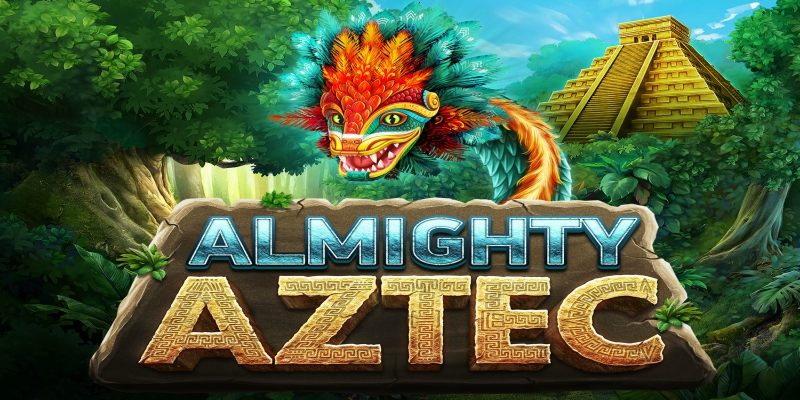 Often confused with the Mayans, the Aztecs were an ancient – albeit quite advanced – civilisation located in central Mexico from as early as 1300. Known for their art, agriculture and architecture, the Aztecs were quite innovative for the time, with complete writing systems, calendars and traditions. As a result of this, Aztec culture continues to inspire all manner of movies, books, video games and, of course, online slots! Almighty Aztec is one such example, and is a collaborative creation of both Microgaming and SpinPlay. The game draws inspiration from Quetzalcoatl, the Aztec god of wind and wisdom, and boasts some absolutely stunning graphics and audio – not to mention thrilling features! In this review, we take a closer look at this exciting online casino game, which players will be able to find and play at JackpotCity.
Theme And Design
In light of the above, it should come as no surprise that everything about the Almighty Aztec online slot pertains to the theme, with a luscious jungle scene as the backdrop to the reels and fitting audio accompaniment. That being said, if you're expecting something like bongo drums, think again! The background music is ambient and relaxing, which is a refreshing change from the hyped-up audio we so often see in online slots titles. When it comes to games powered by the likes of SpinPlay and Microgaming, players can expect nothing less than phenomenal attention to detail, whether it's in the visual, audial or gameplay aspects of the title. While we will discuss the symbols in more detail below, you can expect to see some absolutely charming illustrations on the reel of this online and mobile casino game, from Aztec carvings and pyramids to jungle creatures and the mighty Quetzalcoatl himself, depicted as a curious, feathered serpent with brilliant colours.
Paylines And Bet Sizes
Almighty Aztec is an incredible accessible online slots game, having a 3x5-reel grid, a betting range of between 0.10 and 500 credits, and just 10 paylines. As such, the title is sure to appeal to a wide range of gaming types – from safe stayers to high rollers alike. The game is considered a medium volatility one – so, while high volatility games pay out less often and in bigger increments, and low volatility games pay out more often but in smaller portions, a game of medium volatility sits comfortably in the middle.
Symbols And Features
Upon the reels of Almighty Aztec, you will find a host of colourful symbols, with the higher values represented by a snake, a bird, a person with tribal face paint and headdress, and a carving of what probably represents wind, given that Quetzalcoatl governs over wind. The lower values are depicted as different coloured gemstones, in shades of red, blue, purple and green.
As far as special features are concerned, this online and mobile casino game has more than just a few. For starters, at random, Quetzalcoatl can fly across the screen and add up to 3 Wilds onto the reels, which are represented by a golden sun. When a Wild lands, it can expand into a shimmering pyramid, covering the entire reel and substituting for other symbols, except the Scatter. The Scatter is represented by an intricate Aztec emblem, and will trigger a round of Free Spins if you manage to land at least 3 on the reels. Any Wilds that land and expand during a Free Spins round will stay in place until the round is over. Keen for some action but not prepared to wait? The Buy Feature, which is represented by a treasure chest, will let you use a portion of your wager to buy 5 Free Spins. Just bear in mind that this feature may not be available to all regions.
Final Verdict
One can very quickly and easily see that SpinPlay and Microgaming put a lot of time and effort into creating an online slots game that is at once both fresh and familiar. With its generous betting range and fun features, the title is sure to appeal to many different gamer types, whether they prefer to play on their PC, laptop, smartphone or tablet. The graphics are charming without overwhelming the screen with too many animations, and the audio is relaxing and a pleasure to listen to. The best part? If Almighty Aztec sounds like the kind of game you'd enjoy, you'll be able to play and enjoy it right here at JackpotCity!