Game of Thrones Online Slot – Experience Westeros Today!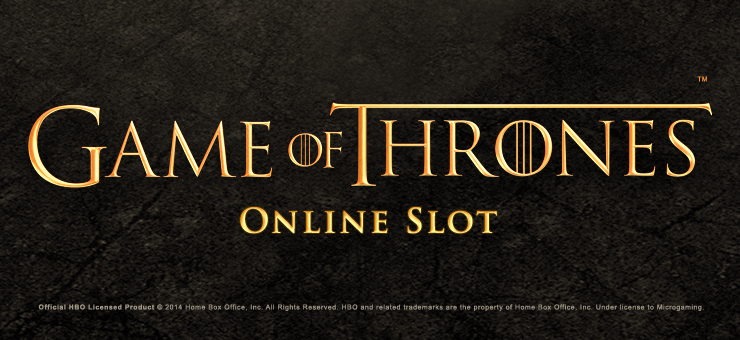 Become a fierce Targaryen or stoic Stark when you play the Game of Thrones online slots. Battle the houses of Westeros as you quest to claim the Iron Throne! If you're a fan of this epic HBO television series, you'll fall in love this new online casino game. Feel emboldened by the triumphant series theme song heralding your arrival and get swept up in the magic of the GoT world with real clips from the film and the powerful visuals created by Microgaming. Read on for a review and breakdown of the new title. If you want to try this exciting game at one of the top online casinos in Canada, check out what we have to offer at JackpotCity Casino.
Riveting Layout and Design
As is typically expected with Microgaming slot games, the visuals, soundtrack, and story on the Game of Thrones slot game online are exceptional. The setup of the game is similar to the series' plot: the four houses of Westeros (Baratheon, Lannister, Stark, and Targaryen), are all battling for the Iron Throne. You have the choice to either join your favourite side and reap rewards for trying to defeat other houses or you can try to beat all the houses and claim the throne yourself. Game payouts are determined on matching symbols. Top players will also enjoy bonuses and special features to land extra prizes.
To start the game, you choose the house you prefer or try and beat all the houses. Then, you begin to journey across the seven kingdoms of Westeros. Set bets before you begin by selecting Coin Size and Coins or betting options. "Autoplay" kicks in for a specific amount of times using the preset bet and "Spin" puts the reels to work once you have set your total bet. "Gamble" is available after each win is formed.
Two Versions of Online Slots Gameplay
You can play two versions of this larger-than-life game when you play at your online casino in Canada: classic 15 payline or 243 ways-to-win. Each version is packed with advantages, twists, and turns, leading you to your possible treasure. Although many new online slot games don't offer the traditional payline version, the GoT game gives players options for customized gameplay.
In the 15 payline version, you match symbols in a defined payline or win line. These combinations lead to different payout amounts. In the 243 ways-to-win version, you pay a slightly higher flat rate to gain access to extra paylines, giving you more options to win with every spin of the reel. You will find the same classic three symbol positions per reel, and a total of five reels, giving you 243 possible winning combinations. You can find out more information about the differences between paylines and ways to win in our comprehensive online slot guide!
Exciting Game of Thrones Symbols and Payouts
Using a combination of traditional casino symbols and symbols directly from the TV series, line up three or five of them in a row to grab a win. The lowest paying symbols are Jacks, Queens, Kings, and Aces. Five Jacks or Queens in a row will give you 40 coins. A line of Kings or Aces pays out 60 coins.
Of all the houses, House Targaryen, the dragon crest, pays the least, but it's still 150 coins if you line up five of them. House Stark pays 175 coins for five Starks, Lannister pays 200 coins, and House Baratheon, home of King Robert, rewards you with a wealthy sum of 250 coins. You'll find yourself anxiously waiting to see which warring houses conflict or align in full support of your battle position.
Bonuses and Special Features
Keep a lookout for two special symbols, helping you quickly become a winner with big bonuses, especially when playing 243 ways. The Game of Thrones logo is the slot title's Wild symbol. It often arrives in a Stacked Wild form, which will fill an entire reel with Wilds. You may find you receive multiple Stacked Wilds at once, helping boost the winningest moments in the game. Five Wilds on a single spin can reward you 1000 times your stake.
The Iron Throne is hands-down the most coveted symbol as it brings The Scatter. If you pick up three of these in any of the reels, you'll activate a Free Spins bonus round. Two Scatters will also give you an additional Scatter Bonus prize worth up to five times your bet.
To play the free spin round, you'll select from one of the four houses. Each one provides a different combination of free spins, multipliers and stacked symbols. For example, Baratheon offers 8 free spins with a 5x multiplier and Baratheon symbol stacked to 3. Targaryen gives you 18 free spins, 2x multiplier, and the symbol stacked to 6. Decide on the best option depending on if you prefer more chances to win small or fewer chances to win big. You activate the Gamble any time you win. This exciting feature includes four different stages: Three-Eyed Raven, White Walker, Direwolf, and Dragon. In each stage, you'll choose either heads or tails with the option of doubling your winnings. If you choose correctly, you can either cash out or move on to the next stage.
Winter Is Coming – To Your Mobile Device or Laptop!
Wherever you play your Canada online casino games, one thing is clear: winter is coming and it's going to be a blast. Overall, the Game of Thrones online slot game is a thrilling new slot title that lives up to the name of its source material. Fans of the books and HBO show will thrill at the bonus features and visual wizardry for which Microgaming is known.
This title is a medium volatility slot, which means it pays out small amounts fairly often, to keep you interested, and saves big wins for its special features. Free spins aren't handed out with as much frequency as some games, but when they do make an appearance the payout is well worth the adventure. To try your hand at this game today, jump over to JackpotCity.