Relax With A Classic Online Casino Game
You don't have to go out to a casino anymore to enjoy a pleasant, casual game of pokies – the casino is coming right to you! A new offering of exciting gaming is right here, on your screen. Lock A Luck is a beautifully rendered, new online casino pokie game that we can't get enough of!
Lock A Luck is a classical casino themed game that features active yet jazzy music, reminiscent of a happy exciting land casino atmosphere. Energetic animations have been created for people who just want to bury their troubles and immerse themselves in a Vegas-like world of sounds and lights. So sit back, relax and enjoy the hip new game from the comfort of your home!
This game created by the famous gaming studios All41 is a fresh implementation of a popular mechanics embedded in online pokie game. The reels are reflected / synced, otherwise known as 'locked' reels. It has a whopping 243 winways, which is incredibly exciting for any player!
Discover a world of fun and games with the Lock A Luck!
Lock A Luck is a classic-themed new online pokie game from All41 Studios, with crazy 243 permanently enabled win ways – wow! So much fun to be had! A classic game never gets old, but this game manages to bright a fresh perspective to the tried and true formula.
So pour yourself your favourite cuppa, sit back and enjoy your day with this fun and casual new game. With the fun and young-looking graphics, this is a fresh game, and so much fun to play. It embodies classic pokie fun, featuring Lucky Highs, Wilds and Locked Reels. On every spin, two random adjacent reels become locked, and then its just the matter of landing identical symbols on neighbouring wheels for a big win. There is even a chance of expanding locked reels to 3, 4 or even 5 adjacent reels, really maximising your wins!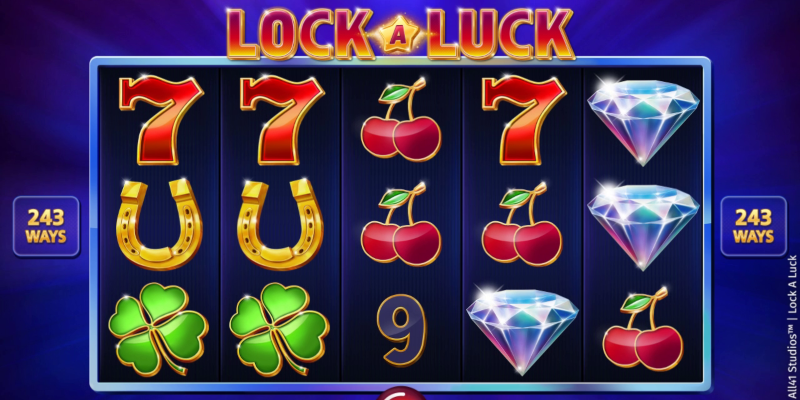 Lock in Your Luck
The first thing we've noticed about this lovely new game is that it's just so simple to play, and to enjoy. The fun is light hearted, and it's easy to just relax and have some fun with it. We are loving the fresh update on the classic graphics and Vegas-like soundtrack. But the best features of the game are, of course, in the embedded extra functions.
The Locked Reels feature is truly exciting. It means that, on every spin, two or more reels are locked – these are picked randomly, of course, but they must be adjacent. This selection can be increased to 3, 4 or even 5 reels. Then the symbols landing on these reels, as they spin together, will be identical. 
What makes this game so exciting is that there are 243 ways to win. Win ways always aware for left – to – right adjacent symbol combinations (like in most classic casino pokie games) and win ways can be multiplied by the Credits bet. However, only the highest winning combination is awarded per symbol configuration.
There are also Wilds in this game, which can really maximise your winnings. The Wild symbol will substitute for all symbols, but it does not have its own payout. Also, the player needs to be aware that Wilds appear only on reels 2, 3 and 4.
Finally, there are achievements that can be earned in the game, increasing your wins. For example, there are achievement linked to presuming minimum bets, which really increases the payout in the event the player is correct. This game has a high possibility of large wins, which makes it very attractive to all players.
Boost your luck with this fresh new version of a classic online casino game and catch your luck by the tail with the marvellous Locked Reels! The simplicity and elegance of this classic online pokie game is bound to appeal to any player – from casual to someone just starting out in the world of online casino gaming. Why not spend an afternoon relaxing with this very entertaining little game, and have a bit of fun today?