Make your own casino playlist!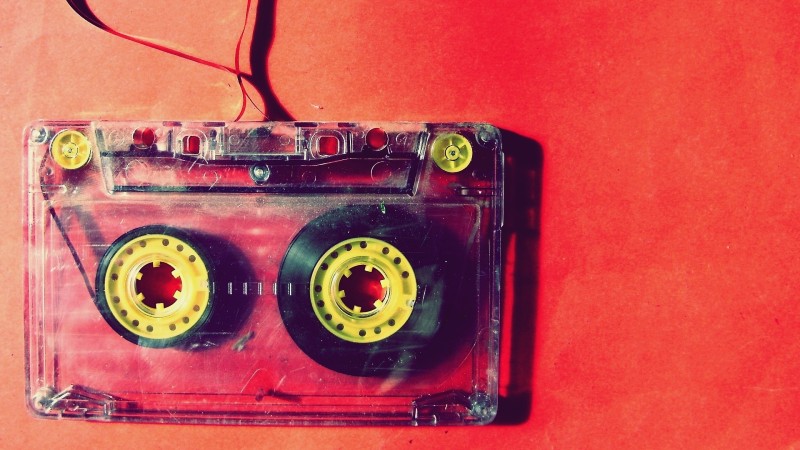 If you love music and casino games, why not combine your two favourite things and make your own mixtape. You don't actually have to record the tracks on a cassette, you can update the process for the 21st century in a casino-inspired playlist to listen to at home or driving in the car. You might even follow the mixtape tradition and give your playlist to a friend. Take a musical trip into the past with JackpotCity online casino as we sample twenty tunes related to casino games!
Mix it up your way – it's your playlist
Games of chance and card games have been part of civilisation forever and now we have thousands of songs about playing cards, rolling dice and spinning the wheel. If you decide to go ahead and make your own casino-theme mixtape, the hardest part will be narrowing down your song list. A simple option is to start with a clear theme, like "hard rock" casino tunes with songs by AC/DC, ZZ Top, Bon Jovi, The Clash and Chris Cornell. For a vintage Vegas playlist, you could add tunes by Elvis Presley, Doris Day, Frank Sinatra and other members of the Rat Pack.
Feel free to mix up our list with your own songs or just use it "as-is". We start our list in 1936 with an old classic by Billie Holiday and then travel forward in time, all the way to 2018. We hope you enjoy these songs of love, luck, risk-taking and playing your cards right. If you want to know more about the mixtape revival, take a look at this article in Stuff. And now here are 20 tracks to get you started.
1) "Pennies from Heaven" – Billie Holiday (1936)
"Every time it rains, it rains, pennies from heaven/ Don't you know each cloud contains pennies from heaven/ You'll find your fortune falling all over town". "Pennies from Heaven" was first sung by Bing Crosby in a film of the same name released in 1936, which was much less successful than the song itself. The tune was covered by Billie Holiday that very same year, and since then has been covered by many other singers, including Frank Sinatra, Louis Armstrong, Joe Turner, Sarah Vaughn, Doris Day, Dean Martin, Tony Bennett (with Count Basie) and more. For a jazzy mixtape, we recommend the version by Billie Holiday or Louis Armstrong. This tune was very popular during the Great Depression…
2) "Life is Like a Card Game" – Joe Turner and Orchestra (1950)
Straight from the opening piano chords, you know this is a blues classic. Big Joe Turner released "Life is Like a Card Game" in 1950 and the lyrics tell the story of a man down on his luck: so unlucky "he was born with a losing hand". But the song ends hopefully, he knows that if he tries hard enough his luck will change. The lyrics could be autobiographical, Turner's father was killed in a train accident when he was only four and Turner had to sing for money on a street corner at the age of fourteen. However, he later became a musical legend and "Boss of the Blues". Listen to this song and you'll know why…
3) "Losing Hand" – Ray Charles (1957)
Another classic tune of love and gambling, "Losing Hand" by Ray Charles was released in 1957 as the fifth song on his debut album. The song still feels fresh today and belongs on any blues/jazz casino mixtape list. Ray sings that "I gambled on your love baby and got a losing hand […] While I was playing fair baby, you played a cheating game […] I thought I'd be your king baby, yes and you could be my queen".
4) "Viva Las Vegas" – Elvis Presley (1963)
The king of rock presents the king of casino songs, without which no casino music list would be complete. "Viva Las Vegas" was written by Doc Pomus and Mort Shuman for a film of the same name, starring Elvis Presley. In reality, Elvis Presley never sang this song live on stage. However, over the years it has become one of Presley's most well-known tunes. Many other people may know the ZZ Top version of the song, which was a hit in 1992. There's no mistaking the link to casino in the lyrics: "Oh, there's blackjack and poker and a roulette wheel/ A fortune won and lost on every deal/ All you need's a strong heart and a nerve of steel". The Dead Kennedys and Bruce Springsteen have also covered this song.
5) "House of the Rising Sun" – The Animals (1964)
This classic sixties' folk-rock song was released by The Animals in 1964 and was a number one hit around the world. You probably know the lyrics "My father was a gamblin' man/ Down in New Orleans". But did you know that this is actually a traditional English folk song written by "Anonymous", like most old traditional songs. The earliest recordings date back to 1928. It is also known as the "Rising Sun Blues". Before the Animals performed the song, it had already been performed by Woodie Guthrie, Joan Baez, Nina Simone and Bob Dylan. It actually features on Dylan's debut album. The Animals recorded their version in a single take in 1964, featuring the now-famous electric guitar A-minor chord arpeggio by Hilton Valentine.
6) "The Stranger Song" – Leonard Cohen (1967)
For a mellow moment on your mixtape – or in the words of Scott Tobias, a "mournful interstitial" – you can add "The Stranger Song" by Leonard Cohen. A sad folk-infused song about a card dealer, the lyrics are: "Like any dealer he was watching for the card that is so high and wild/ He'll never need to deal another". Did you know that Leonard Cohen was from Montreal in French Canada and was a poet and writer long before he became a singer-songwriter? He also spent a lot of time at Warhol's Factory in New York. The place that produced another famous singing duo of the period: Lou Reed and Nico.
7) "Do it Again" – Steely Dan (1972)
Seventies' musical gold from Steely Dan. The lyrics tell the story of a man who loves to gamble: "Now you swear and kick and beg us that you're not a gamblin' man/ Then you find you're back in Vegas with a handle in your hand/ Your black cards can make you money so you hide them when you're able/ In the land of milk and honey, you must put them on the table…". The song was written by Walter Becker and Donald Fagen and was Steely Dan's second highest charting single.
8) "The Jack" – AC/DC (1975)
The story might sound like it's all about cards "She gave me the Queen/ She gave me the King/ She was wheelin' and dealin'/ Just doin' her thing/ She was holdin' a pair". This sounds like a classic blues number about a card playing… or is it? There's a play on words here that references something much less pleasant in Australian slang. "The jack" is also often referred to as "the clap" elsewhere in the world. Nonetheless, the poker references in this song give it its rightful place on any rock or blues mixtape.
9) "Still the Same" – Bob Seger (1978)
Here's another seventies' ballad. It was released in 1978 and is actually about Hollywood rather than Las Vegas. However, it could easily be about Las Vegas with the lyrics "You always said the cards would never do you wrong/ The trick you said was never play the game too long". This nostalgic seventies ballad is best for a mellow interlude on your mixtape.
10) "The Gambler" – Kenny Rogers (1978)
Whenever I think of casino music or songs about cards and games of chance, "The Gambler", by Kenny Rogers pops straight into mind. The song was written by Don Schlitz in 1976. It was actually sung by several other artists before Rodgers, including Johnny Cash. However, it was Kenny Rodgers who made the song a commercial success in 1978. The lyrics are about how to play cards, but also how to live your life: "You've got to know when to hold 'em, know when to fold 'em/ Know when to walk away, know when to run/ You never count your money when you're sittin' at the table/ There'll be time enough for countin' when the dealin's done". Schlitz, the composer of the song, praised the Kenny Rodgers' version in 2018 saying that "they added several ideas that were not mine, including the new guitar intro".
11) "The Card Cheat" – The Clash (1979)
A great song from The Clash's critically acclaimed, London Calling album. The story is about a man who tries to cheat at cards: "The gambler's face cracks into a grin/ As he lays down the king of spades/ But the dealer just stares/'There's something wrong here', he thinks/ The gambler is seized and forced to his knees/ And shot dead". Joe Strummer wrote the song after reading a lot of poetry of Sylvia Plath and he believes this may explain the song's dark theme. Everything in the song was double-tracked in the recording studio to create a "wall-of-sound" effect. As a result, the song was never able to be performed live.
12) "The Devil Went Down to Georgia" – The Charlie Daniels Band (1979)
The most country song on this list is all about a betting competition between a fiddler and the devil "who deals the cards". The lyrics tell a story: "Johnny, rosin up your bow and play your fiddle hard/ 'Cause Hell's broke loose in Georgia, and the devil deals the cards/ And if you win, you get this shiny fiddle made of gold/ But if you lose, the devil gets your soul". The song was released on the band's 1979 album Million Mile Reflections. This up-tempo bluegrass song is a great foot-tapping tune to listen to while you play cards yourself. Charlie Daniels has since said that the influence for the song came from a poem he learnt at school, called "The Mountain Whippoorwill" by Stephen Vincent Benét.
13) "Ace of Spades" – Motorhead (1980)
A classic hard rock track that is a highlight on this list. Try to fit it into any rock mixtape if you can. The lyrics tell the tale of a man who likes to gamble and enjoys taking risks: "If you like to gamble, I tell you I'm your man/ You win some, lose some, all the same to me/ The pleasure is to play". This heavy metal anthem was released in 1980 although the song is about poker and dice, Lemmy, the songwriter and lead singer, actually admits he prefers the fruit machines. He's a pokies fan. Unfortunately, singing about "spinning fruit, and the wheels coming down" didn't work as well.
14) "The Winner Takes It All" – ABBA (1980)
Another disco classic from ABBA. Add this one to your playlist for a dose of light-hearted pop. The song is about losing at the game of love, with the lyrics: "I've played all my cards/ And that's what you've done too/ Nothing more to say/ No more ace to play/ The winner takes it all". The song was released in 1980 on the Super Trooper album. There has been much speculation that the song is about Fältskog's divorce. However, both Ulvaeus and Agnetha deny this, saying that there were no winners in that particular game. While Ulvaeus admits that the emotion expressed in the song could have been inspired by the divorce. Actually, when the song was composed on the island of Viggsö in the summer of 1980, it was done focused entirely on the melody. At first the lyrics consisted of nonsense French words used as placeholders, until somebody came up with some lyrics!
15) "Casino" – The Passengers (1981)
For a light-hearted disco tune, don't forget to add "Casino" by the Italian disco group The Passengers. This song is one catchy little number if you want some cheesy disco vibes on your mixtape! "Oh, casino you can make yourself a fortune/ A millionaire in a night, ooh". It's sure to bring a smile to your face anyway. It makes an uplifting addition to any mixtape to listen to while you play online casino.
16) "Shape of my Heart" – Sting (1993)
Here's a pop classic from Sting released as the fifth single on his album, Ten Summoner's Tales, released in 1993. It was co-written with the guitarist Dominic Miller. It's another classic ballad about gambling from one of the world's favourite rock musicians. The lyrics speak of luck and fate: "I know that the spades are the swords of a soldier/ I know that the clubs are weapons of war/ I know that diamonds mean money for this art/ But that's not the shape of my heart".
17) "You Know my Name" – Chris Cornell (2006)
Probably the most "rock" of all the James Bond theme songs, "You Know my Name" by Chris Cornell ushered in the new James Bond, Daniel Craig. And the song was the theme song for the Bond film Casino Royale released in 2006. Cornell sings of cards and the roulette wheel with the lyrics: "Try to hide your hand/ Forget how to feel (forget how to feel)/ Life is gone with just a spin of the wheel (spin of the wheel)". Cornell's singing is meant to reflect Daniel Craig's grittier and more emotional portrayal of Bond.
18) "Poker Face" – Lady Gaga (2008)
If you decide on a pop playlist, you know this song has to feature somewhere. Poker Face was released on Lady Gaga's debut album in 2008. It has won critical acclaim for its robotic hook and catchy chorus. The love-as-card-game theme comes out in the lyrics "Love game intuition, play the cards with spades to start". Although Gaga has said to rock journalists that the song symbolises a host of different things, ultimately, it's the card game and love affair lyrics that emerge most clearly.
19) "Waking Up in Vegas" – Katy Perry (2009)
Here's a fun pop song by Katy Perry from 2009 with a glitzy music video that's well-worth watching that stars the American actor Joel David Moore. The lyrics are about a stereotypical college student trip to Vegas for the weekend that ends badly, "Remember what you told me/ Shut up and put your money where your mouth is/ That's what you get for waking up in Vegas/ Get up and shake the glitter off your clothes, now". In the video look out for cameos by Penn and Teller, the poker player Daniel Negreanu and the owners of the Palms Hotel, Gavin and George J Maloof Jr.
20) "Next to Me" – Imagine Dragons (2018)
In 2018, Imagine Dragons released a song called "Next to Me" comparing loving someone as a game of chance. Dan Reynolds sings: "I am a deck of cards, vice or a game of hearts/ And still you, still you want me/ So thank you for taking a chance on me". This is a positive, uplifting song that could finish off your mixtape nicely. It's the final song on our top twenty. We hope you enjoyed it as much as we did!