Your Guide to the New Online Pokie: Age of Conquest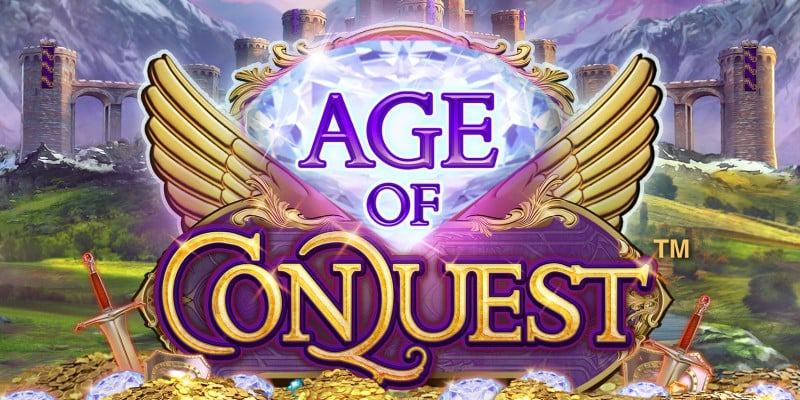 Age of Conquest is one of those online pokies that has caused quite a stir. Even before its official release, some players had been looking forward with much anticipation to this magically themed game which evokes knights of old, sorcerers, dungeons and dragons. Of course, many of the online pokies New Zealanders like to play have such themes – perhaps it is the Lords of the Rings fan in all of us? – but Age of Conquest is a bit different. In some of the game design, it even feels a bit New Age and mystical. So, is this online pokie one that you should be trying out? Read on to discover more about this thoughtfully packaged new game.
Age of Conquest – Design and Play
The first thing to say about Age of Conquest's visual design is that it is extremely well put together. The details that have been rendered in some of the symbols are truly stunning, whether you are looking at a battle horse or a magical griffon. The symbols whiz around your screen in a very natural way, set out over five reels. In the background, behind the reels, is a high mountain pass with a castle that guards the way. This is the key to the mythical kingdom where the game is set. Control that and, in theory, you should control the realm. This, in the case of Age of Conquest, means winning prizes.
Because the reels, which produce three rows of symbols at every turn, are placed centrally in the screen, you can see much of the detailed background. This adds to the game's fantasy atmosphere but it also means it will work as well as it does on larger monitors on the smaller screens of tablets and smartphones. The idea behind Age of Conquest relies on an epic battle between good and evil, light and dark. On the side of light is a knight who happens to be an elf; he is supported by a trusty steed. On the other hand, the dark side of the game features a beautiful sorceress who is accompanied by her griffon. Whenever these main game symbols appear on your reels, you have a good chance of claiming a big prize.
Age of Conquest has 20 different paylines in its base game. Essentially, this mean that you have multiple ways of gaining a winning combination on every turn you take with the game. Bear in mind that only one payline will award a prize so if you end up with two or more, you just get the one payout. That said, Age of Conquest will automatically find the highest paying one for you so you should never felt short-changed. What's more, Age of Conquest is not limited to wins in its base game because there are some cool features to take advantage of, as well.
What Features Does Age of Conquest Have?
Okay, so much for the game's basics. What many fans of online pokies will want to know about is those all-important features, and Age of Conquest has three on offer. The first one is called Persistent Collect and it is enabled when you get a diamond land up on any position of one of your reels. The second feature is known as Stacked High Symbols. This comes about when you obtain either the elf knight or the sorceress symbols on your screen. They will fill it up over the entire three rows of the game if they land in the right position.
The other main feature you will want to obtain during a game of Age of Conquest is called Volatility Pick Bonus. This is basically a free spins feature but it is one with a difference: if you are lucky enough to trigger this feature, then you can choose either two, eight or 25 free spins. The point here is that the volatility of the game alters depending on which one you opt for. The more spins you obtain, the lower the potential prize value. The fewer you choose, the greater the maximum prize might be. To get this feature, you must see three scatter symbols, one on the left-hand side reel, one in the middle and a third on the right-hand side reel.
Another important part of Age of Conquest is that you can collect diamonds. If you obtain a diamond on a given reel, then it will subsequently be displayed above it. Should you be lucky enough to obtain a second one on the same reel, then you will open up wild reels. Essentially, this means that the whole of the reel, or reels, concerned become wild. You can then spin again with the wild in place for up to three further turns, again allowing players to exert some control over the game's volatility. This makes Age of Conquest a very interesting game to play. Quite apart from being a fun and fast-moving slot, it has an extra layer of depth that many players will find appealing.
Age of Conquest in Summary
New online pokies in NZ don't come with much better graphics than Age of Conquest. Even if the theme does not appeal to you, then the artwork and gameplay probably will. With a full retrigger it is even possible to win 10,000 times your initial stake. The pokie has a total hit frequency of 27.3 percent and its payout ratio is 96.14 percent. This means that many people will have great fun playing it with plenty to keep them entertained as they go.