Will Miami Glow Light Up Gamers' Lives?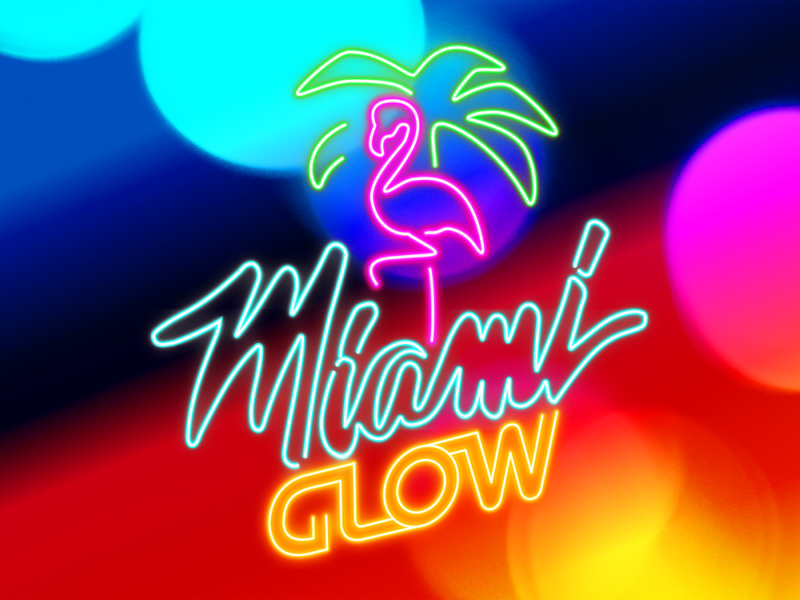 When it comes to high-quality online slots, Canada has plenty on offer. Few games, however, can match Miami Glow for a 1980s vibe that will remind players of a certain vintage of those pioneering video games like PacMan, Donkey Kong or Paperboy. However, the blocky graphics and awful sound effects from that era are nowhere to be seen. After all, no self-respecting online casino in Canada would dream of using 40-year-old technology for a sophisticated online slot these days.
Thankfully, this game is certainly not old-fashioned in terms of its playability or features. Instead, Miami Glow offers a nostalgic feel for the era of big hair and Dayglo colours with lots of other style cues that will take you back a few decades. It just does so in a very modern way. In fact, Miami Glow has an instantly recognizable feel that anyone can get into regardless of whether they experienced the eighties the first time around or not. Much of it will be familiar to people who like online slots despite the nostalgia. What should players know about Miami Glow before giving it a chance?
Design and Play in Miami Glow
If you have ever seen a movie that is set in Miami, then you will know that the city is famous for its Art Deco era buildings, many of which were updated and renovated in the 1980s with neon signage. This gives the place an almost unique atmosphere, especially in the evening when both locals and holidaymakers come out to admire them. Miami Glow takes this look for its game design and runs with it. The slot's developers, Snowborn Games, describe the game as having a 'calming atmosphere', just as you might experience if you were to cruise along the seaboard in Miami.
As well as the vivid lighting and Art Deco touches, the game's graphics feature other icons of Florida and the Caribbean beyond it, such as palm trees. The game also has the usual playing card symbols that you would expect of most online slots today but these are given the neon treatment, too, so they pop out at you on the game's dark background for maximum impact. Then, there is the retro soundtrack to really anchor you in the 1980s. Few slots provide such a groovy and nostalgia-friendly audio vibe as Miami Glow does.
As for the gameplay, Miami Glow continues to deliver. The game is well animated and the reels spin in a very fluid manner, for example. The time you need to take between turns is minimal so the action feels like it is constantly flowing. However, there is no problem if you take your spins at a slower rate, either. After all, it is all about the relaxed pace of life you'd find in Miami. In the base game, there are ten possible combinations of symbols you can come up with. If multiple paylines are achieved, then Miami Glow will award you with the largest prize. What's more, it is possible to obtain a multiplier of up to ten times your original stake in the base game, so it is worth playing for that reason alone even if you never open up any of the in-game features.
The Features On Offer and How They Work
The five reels of Miami Glow are set out over three reels which means you will potentially see 15 different symbols following every turn. If three of them happen to be Glow symbols, then you will open up the game's Glow Bonus feature. The Glow symbols will only ever appear on the middle reel or the ones on the far left or right. When they do, you will obtain a free turn. However, this is awarded with stacked wilds so the chances of coming up with a prize-winning combination are increased. What's more, all the bets and lines in the Glow Bonus feature will be set to the same value as you had them when the feature was triggered.
As you might expect, Miami Glow has Wild symbols, too. These don't open up a specific feature but they can be substituted for any other symbol in both the base game and when the Glow Bonus feature is initiated. The only ones that won't substitute for is the Glow symbols themselves. Additionally, there are Sticky Wilds to look out for. These symbols act in the same way as normal wilds only they stick in place when respins are awarded. If you get further respins, then the Sticky Wilds will remain in their position until they run out.
Conclusion
With a randomly applied multiplier that comes into play on every base game turn, Miami Glow offers an instant chance of success. You might get a x1 multiplier but there again you might get a x10 one – it all comes down to the luck of the draw. Bear in mind that Miami Glow is a high volatility game which means you will probably want to stick with it for a while for the chance to claim one of the online slot's better prizes. In terms of hit frequency, the game stands at just a little under 23 percent. The game has a payout ratio that is over 96 percent, too, so it is certainly worth looking out for if you enjoy games with these sorts of attractive figures. Of course, many players won't care about such data and will simply enjoy Miami Glow for the retro vibe, the bright colours and the happy atmosphere it offers.