Hold'Em Poker 3 Online Casino Game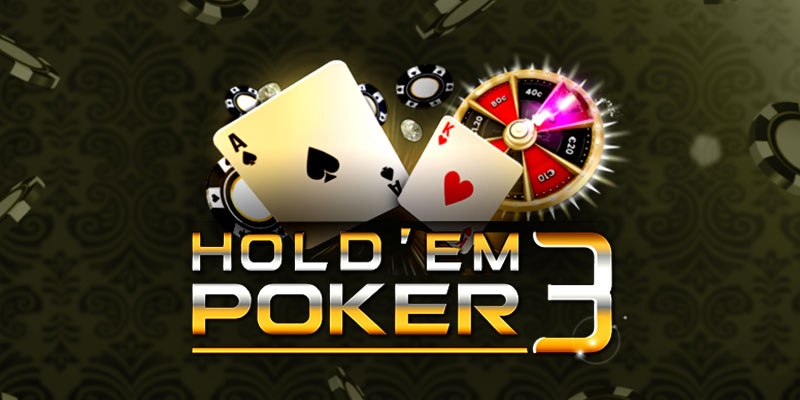 Microgaming is known for its wide list of online slots, and often when a new casino game creation designed by this software provider is announced, it is safe to assume that this game would probably fall into its usual category of games. But, the software provider's latest casino game venture, Hold'Em Poker 3, provides players with a gaming experience that is completely different, and is packed with a playing experience that is unique and innovative in more ways than one.
This online casino game is new to the list of titles at JackpotCity, and upon launching it, players are greeted with dazzling graphics that are completely flawless and have the power to captivate players from start to finish.
Poker: A History
Poker has a long history that started way before online gaming even existed. The game has coined many popular sayings, including having a "poker face", to name just a few. The game was developed in the United States in the 19th century and has grown to become one of the most popular casino games around. Traditionally, players would visit brick-and-mortar casinos to enjoy these titles at private poker rooms while donning their best attire. Today, the game has grown enormously and is now offered in many different forms and ways. Online gaming enthusiasts can enjoy a quality poker experience when firing up Hold'Em Poker 3, and get look forward to a gaming encounter packed with great features and a ton of fun.
How To Play
The Hold'Em Poker 3 online casino game can be played in two modes: Landscape and Portrait. The title is optimised for two resolutions, 1280x720 and 1024x768. The buy-in is 0.20 (or currency equivalent), and the player's chosen currency will be displayed on the buy-in dialogue. Prizes on the spinning wheel and prize pool will be displayed in Euros. Once a player is in the tournament, they will play with tournament chips which start at 300. Once the tournament concludes, anything that has been won will be displayed in Euros and in the chosen currency. The game is accessible on all types of devices, including iOS and Android smartphones.
When the prize pool is determined and the three seats at the table are filled, the 0.20 buy-in Sit & Go tournament commences. In many other tournaments of its kind, the winner takes all. But, with Hold'Em Poker 3, when the wheel lands on the 20 prize or the 1000+ progressive jackpot, the prize is split across the table with 50% going to the winner, 30% to the second player and 20% to third place, ensuring that everyone gets a piece of the pot.
A Look At Bonus Features
Players can enjoy premium gaming when firing up Hold'Em Poker 3, thanks to premium visuals and a selection of easy-to-understand features and user-friendly mechanics. The casino title offers a Sit & Go experience with a difference, with a spinning wheel that has the power to reveal lucrative prizes. With a realistic poker room environment, this table game title creates an ultra-authentic ambience that makes players feel at ease and delivers a memorable gaming encounter.
Created By Microgaming
When it comes to online casino games, Microgaming is a powerhouse that truly knows how to deliver exceptional online gaming platforms that players enjoy. This software designer was first established in 1994 and has earned numerous accolades and achievements since then. The software provider's innovative ability to deliver memorable online gaming experiences has made it a sought-after name amongst players around the world. Microgaming has dabbled in all sorts of casino games, including online slots, table games, and progressive jackpots.
Each time this game creator launches a new casino game, it creates a buzz in the online gaming world and very often, many of these titles are available at JackpotCity exclusively. Hold'Em Poker 3 is a welcomed addition to Microgaming's selection of games at JackpotCity, embodying all the finest quality that this software provider has become known for.
Now Available At JackpotCity
At JackpotCity, we pride ourselves on providing our players with exceptional online gaming experiences. Since our virtual birth in 1998, we have continued to push boundaries in the world of online casino, always improving the quality of the entertainment experiences our players receive. Part of this mandate is to deliver a catalogue of casino games that are made up of only the best of the best, complete with titles designed by some of the biggest names in casino gaming. We are proud to offer up a wide variety of titles created by Microgaming and are even prouder to add the Hold'Em Poker 3 casino game to our product offering. What's more, we pride ourselves on ensuring that our players are always protected, and therefore make use of some of the industry's most protected security technology and responsible gaming tools to ensure that both safety and fun are top priorities when players interact with our site.