Online slot review: Dr Jekyll & Mr Hyde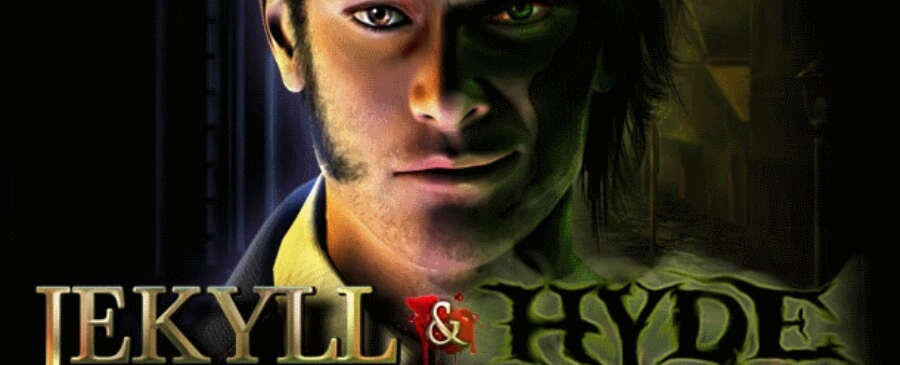 'The Strange Case of Dr Jekyll and Mr Hyde', a novel published by Scottish author Robert Louis Stevenson in 1886, is yet another classic Victorian horror story just real enough to make its readers look over their shoulder once in a while. And it's this tale which has inspired Microgaming's own Jekyll & Hyde offering. So remember to look out for it when you next play online slots in Canada.
Of course, thanks to the wonders of online social media, chat rooms, forums etc., are we not once again immersed in an era where things (and people) may not always be what they appear to be? And when we add in the observation that (in moderation) bad things are often more fun to do, it's easy to agree with Stevenson's point that there's a Dr Jekyll/Mr Hyde combination within us all. So just ask yourself: Is that dark inner demon too close for comfort?
The game layout
Much of this game's important action takes place while we are in the good Doctor Jekyll's laboratory. After all, that's where he developed the serum, just as he does in the game. And that too is where things started to go wrong, as they also do in the game. But when that happens, we get the full Victorian Gothic backdrop as the evil Mr Hyde creeps through the London streets doing evil deeds at every turn, despite seeming to lead a charmed life as he evades the police who are hunting him down. If you're expecting a spooky soundtrack, you've got it. And if you're also expecting full-on 3D graphics, eerily pale moonlight effects and lots of deep shadows which maybe harbour evil, then once again, you won't be disappointed.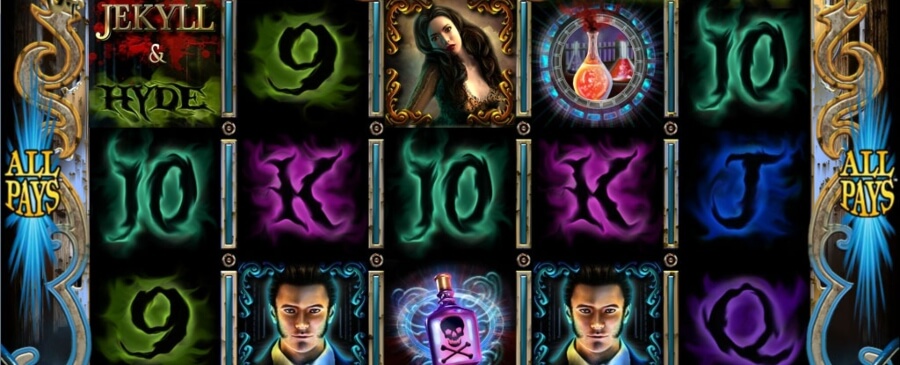 Jekyll & Hyde symbols
The game symbols you'll see are Dr. Jekyll, Mr. Hyde, the Jekyll & Hyde game logo, the moustache wielding Victorian Police, a mysterious Lock and Key, Dr. Jekyll's House, a Fireplace, a Victorian Newspaper, a bottle of Blue Potion and a Book of lab notes. The most valuable symbols in this strange collection are the individual Dr. Jekyll and Mr. Hyde characters, and the monster himself – the Wild Hyde. The game's Jekyll & Hyde logo will only appear on reels one, three, and five and is itself another wild symbol. During gameplay, you will also encounter both the Red Potion and the Blue Potion symbols. These will be useful because they are required to trigger free spins via the game's Potion Meter.
Game specification
This Jekyll & Hyde game is a 5-reel, 30-payline slot which gives you 243 ways to win. You'll find it's a low-volatility slot, which (if you don't really do patience) means there will always be lots of ways to win prizes on offer. And with a fairly generous RTP (return to player) percentage of 96.2%, you should be able to enjoy a reasonably fruitful gameplay experience over time. Jekyll & Hyde is yet another mobile-friendly game from the world-leading Microgaming developers which can be played on smartphones, tablets, iPhones and iPads.
Special features of Jekyll & Hyde
What transforms Dr Jekyll into the evil Hyde is the serum or potion he develops in his lab. So be prepared for the potion meter to be a major feature of the game. You'll notice red and blue Potions appearing on reels 2 and 4. And if the red happens to end up next to Dr. Jekyll, then all the Dr. Jekyll, Mr. Hyde and logo symbols immediately morph into Wild Hyde symbols. This is the signal for mayhem, because all the reel symbols just go mad. Everything gets mixed up, so you finish up with a totally different symbol configuration to the one you started out with. Luckily, this situation is sure to involve extra winnings as well as a special bonus win just for the Wild Hyde symbol. Of course, wild symbols do something similar on other casino online slot games but with Jekyll & Hyde, it just adds to the spooky feel.
When a blue potion pops up beside a Mr. Hyde symbol, the player gets a special bonus. This is 20x multiplier on the original stake, plus a random multiplier awarding the player an extra amount between 5x and 20x the original stake. Every appearance of the red potion fills the meter more. And once it's full (100 symbols), it will trigger Free Spins. While this goes on, the blue potion appears. And once its (blue) meter is full (= 12 blue potions), the free spins will stop.
Look out also for a Frenzy Bonus for more multipliers, a Potion Bonus worth up to 120x multipliers, and the Jekyll & Hyde logo which acts as a scatter symbol (= 10 free spins, or more).
If you enjoyed this weird blend of Victorian horror with its spooky characters and chilling story of evil deeds, the question is: Are you ready for some more? And if you liked Microgaming's Dr Jekyll and Mr Hyde, then why not try out 'Immoral Romance', another Canadian online slot, for your next encounter?