JackpotCity Slot Review: Long Mu Fortunes™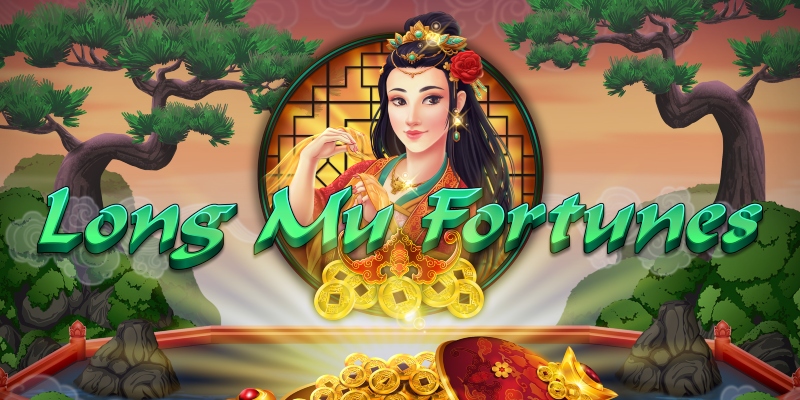 Are you a fan of traditional oriental folk myths? Because if so, you're set for a treat! Long Mu Fortunes "brand-new titles will be released on October 29th, 2019. Designed and created by Fortune Factory Studios, this game captures the essence of one of China's great myths, combining traditional motifs and styles with the modern drama and excitement of a superbly designed, high-volatility slot machine. And even if you just enjoy exploring unusual and engaging online casino slots, you'll soon be under the spell of Long Mu. But to really immerse yourself in the atmosphere of the game, it helps to learn something about the original story.
What's the point?
The figure Long Mu is known as the Mother of Dragons. She was a Chinese woman who was proclaimed a goddess after raising a "family" of five small dragons. And, naturally, Long Mu and her dragons became a very close-knit unit. The strong ties between them have become a strong cultural symbol and a standard to which all Chinese parents and their children still aspire today. All of these date back to 290 BC - during the Qin Dynasty, when Long Mu found an essential white stone by the river and took it home. Later, five tiny dragons hatched out of the stone, actually an egg. Long Mu and her family greeted the dragons and treated them as their own. As the animals matured into powerful adult dragons, they summoned rain to Long Mu's village, savin the community from a terrible drought. Thus, Long Mu received its title of "Mother of Dragons."
Slot Machines
In China, the dragon is a sign of strength, power and happiness - so hold your nerve throughout the game, and you'll be rewarded! You'll hear an oriental flavoured audio track to get you in the mood, and today's stunning graphic effects are just what's needed to express the vibrant subtlety of the Chinese mythical environment. There are deep, vibrant colors that suggest the power of Long Mu dragons, but also subtle highlighting effects to show the delicate contrasts that Chinese art can achieve: delicate, fragile lines mixed with bold, uncompromising strokes to create a luminous carpet of color, all in the midst of the natural landscape of a typically Chinese rural landscape.
Slot Symbols
The main symbol of the game is the Long Mu Fortunes logo - in four different sizes. There is another Long Mu symbol, which consists of a framed portrait consisting of two staggered squares. In this version, Long Mu is depicted as a goddess in a traditional, stylized manner. Other culturally influenced symbols include a golden bowl or luck pot, three coins with engravings, three beautiful leather bags and a decorative ceremonial drum. Further down the symbol hierarchy, there are four traditional playing card symbols: Ace, King, Queen and Jack - perhaps more at home because some of the earliest known playing cards were developed in China.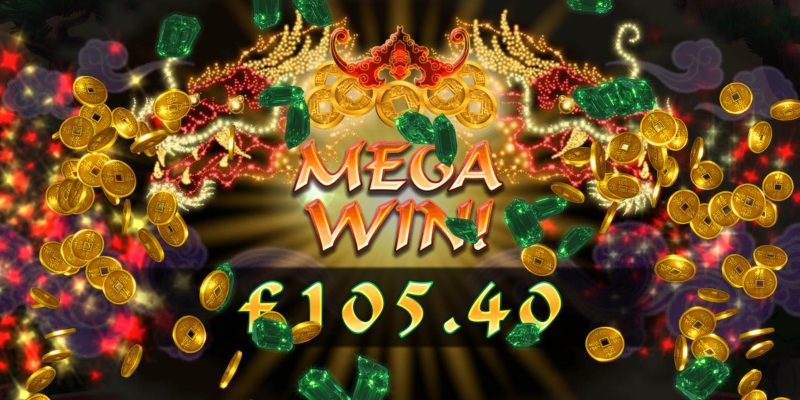 Slot features
Long Mu's dragons come to life during the re-spin features of the game: the fiery red dragons on reels 2 or 4 toast to form a full stack before being blocked and then triggering a re-spin. During re-spins, Wild multipliers nudge up to 3 times to fill the reels. And, because it's any kind of win that controls the re-trigger, re-spins can soon become extremely profitable, giving you epic wins. Every time a Red Dragon Wild appears, you'll notice that coins start collecting even in the colorful lucky pot above the spinning reels. This is to fund the jackpot payouts of the game - 100 or 5,000 times the initial bet.
Free Spin Scatter symbols appear on reels 2, 3 and 4. And if three of these free Spin Scatter symbols appear anywhere on your spinning reels, you win 10 free spins plus a prize equal to double the bet.
Game specifications
Long Mu Fortunes is a classic high-volatility slot game that will therefore be of particular interest to players looking for big wins. This title has 5 x 3 spinning reels and offers 10 fixed paylines. The RTP return on the player share in this game is 96.44%, a fairly generous number. The total hit rate is 19.00%, although this rate may seem a bit tight, it should beremembered that it is a high-volatility slot with good payouts, such as a Grand Jackpot with 5,000 times your bet.