Slot Review: Long Mu Fortunes™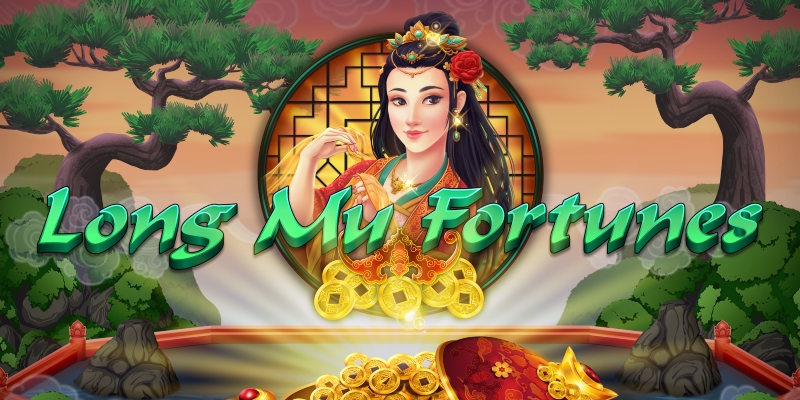 Are you into traditional oriental folk-myths? Because if so, you're in for a treat! Microgaming's brand new Long Mu Fortunes title releases on 29 October 2019. This game, designed and created by Fortune Factory Studios, captures the essence of one of the great Chinese myths, and blends traditional motifs and stylings alongside the modern drama and excitement of a superbly crafted high-volatility slot game. And even if you just enjoy exploring unusual and compelling online casino slots, you'll soon find yourself coming under the spell of Long Mu. But to really get into the game's atmosphere, it helps to learn something about the original story.
What's it all about?
The character Long Mu is known as the Mother of Dragons. She was a Chinese woman proclaimed a goddess after she raised a 'family' of five infant dragons. And quite naturally, Long Mu and her dragons became a very close-knit unit. The strong bonds between them have become a potent cultural symbol, and a standard to which all Chinese parents and their children still aspire today. This was all a long time ago (290 BC – during the Qin Dynasty) when Long Mu found a substantial white stone by the river and took it home. Later the stone, actually an egg, hatched out five tiny dragons. Long Mu and her family welcomed the dragons, treating them just like their own. When the beasts matured into powerful grown-up dragons they summoned rain to Long Mu's village, thus saving the community from a terrible drought. And that's how Long Mu received her title as 'Mother of Dragons'.
Slot game environment
Expect to see lots of dragon-related images. In China, the dragon is a sign of strength, power and good luck – so hold your nerve throughout the game and you should be well rewarded! You'll hear an oriental-flavoured audio track to get you in the mood, and today's stunning graphic effects are just what's needed to express the vibrant subtlety of the Chinese-myth environment. There are deep, vivid colours to suggest the power of the Long Mu dragons, but also subtle highlighting effects to show off the delicate contrasts which Chinese art can achieve: Delicate, fragile lines mixed with bold, uncompromising strokes to create a glowing tapestry of colour, and all amid the natural scenery of a typical Chinese rural landscape.
Slot symbols
The game's principal symbol involves the Long Mu Fortunes logo – in four different sizes. There's another Long Mu symbol too, which consists of a framed portrait made from two offset squares. In this version, Long Mu is depicted as a goddess in a traditional, stylized fashion. The other culturally influenced symbols include a golden bowl or fortune pot, three coins embellished with engravings, three beautiful leather pouches and a decorative ceremonial drum. Further down the hierarchy of symbols, there are four Ace, King, Queen, Jack traditional playing card symbols – perhaps more at home here because some of the earliest known playing cards were developed in China.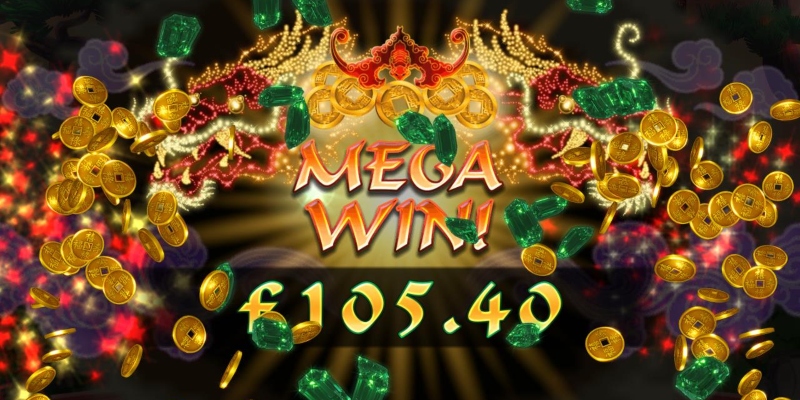 Slot features
Long Mu's dragons spring to life during the game's Re-Spin feature: The flame-red dragons on reels 2 or 4 nudge to form a full stack, before locking and then triggering a re-spin. During the re-spins, Wild Multipliers (up to 3x) also nudge to fill the reels. And because it's any kind of win that controls the retriggering, re-spins can soon become extremely profitable, bringing you epic wins. Each time a Red Dragon Wild appears, you'll notice that coins also begin to collect in the colourful fortune pot above the spinning reels. This is to fund the game's jackpot payouts – 100 or 5,000 times your initial wager.
Free spin scatter symbols will show up on reels 2, 3 and 4. And when three of these free spin scatter symbols appear (in any position on your spinning reels), you gain 10 Free Spins plus a prize of double your entry bet.
Game specifications
Long Mu Fortunes is a classic high-volatility slot game which will thus be of particular interest to players looking for big wins. This title has 5 x 3 spinning reels and offers 10 fixed paylines. The RTP (return to player) percentage on this game is 96.44%, a fairly generous figure. The total hit frequency comes in at 19.00%, while this rate might seem a little tight, it should be remembered that this is a high-volatility slot with good payouts, e.g. a Grand Jackpot of 5,000 times your bet.