New Online Casino Slots: Fortress Charge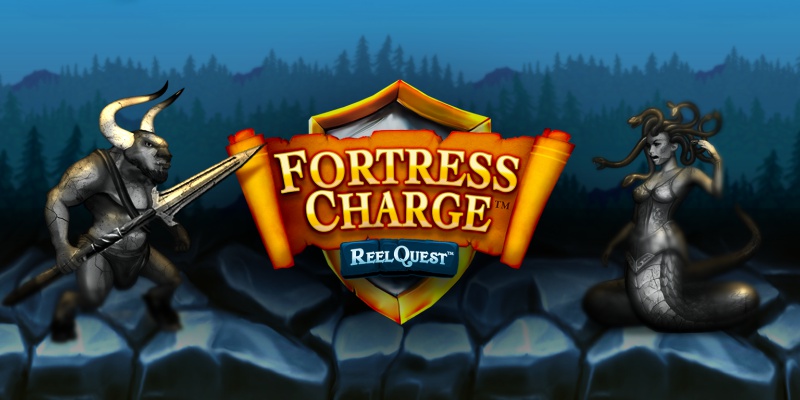 Are you ready for your next adventure? If you want to chase riches in a mythical setting, then look no further than the new game Fortress Charge, coming to the range of online casino slots at Jackpot City starting on 11 June, 2020. Read on to find out how the game works and what you have to look forward to in this great new slot!
Join The Battle
Playing online slots is a great way to try out your luck. When you play one of the online casino slots at JackpotCity, you have access to the best new games out there. Fortress Charge takes the fan favourite 6x3 video slot layout and adds even more fun with the unique REEL QUEST feature. With this feature, you'll play out fights between the game's characters, all for your chance to reach one of the high-value fortresses the game is named after.
All you need to prepare for battle is a device with internet, and you'll be ready to play Fortress Charge any time your life needs a little more adventure! It has a 96.45% payout percentage, high volatility, and a 12.32% total hit frequency. Designed by Crazy Tooth Studio, it's a fresh take on the genre of well-loved fantasy slots. This one is special because it lets you spin to face off against different game characters in search of treasure…and look for special features along the way!
Go on a REEL QUEST™
Fortress Charge is more than just a basic casino online slot—it has a special trick up its sleeve to make it one of the best slots online! The unique REEL QUEST feature has you chase prizes as you spin. Whenever you land one of the heroes in the game, they'll fight their way across the reels in an attempt to reach the fortress at the end, which has a win value assigned to it. You could capture anything from a minor fortress to a sprawling castle in this battle for treasure.
There are other attractive rewards as you play, with multipliers of up to 16x to keep things interesting and make your bets go even further. Plus, any spin could be your ticket to the jackpot, to get impressive winnings when you least expect it! You never know when you'll win up to a whopping 16,000 times your bet, for great win potential and non-stop slots gaming fun. Follow the storyline as you play to add even more excitement to the everyone's favourite slot format.
A Unique Slot
The REEL QUEST feature takes Fortress Charge to the next level of casino online slots. There aren't just fantasy-themed symbols and prizes, but you'll actually have a real adventure as you watch the characters battle for riches, thanks to the great production value of the game and the REEL QUEST setup. Gameplay is accompanied by sights and sounds that will make you right at home in this fantasy world, with animation that goes along with the story.
As you play, you'll meet mythical creatures like a Minotaur, Medusa, Troll, and Lizard King, as well as fearless fighters who have come to defeat them. As they fight for the treasure, they will harness the powers of scorpions, fireballs, stones, spears and other reinforcements to protect the army and go after winnings. Besides reaching the fortresses to take their treasures, you can also land other wins along the way, like defeating villains and collecting fireballs.
Don't settle for one-dimensional online slots when you can play a casino online slot that lets you really live inside the action! Make your fantasy world dreams come true with this fun new game, coming to JackpotCity slots online on June 11. While you wait for the epic to begin, you can choose from a huge range of other casino online slots to prepare you for battle.