Game Review: Queen Of Crystal Rays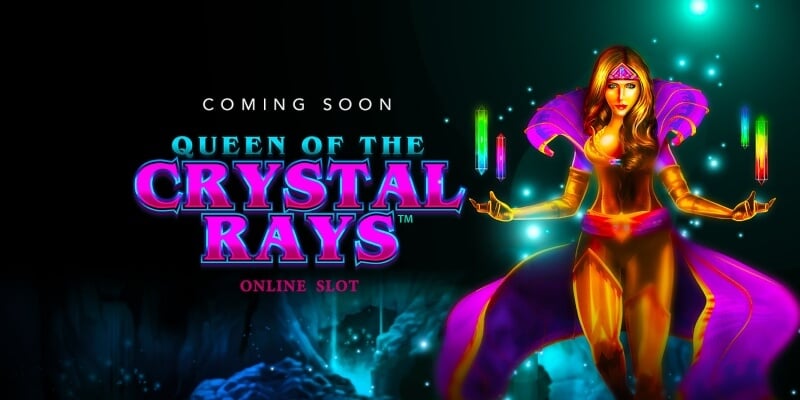 With plenty of buzz going around about the 50th anniversary of the Moon Landings, this could be a good moment to release a new online slot in Canada like Queen Of The Crystal Rays, which happens to feature a weird and wonderful sci-fi universe. So expect something dark and mysterious with overtones of fantasy and magic – a make-believe world in which the power of gems and crystals reigns supreme. Are you ready to explore the final frontier? Brave enough to go where no man (or woman) has ever ventured before? Curious to know what secrets this crystal queen may be harbouring? Well, you should at least have a lot of fun with this real money slot game.
A strange world
Discover a world of strange wizards and explore a mysterious hidden temple, but not like any temple you've ever seen before. Here, chance and good fortune may bring you big wins, and an all-powerful Queen seems ready to offer you the richest rewards you'll ever see. Microgaming's newest sci-fi online video slot game, Queen Of The Crystal Rays, is about to launch on 24 July, 2019, bringing you a gaming experience which will certainly be out of this world!
This title is the fruit of an ongoing collaboration between Crazy Tooth Studio (CTS), an exciting full-service game development outfit based in Las Vegas, and global game designers and distributors Microgaming. Early in February 2019, CTS signed up with Microgaming to deliver Arctic Valor, their first online slot venture. This was a big success and has paved the way for Queen Of The Crystal Rays which is sure to deliver the same value-for-money entertainment for both mobile and desktop devices once it hits the market.
A mystical gaming experience
As soon as you fire up this game, you're into a cool crystal-inspired universe where you'll see vibrant, shimmering neon-coloured lights, a landscape filled with crystals, oceans of stained glass, glittering gold and a sparklingly fresh idol complete with golden hair. But as the strange extra-terrestrial music begins to wash over your senses, this is only a small taste of what actually lies in store for you in this amazing crystal domain.
This game's stunning graphic environment can be quite spellbinding in its intensity. Watch out for the impressive light rays bouncing off a series of crystal reflectors as they change trajectory in a delightful kaleidoscope of geometric shapes and colours. And with featured animations on every spin, plus an atmospheric soundtrack, this game lacks nothing in sensory appeal. You'll soon find yourself in a dark temple lit by an eerie blue glow.
Tracking your best winning combos
Behind its spectacular setting, this Queen Of The Crystal Rays slot game has 6 reels, 4 rows of symbols, and a maximum of 50 active paylines. Like many online slots in Canada, this game uses the Any Adjacent Pays™ system. So all you need is three or more matching symbols on any payline appearing on adjacent reels. But if you score more than one winning combination per bet, the game will return you whichever is the highest possible winning payout for your stake.
Queen Of The Crystal Rays is a medium volatility game, and so will deliver a genuine mix of regular (but smaller) windfalls alongside the occasional larger win. The RTP (Return to Player) percentage is quoted as 97.75%, which is quite a generous return. With this Canada online slots real money game, the minimum bet per spin is only $0.20. And with a maximum stake of $50.00, it's going to be a favourite whatever your budget. Those who hope (or expect) to get lucky, should know that the crystal queen will pay out a maximum jackpot of 2,597.45 times your original bet.
Full colour, feature-rich symbols
You'll find this game's reels host a variety of symbols. These include crystal clusters in pastel shades of blue, green, pink and red, plus a dazzling neon bonus and two Wild symbols. See if you can spot the goblet, a treasure chest, a pot of pure gold, and of course the Crystal Queen herself ablaze with majestic colour. In terms of bonus features, keep an eye open for the blue and pink Bonus Scatter which should be particularly rewarding. It kicks off the bonus round when there are three or more in any position on the reels, and also multiplies your wins by the total amount you staked. Remember too that this symbol pays in any position, so you don't have to be on a particular payline to pick up a winning combination.
As for the pink/blue/green Wild symbol, it can replace any game symbol (except the Scatter) to bring you more wins. And the 2x Wild symbol does the same but has an additional 'double your win' function. Furthermore, unlike many online slots in Canada real money games, this glittering gameplay world also has an awesome Crystal Ray! This triggers entirely at random during any spin and activates another 25 paylines to boost your chances of winning big, and can interact with other symbols making them act as wilds, or even wild multipliers.