New Plans For Sky High Casino Gambling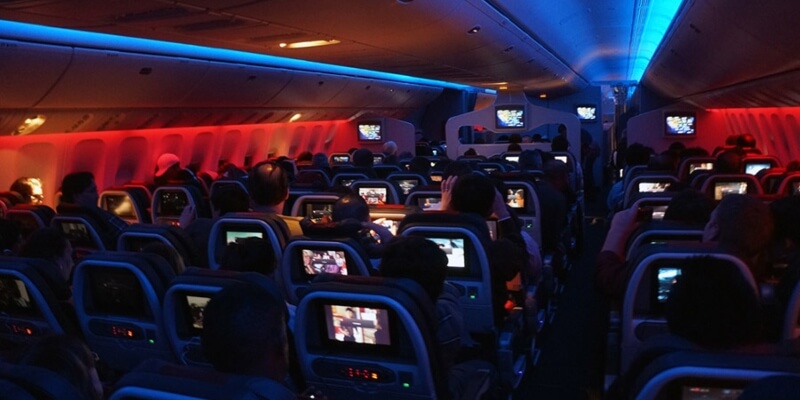 If you're nervous about flying, you may think air travel is enough of a gamble already. But if two French aviation design studios get their ideas off the ground, it may not be long before those who enjoy casino games may get to play roulette on a plane, and perhaps poker and blackjack too!
In-flight casino gambling
Jean-Pierre Alfano of AirJet Designs and Frédérique Houssard, the founder of Designescence, are presently working together to develop their Casino Jet Lounge. This consists of a luxury bar and casino they envisage could eventually become a standard feature of long-haul commercial flights. Their Casino Jet Lounge comes equipped with trendy seats, a drinks area and a blackjack table.
Houssard explains: 'We're trying to bring back the glamour of the '50s and '60s a little bit; the kind you see in the James Bond movies.' The Houssard and Alfano casino in the air concept is still relatively new, and the designers are currently having discussions with various airlines.
History of gambling in the air
Some may think that the setting up of an in-flight casino area is a little futuristic, but the concept of gambling in the air has been around for quite some time. Singapore Airlines were among the first to provide gambling for high flyers back in 1981. At the time, they equipped planes with custom lightweight slot machines installed in the aisles on a flight operating between Singapore and the US city of San Francisco. Unfortunately, that gambling experiment lasted all of eight weeks. The company then removed the in-flight gaming equipment and said that the slots had presented them with what they described as 'an operational challenge'
Moving ahead to the 1990s, Swissair took up the challenge of in-flight gameplay. Their solution gave passengers the opportunity to wager sums of up to $350 playing a selection of standard casino classics, which included blackjack, keno and poker. The software-based system pioneered by Swissair was in operation up until 1998 and several other passenger airlines were reportedly interested in taking up the idea. However, an air crash involving a Swissair plane in 1998 soon reversed any corporate appetite for in-flight gambling facilities. A subsequent air crash investigation into the Swissair disaster suggested the problems caused had been traced back to a fault in the plane's in-flight entertainment system.
With the passing of time, airlines began once again to toy with the concept of offering gambling as an air travel option. For instance, a Ryanair announcement in 2004 suggested the company would introduce gambling through an in-flight entertainment system, though this feature has yet to be implemented. When questioned on the subject, Stephen McNamara, Ryanair's head of communications, commented that Ryanair still hoped to introduce the idea as part of their future plans.
'We don't have the technology in place at the moment', he said, but was hopeful that they could get started 'in the next two or three years'. Explaining the delay a little further, he said: 'Really, the reason we don't currently [offer gambling] is based on the expense of the Wi-Fi technology that would be required for it'. He also added that Ryanair were waiting for the price of equipment to fall.
Virgin Atlantic is another passenger airline which has considered the idea of bringing in-flight gambling facilities on board to enhance its passenger experience. In 2005, the boss of Virgin Atlantic Airways, Richard Branson said that a small number of recently acquired A380 planes would be fitted out with double beds and in-flight casinos.
Releasing the news, Branson is said to have jokingly told The New York Times that Virgin passengers would then have 'two ways to get lucky on a Virgin flight.'
But the company appeared to have sidelined the whole idea when another Virgin spokesman later admitted to CNN that Virgin's casino concept had been 'just an idea, along with many other ideas we talked about a few years ago.'
'Truthfully,' he said, 'we did not really get any further with it.' However, Virgin declined to give any reason as to why they decided not to go ahead with installing casinos in their A380s.
Wi-Fi technology
Delving further into the matter, there appear to be more snags beyond simply coughing up funding for the initial infrastructure investment. For instance, now that Wi-Fi access is becoming more common on passenger flights, it would seem passengers could simply opt to access mobile casino sites from their own handheld devices. That would appear to negate the purpose of any airline investment in their own gameplay facilities.
Ryanair plans to address the issue by providing 'closed loop' Wi-Fi, so that gambling passengers would be forced to use the company's own system. But Houssard and Alfano don't see online gambling as a threat to their concept.
Alfano notes: 'When you're on a 14-hour flight, even when you're in business class, all you can really do is eat, drink, watch movies and sleep. The Casino Jet Lounge isn't just a bar or entertainment idea. We see it as a social space."