Enjoy A Cruise Holiday and A Great Casino Experience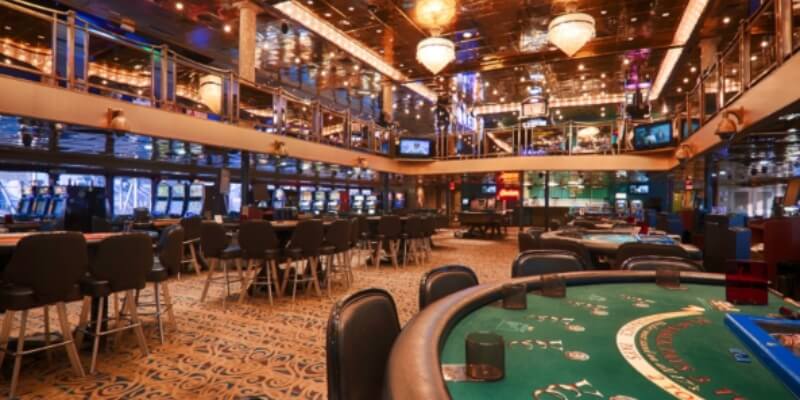 Are you in the mood for a cruise? Wherever you are in the world there are always plenty of cruise options and new destinations to explore. But there seem to be fewer options for those who enjoy gambling as part of their luxury holiday experience. So whether you prefer to play blackjack on a cruise ship or poker, roulette, video slots or some other casino games, here's are some fantastic cruise ship experiences which are also guaranteed to include some great gameplay opportunities.
Superyacht casino cruise
Yes, this is a casino cruise ship, but the boat is actually permanently moored in Gibraltar's Ocean Village Marina. What the Sunborn Superyacht Hotel and Casino does offer is stunning views of the Rock and across the Gibraltar Straits to the Moroccan coastline. And if you're up for a spot of aviation thrills, you can also watch the planes braving the frightening international airport runway as they take off and land.
The casino has its own separate access, and once inside, the problem is where to start! You'll spot 4 card tables (including blackjack), 3 live poker tables, 3 American roulette tables and 58 state-of-the-art slots. Bets can be placed at a minimum of £1 and £5 on slots, American roulette games and blackjack respectively, with maximum bets in each case set at £0.01, £50, £100, and £500. Poker enthusiasts will note there is also a dedicated poker room running regularly scheduled poker tournaments.
As you'd expect, the casino has its own bar for thirsty gamblers, and those who don't want to jinx a winning streak can even have drinks served beside their casino table. On-board guests have a great selection of bedroom suites. So if you're a jackpot winner, what about a 74m2 Penthouse Suite with a secluded sundeck and stunning sea views? For the seasick-prone gambler who enjoys a touch of luxury, there's nothing to beat this experience.
A high stakes casino cruise
The Norwegian Escape sails from Miami in Florida, and has room for 4,266 guests seeking an exotic holiday cruise experience as they voyage to sunny destinations like the Bahamas and the Caribbean. But if cruising sedately through crystal clear tropical waters and passing by a shoreline of white sandy beaches isn't enough to float your personal boat, there's also a host of on-board entertainments to add to the excitement of the cruise.
The casino facilities the Norwegian Escape offers will not disappoint. Inside, you'll find 28 gaming tables offering blackjack, craps, roulette, poker, baccarat, let it ride and pi-gow. And if you can tear yourself away from those tables, this state-of-the-art casino also has some 318 slots you can try. There's always a choice of both low and high betting options, which means whether you're a novice or a high-roller looking to fund the next cruise, there's always a gameplay option available.
And for those looking for a premium casino experience, this boat can bring you a super-exclusive gambling experience: Its three-table VIP room can be configured to guest requirements, and those with a bankroll to burn can ask to raise the house limit above the $5,000 maximum which applies on the casino floor. Once you're done with gambling, you can top up your tan in comfort at the Vibe Beach Club or enjoy a gourmet dining menu at any of the Norwegian Escape's 15 high-quality restaurants.
A sophisticated casino cruise
The Cunard line forever evokes memories of the golden age of cruise ships. Today's cruise passengers get to travel aboard Cunard's flagship ocean liner, the Queen Mary 2, which makes transatlantic crossings between the port of Southampton and New York. And contemporary guests won't miss out on any of the traditional pomp and circumstance which accompanies a cruise managed by such a prestigious historic name.
This kind of luxury cruise is all about the details: there's craftsmanship of the highest order to be seen in the Queen Mary's staterooms and suites, and the on-board library of over 8,000 books is reckoned to be the largest available at sea. And if you can lift your head up from all those books, the liner's tasteful Empire Casino is a cut above the commonplace glitz and glamour of so many land-based casinos.
Casino guests will find 9 gaming tables offering a selection of blackjack, three card poker, roulette, heads up and Texas hold'em. Bets can be placed from $3 right up to a maximum of $500. And if slots are more your thing these days, you're still in luck because there are also 99 slots machines where you can place bets from as little as $0.05 up to $5 per spin.
If you are a novice casino gambler – or let's say, for example, your understanding of blackjack might need a little polishing – the Queen Mary's expert croupiers hold daily masterclasses explaining the rules and strategies attached to their featured casino games. Perhaps there's an element of the 'hare running with the hounds' about the arrangement, but gamblers won't worry about that if it helps them overcome the house edge!
The Empire Casino is OK with smart-casual dress, but don't miss out. It's a once-in-a-lifetime opportunity to don the tuxedo and sample the 'Casino Royale' lifestyle just like one of those transatlantic passengers in the bygone days of Empire.