A Special JackpotCity Celebration
September's here at last! Another milestone in the JackpotCity story that begs to be celebrated in style. But it's not just JackpotCity planning a party – Will Smith, Serena Williams, Lennox Lewis, and Canada's very own Keanu Reeves all have September birthdays too. And in 1998, September also saw the launch of Google and UK trivia show 'Who Wants to Be a Millionaire', as well as the release of 'Harry Potter and the Chamber of Secrets', sealing JK Rowling's place in the literary hall of fame.
Upcoming anniversary
JackpotCity – your favourite online casino in Canada – was launched back in September 1998, so is now celebrating an amazing twenty-one years at the forefront of the online casino business. This was also the year that we sadly lost musical greats Tammy Wynette, Junior Wells, Frank Sinatra, and Carl Perkins. It may have been the end of one musical era, but the release of *NSYNC's "I Want You Back" and Lauren Hill's solo debut signalled the start of another. In the same year that Britney Spears was crowned MTV's sweetheart and the Beckham's engagement kicked-off their reign as an internationally-recognized it-couple, JackpotCity reels were spinning into life for the very first time.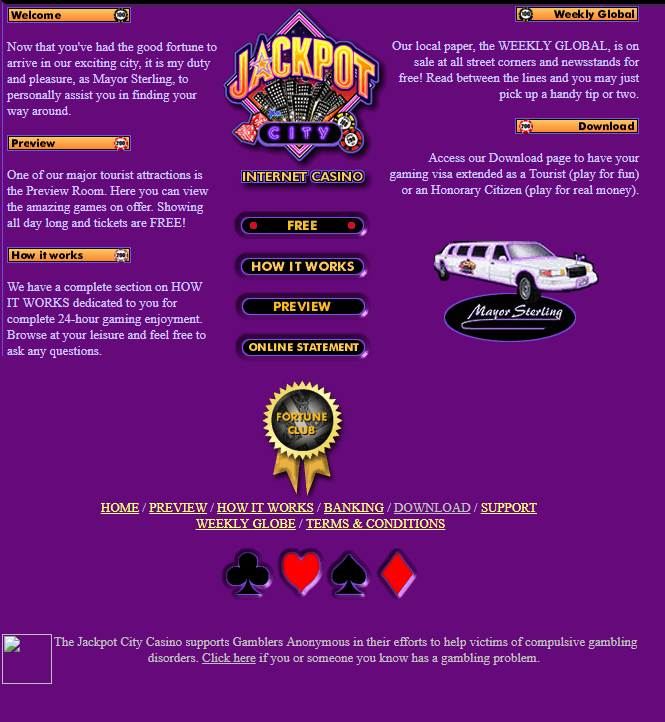 Just check out that graphics-lite presentation! And look at all those links! There are 25 ways to get you where you want to be, with a broad boast of '90 state-of-the-art online casino games'. In comparison to today's offerings, that's practically nothing, with a less-than-intuitive path.
In 1998, you would have accessed the JackpotCity Casino site via a dial-up connection, perhaps using Apple's fabled Macintosh Portable computer complete with its own 'active matrix display and removable trackball'. But you would have to be reasonably fit – it weighed a hefty sixteen pounds – and you'd need a good jackpot win to cover the purchase price of around US$6,500. At this time, mobile access was still nowhere to be seen, so online gameplay was restricted to wherever you had access to a desktop PC.
A world of colour
By the time of this next screenshot, JackpotCity's graphic designers had discovered colour – or at least a world of purple and red – with bold CAPITAL LETTERS everywhere you look.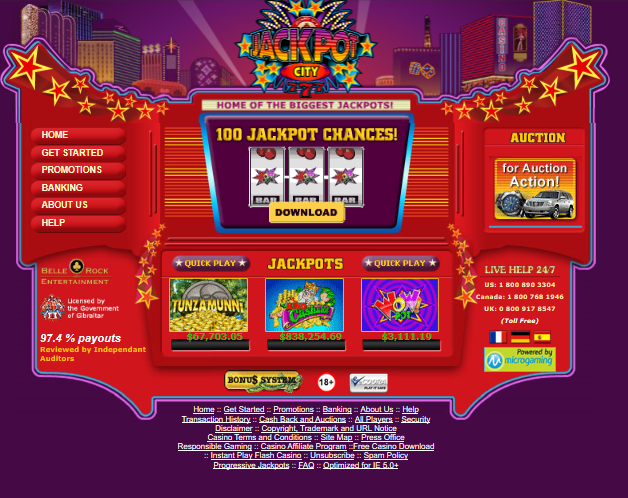 By now, the links are stowed well out of harm's way at the foot of the page. Interestingly, this page also manages to display the title shots from three featured slot games. And judging by the 'Tunzamunni' title – a golden oldie, jungle-flavoured casino online Canada slot from way back – this webpage must date from around 2002. That means you may well have owned a phone with an integrated camera, but you'd still have no access to mobile slots!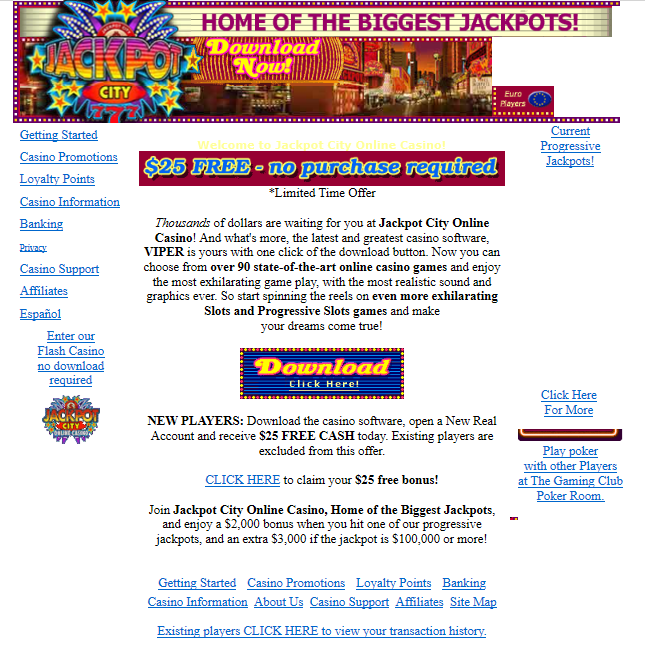 Major Sterling
The next webpage from JackpotCity shows a more stripped-down design. It retains the purple backdrop but now has a neat, spacious, uncluttered feel. Site labels are moving towards the 'one-click' style and text blocks show a very customer-oriented approach. Mayor Sterling and his stretch limo are the only real signs of anything approaching glitz, which suggests this page could perhaps date from around 2010.
Mega Moolah
This last webpage has sharp graphics and a clean, customer-friendly design which will feel a lot more familiar to present-day players. Online casino games like Major Millions and Mega Moolah were available on mobile from around 2012, both alongside 24/7 support and secure encryption. This all suggests that we're looking at a far more recent JackpotCity offering that now supports HTML5, has downloadable smartphone apps, and is already looking at additional options such as live dealer games. By now, JackpotCity Casino has become a flagship enterprise owned by Belle Rock Entertainment, a global gaming and entertainment group.
To join us in celebrating our 21st anniversary, players can take part in our grand prize draw – results to be announced on Monday 30 September. There will be Daily Birthday Celebrations too, with the winner of every weekend's lucky draw announced each Monday. These daily events also include fun prizes like free spins, loyalty points, and bonus credits. So why miss out? Keep company with the famous and fabulous, and celebrate our September birthday in style!