Playing Lara Croft®: Temples and Tombs™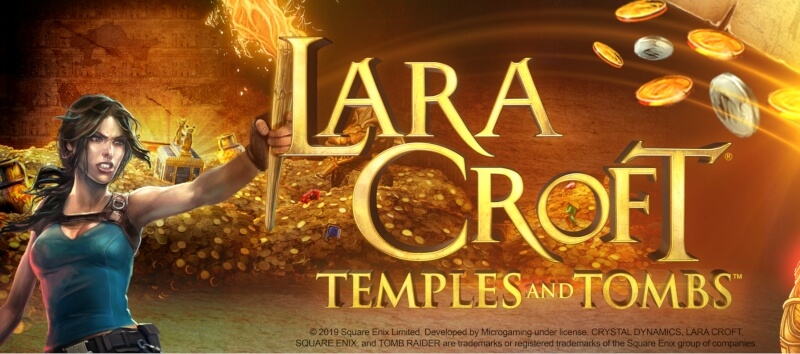 The Tomb Raider is back in action with her most exciting adventure to date! The iconic Lara Croft is on a quest to discover the mythical treasure of the Temple and Tomb of the Golden Scarab Jackpot and she needs your help. With two powerful gods, Set and Sobek, intent on keeping her from the long-fabled bounty, you'll need skill, luck and perseverance to win big and uncover the jackpot.
The third slot machine game in the Tomb Raider series, Lara Croft®: Temples and TombsTM finds our intrepid adventurer solving puzzles and putting her nerves to the test. Since making her debut in 1996, she has been the star of a best-selling video game series, starred in three movies and even had her own animated series and now, on 8 May 2019, she sets her sights on her greatest challenge yet. The game is produced by Triple Edge Studios.
Big Wins and Big Adventure
The Temple and Tomb of the Golden Scarab Jackpot is a dangerous and mysterious place, but risk is rewarded for the player who can hold their nerve. Put your strategy to the test and aim for one of the game's three jackpots. The Minor jackpot results in15x time your bet, while the Major offers a staggering jackpot of 100x your bet. For Lara Croft, though, it's all about finding the most precious relics and astounding artefacts, so her eyes will be on the Grand Jackpot, which is worth 5000x what you put in.
Get lucky and you could win big, but there's more than luck on your side. The game's clever features, which includes rolling reels, a pulse-pounding multiplier trail and free spins make it easier than ever to reach the treasure and unearth the intriguing secrets of the Tomb Raider's most challenging adventure to date!
You're on a Roll!
Combining the fun of online slots with the mile-a-minute thrills of a Tomb Raider action adventure, Lara Croft®: Temples and TombsTM is a five-reel video slot machine with a twist. The heart-racing rolling reels dynamic sees the symbols dissolve whenever you win a match; these are then replaced by new symbols that crash in from the rows above. That means you can win again, racking up combos that add more money to your purse. A high-octane concept that Microgaming developed, this can be used in conjunction with the multiplier trail and Free Spin feature to maximise your winning potential.
Lara Croft®: Temples and TombsTM is not your classic buy-a-line kind of slot game, though. Instead, it adopts a 243 ways method, which gives you that many chances to win with every spin. That means you don't need to spend as much by buying multiple lines, but you'll have even more chances to win.
Funs Get Multiplied
Racking up all those rolling reel combos makes a big difference to the prize pot, but the opportunity doesn't end there. Lara Croft®: Temples and TombsTM features massive multipliers that see your winnings skyrocket if you play your cards right. With each new win, you move a step along the multiplier trail, to a maximum of 5x your winnings, which makes your combos increasingly valuable.
In Free Spin mode, the multiplier trail is even more valuable. As Lara Croft ventures down this trail, she'll have the chance to increase her multiplier value to a maximum of 15x your winnings. That's 3x the basic multiplier which, coupled with the combo-friendly rolling reels feature, will help you get your hands on the most valuable prize in the Temple and Tomb of the Golden Scarab Jackpot.
Free Spins, Real Wins
Exploring tombs and solving puzzles is tiring work, but there are many rewards in store. Chief among these are the free spins that allow players to preserve their kitty and still have a chance to win more. If you get lucky and score three free spin symbols, you'll be given eight free spins per way.
This feature works particularly well with the rolling reels and multiplier trail of Lara Croft®: Temples and TombsTM. The former makes it easier to win multiple free spins in a row, thanks to the appearance of new symbols with each consecutive win. Every time you win a new free spin, the multiplier rises, making each potential win all the more valuable up to 15x. This makes your chances of winning the grand jackpot greater than ever and brings Lara Croft one step closer to obtaining the prize jewels of the Temple and Tomb of the Golden Scarab Jackpot. Free spins can be activated up to 48 times.
Become the Tomb Raider
Now that you've discovered Lara Croft®: Temples and TombsTM, it's time to discover the Temple and Tomb of the Golden Scarab Jackpot for yourself. Lara Croft is waiting for you…