Hit It Big With Progressive Slots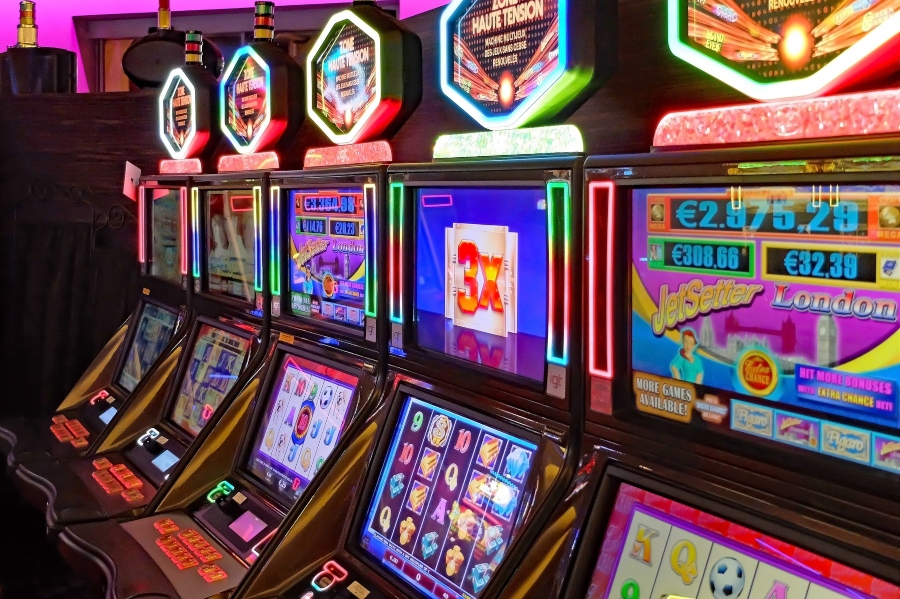 Source: djedj, Pixabay
Progressive Slots are one of the most enticing offerings in the online and traditional casino industries. Offering the chance at truly gargantuan jackpots, it's no wonder that avid Slots players have been chasing after them for years.
JackpotCity is your premier online casino destination to enjoy the incredible winnings offered by progressive jackpots. Let's take a look at just what progressive jackpots are and some tips for playing them.
Regular Slots Vs. Progressive Slots
We're no strangers to Slots at JackpotCity online casino. With over 500 casino games to choose from we have more than enough to satisfy new and old players alike. However, it is important to note that while we do offer hundreds of title to choose from, not every title offers progressive jackpots. This doesn't mean those titles won't be enjoyable, but keep in mind that progressive games by far carry the largest jackpots.
What Are Progressive Slots?
How do progressive jackpots work? A certain percentage of each bet that a player makes is rolled into a large sum of money. This sum is often displayed at the top of the machine to entice players to try their luck.  While most Slots jackpots are fixed, progressive jackpots continue to grow until someone eventually wins it.
In some traditional casinos, operators will put an entire bank of slots together and have all of them feeding into one massive progressive jackpot. This also happens in an online casino Canada where operators will feed a percentage of all the instances of a certain game into one grand prize.
Progressive jackpots are awarded on a random basis. This means that there is no strategy you can enact to increase the odds of a jackpot hitting. However, there are strategies you can try that will get you the most bang for your bet and ensure you play long enough to benefit in the long run. The more time you spend playing, the more chances you'll have at landing a progressive jackpot.
Source: Tumisu, Pixabay
Budgeting for Progressive Betting
In order to help pay for these big wins, operators often require a larger or even maximum bet in order for the player to stand a chance to win the progressive jackpot. This means that, most of the time, placing the lowest bet possible on the machine is not going to allow you to qualify to hit it big.
So, if you want to play in the high stakes game of progressive jackpots, you must first budget for it. If you've only got ten spins on a slot at the minimum bet, then it might be better to take those ten at the minimum bet than a single spin at the max bet. Even though it's going to mean you won't qualify for the progressive jackpot, there's a chance that you could win a lesser amount that you could then apply to spinning for the big win.
If you're new to our casino then you might also want to use your Jackpot City bonus from signing up as a means of funding your betting.
Playing the Highest RTP Available
Bigger bets can potentially mean bigger losses, and as soon as you're out of money, the fun stops and so does your chance of hitting it big. For this reason, a player should look for machines with the highest RTP when going after progressive slots.
RTP, or return to player, is a term that casinos use to explain the percentage off all money wagered at a slot machine that will be paid back to players over a period of time. For example, if a player makes one hundred on dollar bets on a slot machine that has a ninety five per cent RTP, the player could expect to get back about ninety five dollars in wins. The higher the RTP, the more money you get back as a player.
Avoiding the Gamble Feature
On most machines, the gamble feature is a double or nothing bet that the player will be able to guess the correct card colour of the next playing card displayed by the machine. It is offered to players after a win. As tempting as it might be try your luck, a bird in the hand is worth two in the bush. If you've already managed to win a decent bit of money, rather put that towards your goal of winning the progressive jackpot than risk losing all of it in one click of a button.
Follow these tips and you'll have as good a chance as anyone at winning that big progressive jackpot.
Source: markusspiske, Pixabay
The Software Behind JackpotCity
All the regular games featured in our online casino Canada is powered by the excellent software pioneered by none other than the legendary Microgaming. Microgaming are recognised as one of the biggest names in the industry today, however they've actually been around for a while. In fact, they were one of the founders of the online casino industry as far back as 1994 and have been instrumental in building the industry into what it is today.
Situated on the Isle of Man, Microgaming employs teams of talented developers, artists and other creatives to bring each game to life with loving attention to detail. All their games are powered by award-winning software that ensures that every spin, roll and deal is 100% random and fair.
In terms of our Live Dealer games, we make use of software provided by Evolution Gaming. Their amazing special features, sociable dealers and reliable live streaming ensure every game is just like being a in land-based casino.
We don't rest on our laurels when it comes to providing a quality online gaming experience. We've partnered with the best to bring you the best.
Source: sweetlouise, Pixabay
Practicing Responsible Gaming
Since the beginning, JackpotCity online casino has always been dedicated to the idea that we exist to provide enjoyment. We want every player to have as much fun as they possibly can while spending time in our casino.
However, we do realise that for some people online gambling can become more stressful than enjoyable. To this end we always try to provide means to help players practice responsible gaming habits. Doing so will help to ensure they are able to protect their physical and mental health.
Measures included in every JackpotCity account include the ability to set limits on game time or spending. There is even a way to lock yourself out of your account for a cooling-off period if you feel you need some time away. This lockout can also be made permanent if you would like to completely end your time with us. We also provide contact details for various organisations set up to help players deal with gaming addiction.
We feel that taking the necessary steps to help protect our players is good for everyone involved. If you'd like to learn more about our commitment to responsible gaming and some of the steps you can take then check out our page dedicated to the subject.
Try Your Hand at Progressives
It's undeniable that winning a progressive jackpot has the potential to transform a life forever. While it's not for everyone, and the chances may still be small, there is still a chance. The only way to win one is to try. If you'd prefer regular Slots instead, then we have more than enough to keep you busy.